Looking to the cloud for the future of datacentres
By 2020, the role of the datacentre – and perhaps even the IT leader who used to be responsible for it – will be very different
Access to large-scale computer power will be central to the success of any business by the year 2020. But the role of the datacentre – and perhaps even the IT leader who used to be responsible for it – will be very different to what it is today.
Continue Reading This Article
Enjoy this article as well as all of our content, including E-Guides, news, tips and more.
Carlota Perez is an academic and expert on technology and socio-economic development, and author of Technological Revolutions and Financial Capital: The Dynamics of Bubbles and Golden Ages. She says the role of the CIO of the future is changing and will continue to change.
"The CIO is evolving from a 'supply push' role bringing his or her organisation the novelties offered by outside providers, to more of a 'demand pull' function focused on identifying the strategic needs of the company and developing or specifying whatever IT will enhance products, services or markets," she says.
Encouragingly, this should mean a more important, dynamic role for the CIO, where their input into the success of the business is fully recognised – often with board status.
"I expect the CIO will more and more sit at the top management table to be the one who looks furthest ahead to the possible paths the company may follow," says Perez.
This will mean not worrying about the energy efficiency or technical capability of the equipment, but instead a much wider range of business issues.
"The CIO will focus on issues that have to do with how the company takes advantage of the digital world in general and how it can transform its products, services, organisation, marketing and distribution," says Perez.
Cloud computing will help drive efficiency by enabling better use of internal resources such as increasing utilisation of equipment, especially through virtualisation and resource sharing

Andrew Donoghue, 451 Research
Enhanced role
Colin Rees, IT director at Domino's Pizza, agrees that the IT leader of 2020 will have even more of an enhanced role as the responsibility for the datacentre is taken over by organisations whose core skill is datacentres.
The role of the CIO will become broader and more commercial. It will become much harder to keep up with all the technological breadth of activity, and selecting the right technology and aligning it with the business strategy will take up a lot of the CIO's time. This will be much more important than learning how to work x, y and z and running the datacentre," he says.
Rees outsourced the Domino's datacentre a year ago and now half the infrastructure is hosted and half is in the cloud, and he sees the cloud trend continuing.
"We used to run everything ourselves and the challenge was, do we really want to eat and breathe redundant power supplies when there are lot of companies that manage datacentres better than us, or do we want to focus on the business? The reason we outsourced was not for cost, but for business alignment reasons, as I don't believe we are the best team to run the datacentre," says Rees.
Development, testing services and disaster recovery are in the cloud, but core production and web servers are not there – yet.
"It's just a matter of time when we are confident the support infrastructure is in place and we've learned about the challenges of cloud – and it's undoubtedly the future of datacentres, but it's all about timing and experience. In 20 years there will be different ways of thinking about infrastructure and it will centre on the huge amount of flexibility available," says Rees.
Apps future
He says the future is about apps and the digital economy and making the most of new opportunities as high internet bandwidth becomes commonplace at home and at work.
"We are focusing our internal energy on creating new mobile apps and business opportunities such as Domino's Pizza Box Office service, where you order a pizza and download a film. We don't want to be spending attention on servers and the datacentre as mobile sales increase. This trend will continue and everyone is in the early stages. What is happening in the home – such as more TVs being online – and what is happening in the datacentre, is changing the way we think. No-one will care about what is running the software, although you might care where it is running for data protection purposes. We will care about more opportunities to serve the customer," says Rees.
As cloud develops over time, he even sees his electronic point of sale (Epos) systems going into it. "We've just done a store refresh and have 700 new systems, but as soon as the bandwidth and reliability of the network improves, why do that? We will put it in the cloud," he says.
Computer Weekly buyer's guide to green computing
Driven by rising electricity costs, green legislation and corporate social responsibility, green IT is increasingly on many IT professionals' minds, particularly for the power-hungry datacentre. In this 11-page buyer's guide, Computer Weekly looks at some of the technologies that can help your datacentre become cost and energy efficient. Contents include:
Technologies that can make your datacentre green
Curb your datacentre cooling costs to boost the bottom line
Driving datacentre efficiency to meet future demand
Download the Computer Weekly buyer's guide to green computing.
Population pressure
But changes in the business environment are by no means all driven by IT.
"The world population is growing, and demand is increasing, putting pressure on resources. Emerging economies are taking a greater share of what used to be mainly done by North America, Europe and Japan. IT is a major enabler of growth, bringing improvements that cut the cost of doing business," says Chris Harding, forum director at industry standards body The Open Group.
As the world population grows there will be more data generated and even more pressure on datacentres to be cost-efficient.
Perez says the green economy and the digital economy are intertwined, and IT power and its consumption and cost will be a major focus for datacentres.
"The green economy is very much related to the digital economy – even if equipment is still energy-intensive," she says.
"Many of the possibilities for reducing energy and materials consumption are dependent on IT – from smart grids, through to working at home and video conferencing, to a radical change in lifestyles reducing tangible products and moving towards intangible ones such as creative, health and social activities; and from waste to more durable products. They are all directly or indirectly dependent on the potential of IT.
Predicting change
Such changes have a direct impact on the role of the CIO over the coming years, and the emphasis on his or her ability to predict change and deliver a vision.
"The CIO is no longer the person in charge of computerising the administration, but the one who looks ahead to the transformation of the whole product mix of each company and of the way it performs all its activities," says Perez.
To account for this evolution, there is room for a new post at the senior executive table in some organisations, indicating a move in this visionary direction – the chief digital officer, or CDO. Gartner predicts that by 2015, about a quarter of all organisations will have a CDO.
"The fact is that digital, green and global are likely to be the three basic directions of future markets and both green and global are much dependent on digital," says Perez.
"So the CIO or CDO will have to think hard in all those directions in all aspects of the company and its products. If he or she can also reduce the energy consumption of the equipment, then all the better."
The power challenge will continue to stretch thinking around datacentre design and technology far beyond 2020 and CIOs are looking for solutions today and in the future.
Energy efficiency
Domino's Rees believes reducing energy consumption will create improved utilisation of cloud datacentres and new partnerships.
"Newer datacentres are more power efficient and in the longer term everyone will be faced with some challenges around electricity. Our peak times are in the evenings and quiet times are during the day, which is the opposite of many retailers' businesses. In the cloud world there is more sharing of capacity and better utilisation of equipment, which brings the price of power down. The market will become more competitive and cost will decrease as capability increases. The datacentre market will become much more service-based," he says.
Andrew Donoghue, analyst for eco-efficient IT and datacentre technologies at 451 Research, says in the evolution of energy-efficient datacentres, the popularity of technologies such as datacentre infrastructure management (DCIM) and use of cloud services, both public and private, will increase as organisations struggle to optimise datacentre performance.
"DCIM will play an increasingly important role in future datacentre energy efficiency projects. Cloud computing will help drive efficiency by enabling better use of internal resources such as increasing utilisation of equipment, especially through virtualisation and resource sharing," he says.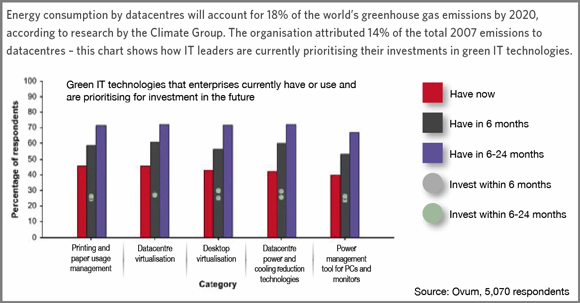 Cloud will also drive energy efficiency by reducing the peak load and the capacity requirements of the equipment; and provide a mechanism for controlling and rationing access to computing resources through internal chargeback.
"This can reduce unnecessary use of IT resources and, at some point in the future, provide an association of energy use with service use," says Donoghue.
Harnessing technologies
The datacentre of 2020 will be using a lot of the new technologies that are around today – but they will have reached critical mass.
Read more on the future of the datacentre
"Emerging technologies have the potential to improve the efficient design and operation of datacentres, but the consensus among experts is that most of the tools required to effect dramatic improvements in datacentre sustainability already exist. Techniques such as hot-aisle/cold-aisle separation, free-air cooling, temperature increases and server virtualisation are largely proven and field-tested. All that is required is the inclination and budget to implement them," says Donoghue.
Over the next 10 years, the innovation the datacentre has witnessed in the past five years is expected to continue.
"We expect to see more energy-aware cloud services, application and network-level redundancy – reducing the need for expensive, energy-hungry redundant equipment for each datacentre – more variants of free-air cooling, chiller-less datacentres, decentralised uninterruptible power supplies, greater use of unified computing devices, intelligently power managed and power capped servers, ultra-low-power servers, and aggressive dynamic power and space management," says Donoghue.
Ultimately, the emergence of more professionally run "information factories" could mean fewer inefficient private facilities – so the CIO can get on with focusing on how technology can help business strategy.
Read more on Datacentre energy efficiency and green IT