Look to the cloud to help you offer your products and services on demand
By using cloud, small firms can take advantage of IT capabilities enjoyed by big companies, and big companies can be more agile
The cloud brings the promise of utility computing – access to vast amounts of processing power and storage capacity that was once the sole preserve of large companies with budgets to match.
But now smaller companies can gain an advantage as they are not being held back by complex legacy IT and will use the cloud for new business opportunities in an increasingly competitive and ruthless economy over the next five years.
James Herbert, managing partner for innovation and delivery at consultancy Methods, says bigger companies with legacy infrastructure have lots of issues to cope with, much of them cultural.
"The real challenge is legacy and often a lack of thought that goes into cloud. Commitment is essential and you need it written down. A clear strategy with specific metrics which is agreed at a high level is critical to success," he says.
Herbert's previous experience as head of IT at the Royal Borough of Windsor and Maidenhead taught him that cloud can bring real benefits to the bottom line if you have a clear roadmap.
During his time at the local authority, cloud contributed to a 14% cut in council tax, following a commitment to be 70% infrastructure-free over a three-year period.
"Organisations will have to work on how to migrate data, etc, but at least they have clarity of direction with such a commitment," he says.
Computer Weekly Buyer's guide to cloud computing
This seven-page Buyer's Guide to Cloud Computing details the kinds of cloud offering that CIOs and senior IT professionals will need to take into account as they plan future outsourcing, hosting and application strategies.
Contents:
Putting platforms in the cloud
Can cloud computing push up profit?
Case Study: Cloud computing and the benefits of elasticity
The realities of cloud formation
Click here to download the Buyer's Guide to Cloud Computing.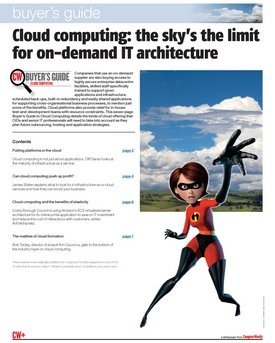 Increase in adoption
As well as efficiency savings, pressure from users is driving cloud take-up.
Emma Rodgers, senior analyst at Clearwater Corporate Finance, says trends such as bring your own device (BYOD) and the increasing pace of IT consumerisation are speeding up adoption.
"Tablets are becoming ubiquitous and things are changing very quickly as people are more ready to embrace new technology – this feeds into cloud adoption. Businesses have to develop applications, particularly if their workforce is mobile, and technology must be flexible to service users' needs," she says.
Meeting user demands is a growing pressure on IT departments and fault lines can develop in the clash between the cloud cynics – often found in the IT department, says Herbert – and non-technical directors who bring their iPads to work and think cloud is a silver bullet.
"Both sides need to be educated, by looking at what needs to be done and doing it properly. Otherwise the organisation risks losing control of identity management," says Herbert.
The inherent dangers are users becoming frustrated with the IT department not keeping up with the pace of change, and shadow IT activities that are a security risk.
Herbert gives the example of a director who decides to use cloud-based tools that the IT department is unaware of, then when employees leave the organisation and are taken off corporate systems such as Active Directory, they still have access to the cloud system, which is clearly a security risk in terms of data leaks.
"The criticism often levelled at the IT community is they are not giving the users the tools they need fast enough. In this example, if the CIO chooses the cloud-based tool early enough based on a written strategy, security risks can be mitigated, as the principles, plans and architecture are laid out," says Herbert.
If principles, plans and architecture are not written down, however, it becomes more difficult to make effective decisions.
Computer Weekly Buyer's Guide to private cloud
This Computer Weekly buyer's guide to private cloud gives you guidance to help you plan and execute your private cloud strategy. Are energy-efficient private cloud datacentres at an industry tipping point, or is it all merely market hype?
Contents:
How to make business intelligence
How to exploit the energy economics of private cloud
How to decide your cloud strategy
Tips for getting private cloud right
Click here to download the buyer's guide to private cloud.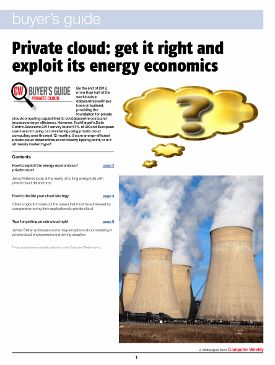 Resistance to cloud
Resistance to cloud is often from vested interests, says Herbert.
Networks and infrastructure employees might feel their jobs are threatened. When datacentres are decommissioned as organisations take advantage of economies of scale, it can be a difficult transition.
A gifted architect is invaluable to the process of cloud adoption, who will consider people and processes as well as technology.
"The architect needs to map out people and processes rather than just focus on technology, while keeping customers or clients at the centre of thinking," says Herbert, who believes any cloud strategy should build from the customer back into the organisation.
"A lot of people talk about digital rather than cloud, but it is important to remember that cloud is not just a channel shift and a web application – it is about fulfilment. A doctor's surgery might enable you to book an appointment online, but for a patient what might really matter is tracking blood test results online.
"If the focus is just on the digital interface and not fulfilment, it can mean that data is just squirted through and has to be integrated with an on-premise application, which is not efficient," he says.
Pace of change
Rodgers says the pace of change is a huge issue for big organisations, but concerns about losing control of data and the inherent security of cloud services remain.
"Organisations are aware they need to keep up with the pace of change, but things can't change overnight," she says.
However, a trend over the next five years will be that organisations that were traditionally wary of embracing the cloud will increasingly adopt it, she says.
"The financial services and public sectors are traditionally cautious about cloud because of data loss issues, but there is a massive shift in thinking about being able to utilise cloud-based services and it will be a trend within conservative sectors to realise the future of technology is within the cloud," says Rodgers.
Cloud adoption grows
Software as a service (SaaS) is by far the most popular flavour of public cloud technology, with three-quarters of firms having implemented SaaS. Only 7% say they have no plans, according to research. "Whatever way you look at it, SaaS has the biggest exposure and a vast number of folks are doing it," says analyst William Fellows at 451 Research.
Implementation of infrastructure as a service (IaaS) or virtual private cloud at 34% is the second most popular, and outstrips fully shared IaaS which is in use for 23% of respondents, with 41% having no implementation plans.
One conclusion to be drawn is that many organisations are wary of losing control.
"There are organisations who will want to have control over management of resources. Some services offer an increased ability to manage the resource environment yourself, as if it is on-premise. Less interesting than where physical resources exist, is the question of who has ownership and governance of resources. Depending on the level of risk, this will be more or less problematic," says Fellows.
He says some users are happier to put certain types of application on the public cloud, such as routine running of batch scripts, whereas more security-sensitive applications would be deemed inappropriate.
Top cloud-related projects over the next 12 months are internal cloud (42% of respondents) and public cloud assessment (27%), while only 3% are contemplating hybrid cloud.
"A couple of years ago, public cloud assessment would not even have been on the radar. It might not show up in current implementation, but now everyone has got the cloud memo. Peers and competitors are doing things with cloud, so it is on the radar," says Fellows.
The fact that internal cloud is popular comes from witnessing what suppliers have achieved with virtualisation and automation. "Organisations want to be able to replicate with their internal systems what hosted providers are able to do," he says.
The low figure for hybrid cloud is due to its inherent difficulty to execute well. "There is a lot of talk about hybrid cloud, mixing internal and private systems with external cloud, but people are not doing it at the moment. There is a good reason they have held back from a technological point of view for network and storage considerations; and the culture of the organisation," says Fellows.
The biggest barrier to internal private cloud is management (42% of respondents); and for external public cloud, it is security (69%).
The management issue for internal private cloud is because achieving an efficient organisation of resources involves cohesion of a range of systems and software from different suppliers.
"The way large organisations are often organised is they have their own network department and storage department, etc, but with cloud all aspects have to be managed holistically," concludes Fellows.
However, those cautious firms are more likely to embrace private cloud in the first instance. "They see that as a first step and a safer place to be," she says.
In the future, however, most organisations won't be running their own IT infrastructure, as they have done in the past.
"Once they make that mental leap to the cloud, they will reformulate their strategies," says Rodgers.
Chris Harding, forum director at standards body The Open Group, points out it is not just security that holds large organisations back from the cloud – many businesses have capital invested in their existing IT infrastructure and processes built around it, so want to continue to sweat their assets.
"An instant switch to cloud often does not make sense financially. Cloud may be cheaper than buying a new system, but it often won't be cheaper than continuing to use one that has already been paid for.
"It may require changes to the way people work, possibly implying retraining or change of personnel. But, over time, companies will replace systems and change processes," he says.
But availability of commodity cloud IT will help businesses to offer more of their products and services on demand.
"This, together with participation in the global marketplace, will be a trend for businesses of all kinds over the next few years," says Harding.
Opening international markets
One small business that can testify to the value of cloud is flooring specialist Harvey Maria – a cloud-based commerce system has opened up international markets and enabled the company to plan ahead with confidence over the next five years.
The figures are impressive – the firm has been able to keep a small team and not increase headcount, while growing annual turnover by 50% in the past year.
"The cloud will be essential to our growth strategy in the next five years," says owner Richard Contreras.
"We now have one webstore which operates in multiple countries; we've been able to sell as far and wide as New Zealand, America, the Middle East and Japan. It means we have the opportunity to further expand internationally, without the associated cost."
The efficiency, flexibility and removal of pain points for customers and the business is key to future growth, and means Harvey Maria is able to compete on a scale that, prior to cloud services, would not have been possible.
"We've been able to grow international sales without eating into valuable business development and customer service time.
In short, without the cloud, we would not be able to meet our growth ambitions," says Contreras.
Small companies' advantage
Cloud is good news for big and small alike, says Harding, although he agrees that in the short term, smaller companies are in a better position to take advantage of cloud because of their comparative lack of legacy IT.
"Small firms have always competed with big companies. Some things, such as economies of scale, work against them. Others, such as ability to react more quickly, work in their favour. Cloud is changing this," he says.
"Scale of operation is less of an advantage for big companies, at least as far as use of IT is concerned. By using the cloud, smaller companies can take advantage of the IT capabilities and costs enjoyed by big companies.
"On the other hand, cloud can help big companies be more agile. Small and large companies are competing on more even terms."