London NHS trust set for biometric single sign-on
Lewisham Primary Care Trust is poised to implement one of the first biometric single sign-on security systems in the NHS.
Lewisham Primary Care Trust is poised to implement one of the first biometric single sign-on security systems in the NHS.
The system, at a new children's centre in south-east London, will initially give password- and biometric-controlled access to applications used by 260 staff in the primary care, mental health and local authority social care agencies. Some 3,500 staff working with the trust will eventually gain access to systems using the fingerprint technology.

Download this free guide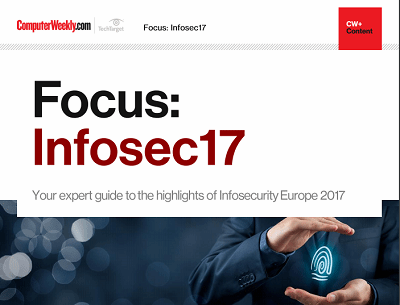 From forensic cyber to encryption: InfoSec17
Security technologist Bruce Schneier's insights and warnings around the regulation of IoT security and forensic cyber psychologist Mary Aiken's comments around the tensions between encryption and state security were the top highlights of the keynote presentations at Infosecurity Europe 2017 in London.
By submitting your personal information, you agree that TechTarget and its partners may contact you regarding relevant content, products and special offers.
You also agree that your personal information may be transferred and processed in the United States, and that you have read and agree to the Terms of Use and the Privacy Policy.
The security set-up works at three levels. Staff will use passwords the first time they log in to the system, which has a password self-management facility designed to reduce the number of calls to the helpdesk.
Security is maintained using a biometric fingerprint reader for each user and an authentication appliance from Imprivata every time they subsequently log on during the day.
The third level of security uses Cisco Clean Access, which checks the status of a PC or laptop to ensure it has the latest anti-virus and security software. Lewisham is a big Novell user, running the Groupwise collaboration suite, and passwords will be synchronised with Novell eDirectory.
Staff will move into the children's centre in August, though the system will be operable from the end of July, said James Rodd, specialist healthcare account manager at systems integrator Logicalis, which is building the system.
Rodd said most users welcomed the use of biometric security. "You get the odd comment that 'someone will chop my finger off' and you do get comments about freedom of information and human rights, but most people see that the benefits outweigh the risks," he said.
The benefits of the system, said Rodd, include the ability to keep data separate from each department, and to track application usage to help manage software licences.
As part of the roll-out, Logicalis is building a Cisco-based IP network for Lewisham Trust that will handle voice calls as well as data.
Read more on IT risk management