Logistics: IT starts to deliver
IT is changing the face of the logistics sector, enabling capacity optimisation and variable pricing. Antony Adshead reports.
IT is changing the face of the logistics sector, enabling capacity optimisation and variable pricing. Antony Adshead reports.

Few companies have used IT to cut costs from logistics operations. But this is changing. Analyst group Aberdeen last week predicted that businesses will spend $4.9bn (£3.4bn) on IT to support logistics and pricing worldwide by 2005 a 260% increase on the $1.9bn spent last year.

And this week two top-tier logistics companies have made announcements which symbolise the ways in which IT is being used in the business of moving things from one place to another.

The aviation division of DHL has announced that it has implemented Manugistics' pricing and revenue optimisation software while Federal Express has unveiled a Web-based service to allow customers to track the movements of their consignments.

What is behind these developments in the use of IT in the logistics industry and what kind of problems does it promise to solve?

For DHL the pricing and revenue optimisation software combines price and revenue information with routing and aircraft information. With it the company can identify excess capacity quickly and determine the best pricing it can offer to customers, or it can look at revenues and determine the attractiveness of a particular route.

The scale of the tasks involved in processing such information cannot be underestimated. DHL has to juggle 250 aircraft serving 120,000 destinations in 220 countries.

DHL is just one operator in a huge sector. Aberdeen says that between 10% and 13% of a developed country's GDP is taken up by logistics-related costs so it is clear the potential savings to be made are huge.

Simon Bragg, an analyst with ARC Consulting, said the key issues facing the logistics industry are pricing, routing and scheduling.

"Logistics has high fixed costs and low variable costs - the price of maintaining a fleet of trucks, for example, is high, whereas the cost of them travelling an extra few miles is small. The difficult thing then is pricing to ensure that capacity is utilised optimally."

Routing and scheduling is the classic travelling salesman's dilemma - determining the shortest route between a number of points - but multiplied by the number of vehicles and destinations.

"The problem is mathematically difficult: the time to solve the problem expands with the scale of the problem," said Bragg. "The practical upshot is that something like 30% of trucks on UK roads are empty. Traditionally nobody has had the computing power to solve the problems in a reasonable time but this is starting to change."

The power of IT is now beginning to be applied to pricing problems, said Bragg.

"Variable pricing - pioneered in the airline industries - is emerging in logistics. It has been likened to the difference between the supermarket and the bazaar. A company may have a route where it operates at good capacity, so it will offer a low price on this route on the basis that the customer also buys capacity on a route which is less full."

Such pricing systems cannot be installed as a quick-fix though. About 13 months of pricing data covering several thousand customers' transactions is needed to be able to start to calculate the probabilities of winning bids at given prices.

The advantage is that IT pricing software enables managers to encode sophisticated rules and save time in working out prices, which means the job can be assigned to relatively junior staff.

On the state of the sector, Bragg said the larger logistics companies are just at the stage of piloting roll-outs of scheduling and routing and pricing software.

But a familiar pattern is emerging. While the top players of the industry are very willing and able to automate their businesses with IT, the smaller operators have more pressing concerns.

"Larger companies do see the potential but smaller operators are still complaining about the price of diesel and don't see the potential of IT," said Bragg. "For logistics companies below the top tier, collaboration should be the issue. There are many small firms and capacity utilisation between them would benefit them, but it's just not happening."

Whether large or small the way you differentiate in logistics is by cost. The big players are cottoning on. It remains to be seen whether smart working at the top of the food chain will mean extinction for those who are closer to the bottom.

Aberdeen Group says there are seven elements to the framework of logistics resource management. The core is a Web-based repository of logistics information integrated with internal and external systems with visibility into supply chain and inventory data with command and control and alert capabilities. This is fed by:

Managing logistics resources


Download this free guide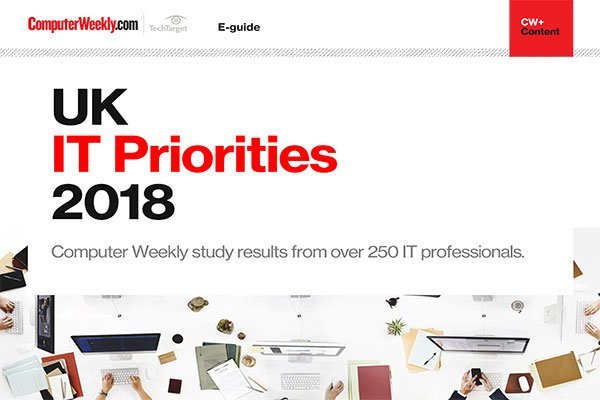 UK IT Priorities 2018 survey results
Download this e-guide to discover the results of our 2018 UK IT Priorities survey, where IT leaders shared with us what they are going to be investing in over the coming 12 months.
By submitting your personal information, you agree that TechTarget and its partners may contact you regarding relevant content, products and special offers.
You also agree that your personal information may be transferred and processed in the United States, and that you have read and agree to the Terms of Use and the Privacy Policy.
An international logistics system


Visibility and event management


Contracting and rate negotiations


Planning, routing and scheduling


Warehouse management and inventory management


Reverse logistics

The analyst group highlights reverse logistics - the logistics of customers' returned goods - as an "untapped opportunity" which can bring cost savings and benefits in terms of customer satisfaction. At present this field is the poor relation of logistics.
Read more on IT for small and medium-sized enterprises (SME)