Let's get digital
Adding to the success of CD and DVD, the market for digital add-ons such as cameras, camcorders, editing software and MP3 players...
Adding to the success of CD and DVD, the market for digital add-ons such as cameras, camcorders, editing software and MP3 players is booming, with vendors increasing their array of products to fuel demand

Earlier this year, Apple CEO Steve Jobs told an enthusiastic audience of the Mac faithful in Tokyo that the home computer had a great future as a digital controller of MP3 music players and as a digital video editor, claiming only the computer platform would have the processing power, storage and convenience to pull together video, sound and text.

By placing the Mac at the heart of the billion dollar information imaging industry, Jobs hopes to bring a specialist market into the mainstream. Sales of digital still cameras, digital camcorders, editing software and MP3 players are booming, apparently bearing out his prediction.

Jobs also stressed the potential of the DVD market, demonstrating how Apple's iDVD software makes it possible to shoot video on a digital camcorder, download the images and burn them straight onto DVD. In the same way, Apple's iTunes music software turns the Mac into a powerful jukebox, allowing users to create their own music CDs, based around the MP3 format.

Other powerful players are also moving into the digital market. Kodak, for instance, is set to invest billions of dollars into its digital division, following a long review in which it had to work out how it could move into the digital market while protecting its lucrative film business. Typical of its latest products for the consumer market is the MC3, a pocket-sized video and still camera which also works as an MP3 player. It can store 110 digital images or a 75-second video at 20 frames per second and can convert music from CD format to MP3 format.

Kodak's offerings are competing with other successful MP3 players, such as the top-end 20Gb Personal JukeBox PJP-11 manufactured by Korea-based HanGo Electronics which can store up to 320 hours of music and download MP3 files.

A study by InfoTrends Research Group in the US forecasts digital camera sales will reach 9.4m by the end of 2001, a 55 per cent increase over 2000. The installed base of digital cameras in North America is expected to reach 21m units, achieving a household penetration of 18 per cent. One estimate puts the installed base of digital cameras in the UK at 1.2m.

"This is a clear turning point in the consumer digital imaging market," says market research analyst Michelle Leapmann. "Digital cameras have reached a price/performance level that is compelling to consumers."

In the UK, sales of camcorders have doubled to 800,000 units, with digital camcorders taking 60 per cent of the market by value, even though analogue camcorders continue to hold their own because they are cheaper. Over time, all the forecasts predict that digital technology will take the larger market share, despite the fact that nobody thinks traditional film will disappear - digital cameras are still seen as complicated and cannot easily compete with the convenience of high street film processing labs.

Appealing to the masses
If nothing else, Jobs' enthusiasm has helped widen the appeal of the digital editing process. Digital cameras and digital camcorders are seen as natural products for estate agents and insurance loss adjusters, but the latest video editing software allows mainstream corporates to create professional quality video clips or live video links and stream the images to employees over the Internet.

"Video streaming is the most effective method of communication after face-to-face meetings," says Ian Vickerage, managing director of specialist video distributor Imago Micro. "With a sophisticated product such as StreamGenie from Pinnacle Systems, you can have multiple cameras and take image feeds from the conference speakers, the audience and a corporate video. It is easy to encode that into real video, put it on a server and download it over the Internet."

Vickerage identifies several markets for digital products, ranging from the consumer who owns a camcorder and is willing to spend an extra £100 on digital editing software, to the broadcast professional market buying bespoke editing systems where sales are in the £100,000 plus bracket. Between them are hobbyists and semi-professionals who can be persuaded to pay for the latest video editing software and board to increase their productivity.

The secret to successful selling is to move away from an obsession with arguments about image quality and to stress that better video editing software means greater productivity. "If you can edit your video in four hours rather than eight, but still charge the same amount of money for doing it, the semi-professional and professional market is very interested," he says.

Other mainstream distributors such as C2000 have also added specialist digital video and digital camera arms to their peripherals business, convinced that resellers should be attracted to hardware margins of up to 20 per cent - double the margin available on other peripherals such as inkjet printers. Kevin Wragg, C2000 business manager for peripherals, says it has sold digital cameras for 16 months, offering products from Sony, Canon and Kodak. He was attracted to the successful Fuji digital camera range, but believes that with five other distributors already in the market, Fuji products are in danger of over distribution.

Although C2000's three camera vendors see the advantages of third party distribution, Wragg acknowledges that other vendors have taken longer: "Some of the other digital camera manufacturers have applied the wet film mentality, so they want to deal with the majority of resellers directly and may be a little confused about what they want from the distribution side of the market."

The digital camera has the potential to form the basis of extra memory, extra hard disk and a better inkjet printer sale, Wragg believes. Resellers should realise it is no more complicated than other new markets and it should at least form the add-on to sales of other big-ticket items. Ricoh, for instance, has launched its RDC-i700 Digital Communication Device - a novel mixture of digital still camera and Web browser - to reinforce its brand name in the copier market. Ricoh found dealers were selling its copiers and copier-printer output devices, but suggesting customers take a digital camera from Canon or Fuji. With its own digital camera range, Ricoh can take that slice of the market as well.

The Ricoh device runs contrary to Jobs' prediction that the PC will form an essential part of the digital process. The RCD-i700 allows photographers to e-mail images in HTML format via a mobile phone, cutting out the need for a laptop altogether. A BBC radio station has used the camera to download images straight to its Web site.

"Another photographer has used our device in the wilds of Scotland to send potential shots direct to a client in London, got the client's approval and then shot the scene on a traditional film camera," says Mathew Clark, camera product manager at Ricoh.

Other digital film services, such as Pixology, are also trying to cut the PC and printer out of the editing equation. Pixology's service, used by BT and photographic retailer Jessops, allows photographers to send their images over the Internet to be printed professionally on paper and returned in the post. Although some Internet photoservice start-up companies have not survived, Pixology's chief executive Yuval Yashiv says his service is viable because it is being promoted by well-established high street names: "We have never been down the consumer route. We were advised to do so by a well-known consultancy, but I believed it was impossible to build a branded consumer offering from nowhere. The BT and Jessops brand have been built up over many years."

According to Ricoh's Clark, half the trouble in selling digital products is they are so new that their applications are not really understood. One high street multiple could not decide where to put the RDC-i700 because it was not sure whether it was a camera or a personal organiser.

Other signs of market confusion are evident: Epson, for instance, an initial champion of the digital camera market - an apparent natural companion to its successful attack on the inkjet photo printing market - dropped its consumer digital camera product in February. Neil Martin, Epson's product manager for cameras and scanners, insists it is still committed to the digital camera market and denies C2000's claims that the company lacks a clear digital strategy. "There is a lot of volume at the low end of the market, but that is not where Epson's core values are," says Martin. "Printing at one megapixel, you don't really get the best out of a printer."

Epson now has just one digital camera on offer, which takes images with a resolution of 3.3 megapixels, but has an algorithm that takes the image up to 4.8 megapixels, making it suitable for pictures up to A3 in size, Martin claims. The company is set to increase its camera range over the next 12 months.

Target market
Vendors of digital editing products claim the profile of customers is changing. Most resellers assume digital video and digital cameras are bought by the youth market, but in fact the opposite is true: only middle aged or retired men with plenty of spare cash have the time and interest to edit videos and digital photographs.

"One survey we carried out found that 80 per cent of our software customers are men, aged 45 years and older, whose children have left home. They have the money and the time - and time is the key thing - to sit there and play with their photos," says Mark Charlesworth, product manager for photoproducts worldwide
at MGI Software.

Charlesworth denies that his own company's financial woes -MGI Software's revenues for the first quarter of fiscal year 2002 were $5.4m (£3.7m), compared with $10.9m in the first quarter of fiscal 2001 - are part of a general industry downturn. The company's net losses for the quarter, including investments, amortisation of acquired technology and a restructuring charge, were $22m, or 52 cents per share, fully diluted, compared with net losses of $5.6m, or 15 cents per share, in the same period last year. "There are some short-term company-specific issues, but if you look at the trend, the demand for digital imaging peripherals and software is still increasing," says Charlesworth.

Pinnacle Systems' regional manager for northern Europe, Dave Askew, says it is working hard to move the age profile of customers for its video editing software. Pinnacle's consumer business has grown out of its sales into the broadcast market - on-screen graphics from Wimbledon tennis and Sky Premiership football are generated by Pinnacle editing software. The broadcast market is expected to grow steadily at 15 per cent a year, but greater growth of between 50 per cent and 60 per cent is predicted in the consumer market this year.

"We have worked the older hobbyist and enthusiast channel and have recently launched a product with Lego and Toys 'R' Us aimed at children. It has been very successful," says Askew. "The target market for the product is children aged between eight and 15."

It is likely the youth market will move into digitally based music and picture entertainment over time, even though the technology choices and lack of standards make choosing difficult. There are several products competing for photographic storage, none of which are compatible, and several different standards in the CD and DVD markets.

"DVD recordable is expected to take off in the same way as CD recordable has done, but as to which format will win, nobody really knows," says Rob Griffiths, senior product manager at Roxio Europe which supplies the Easy CD Creator 5 Platinum software product. "Some DVD players don't seem able to read CD recorded material, but they can read CD read/write formats." Depending on the compression standard used, video pictures require around 10Mb of storage per minute of moving image.

Griffiths says his customers have the time and inclination to create their own music CDs or to use CDs for archiving purposes. The Apple enthusiasm for CD and DVD formats has boosted his market because it has increased the installed base of CD players.

Images recorded on DVD have the great advantage that they can be easily identified by sequence, rather than winding through a traditional videotape. Like other digital products, DVDs have the potential to make great selling and training tools, but whether resellers will take the trouble to identify this market remains to be seen. Wragg points out that C2000 employs 500 staff but has just two digital cameras of its own: one for use by the HR department introducing new staff and one for product returns in the warehouse. "The staff have digital cameras of their own, but they bought those on the high street," he adds.

Further information:
www.computer2000.co.uk
www.apple.com/uk
www.kodak.co.uk
www.roxio.com
www.mgisoft.com
www.pinnaclesys.com
www.ricoh.com/information/united-kingdom
www.imagomicro.co.uk

Download this free guide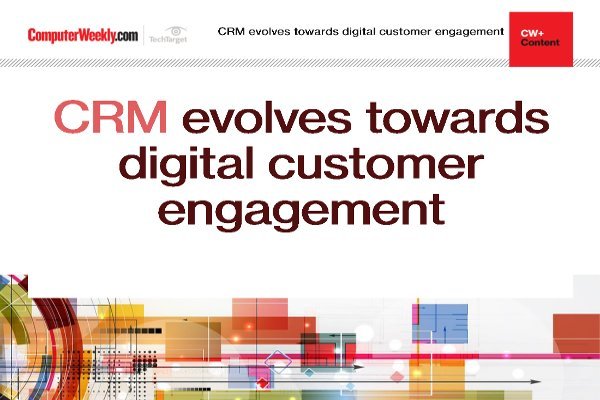 Enhancing digital customer engagement with CRM
Learn about customer relationship management has evolved towards engaging with customers through every channel, with digital at the forefront.
Read more on Business applications