Is the Budget enough to drive post-Brexit success for UK?
The chancellor has delivered an innovation and technology-laden Budget, but has it eased the tech industry's fears about Brexit?
Chancellor Philip Hammond has delivered a tech-heavy budget, with a huge focus on innovation – but is it enough to keep the country's economy going in a post-Brexit world?

Download this free guide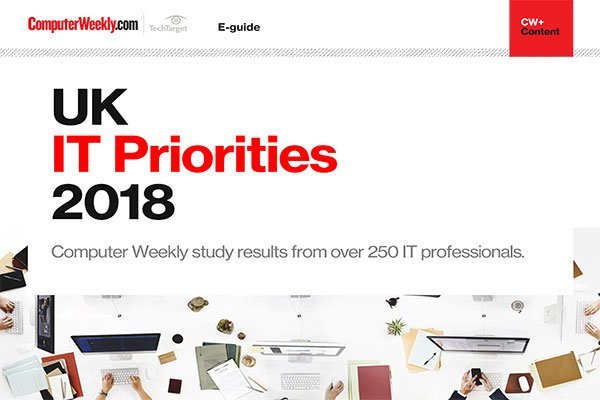 UK IT Priorities 2018 survey results
Download this e-guide to discover the results of our 2018 UK IT Priorities survey, where IT leaders shared with us what they are going to be investing in over the coming 12 months.
The technology announcements in the 2017 Budget, which Hammond said is making the country "fit for the future", were numerous.
The chancellor has promised to dish out large amounts of money – more than £500m, in fact – for various technology projects, including £75m for artificial intelligence (AI), £150m for next-generation 5G and £100m to train more computer science teachers. Hammond also wants to see driverless cars on UK roads by 2021.
Other promises include creating a training partnership between the CBI, the TUC and the government, alongside a £36m investment in digital skills courses using AI.
The aim of this huge funding package, said the chancellor, is to drive productivity and innovation to ensure a blossoming economy in post-Brexit Britain.
But productivity remains an issue. The Office for Budget Responsibility (OBR) has revised downwards its forecast for productivity growth after the UK's productivity decreased by 0.1% between April and June 2017, having fallen by 0.5% in the first three months of the year.
Hammond said: "Our productivity performance continues to disappoint."
It seems the general consensus is that technology could solve some of these issues. A CBI report, From ostrich to magpie, published earlier this month, highlighted tech adoption as a key driver to bridge the UK's productivity and pay gap. "Low take-up of readily available technologies and management best practices is driving the UK's productivity problem," it said.
However, this is not about fancy technology such as AI or automation, but the basics – enterprise resource planning (ERP) and customer relationship management (CRM), for example, which are key to any business, but the number of UK firms that have such basic technology is lower than it was in Denmark eight years ago.
Technological change
Earlier this month, prime minister Theresa May told the CBI conference that the UK "must embrace technological change" and said that the Industrial Strategy whitepaper – due next week – will have a significant focus on innovation and technology to ensure the future of the UK economy in a post-Brexit world.
The government has promised to increase research and development (R&D) spending to 2.4% of GDP by 2027 and make an extra investment of £2.3bn in 2021/22 – a positive step, but will it be enough?
TechUK deputy CEO Antony Walker said the OBR's forecast shows the "real impact of continuing failure to crack the UK's productivity problem".
He said TechUK would like to have seen "more demand-side measures to boost productivity", and added: "Supporting small businesses across the country to digitise and take advantage of new technologies is the best way to increase their productivity. That means real work to rebalance the tax system to support those purchasing subscription software and helping educate non-tech businesses on the values of digital tools to reduce costs."
Stone Group CEO Simon Harbridge said the tech investment promised by Hammond is welcome, but there is still a lot to do. "There is very welcome investment in some key tech areas, but there is still a lot more to be done, and not just by government," he said. "The UK still lags 30% behind Germany, France and the US in terms of productivity, with a number of underlying factors at play."
The Brexit impact
Ahead of the Budget, the government also announced an increase in funding to support tech startups and expanding visa availability for bringing in top overseas talent – key measures for the UK's success outside the EU.
Hammond said that the government has already "invested almost £700m in Brexit preparations" and promised to set aside a further £3bn over the next two years, which Liberal Democrat leader Vince Cable said meant "£3bn of taxpayers' money is disappearing down a Brexit black hole".
Investment is important, but is it enough? Earlier this week, TechUK CEO Julian David wrote in an opinion piece for Computer Weekly that there is a growing sense of concern among businesses when it comes to Brexit.
"Lack of progress in the Brexit negotiations means that many businesses are already planning for a 'hard Brexit'," he wrote. "Some will be preparing contingency plans to move activity overseas as early as the first quarter of 2018.
"But the problem for the chancellor is that it is very difficult to predict what the scale and impact of these business decisions will be."
David described the government's promise of increased R&D funding as positive, but questioned whether it is enough to keep businesses in the UK. If companies begin to leave the country, who will be left to drive productivity and innovation?
Read more about the 2017 Autumn Budget
Here East CEO Gavin Poole said the Budget does go some way to "provide resilience to Britain's economy as the country looks at an uncertain future outside the EU".
He added: "In Europe, we lead the way in digital and technology, but our dominance is under threat from the turbulence of Brexit.
"The fresh investment for digital startups and scaleups should help to ensure we retain the top spot, and the backing for electric and driverless cars will allow Britain to compete with the rest of the world in developing future vehicles."
Poole said the government's commitment to recruit 8,000 more computer science teachers will be key, as the country needs the next generation to have the right skills because it could be more difficult to recruit talent post-Brexit .
Bernard Brown, vice-chair at KPMG UK, said not enough is being done to attract "inward investment for the UK digital and tech sector to prosper".
"The announcements made by the chancellor only scratch the surface of what we as a nation can offer digital and tech businesses to set up shop here in the UK," he said. "With the UK preparing to leave the EU, we desperately need to attract inward investment, from digital and tech businesses of all sizes, by introducing tax incentives and increasing investments in our tech clusters."
Getting infrastructure right
No matter which way you look at it, £500m for technology is a positive step. The Budget includes £160m from the National Productivity and Investment Fund for projects to develop next-generation 5G, including £10m to create facilities where 5G networks can be tested, and £5m for a trial to test 5G applications and deployment on roads.
The money has been welcomed by industry. Stone Group's Harbridge said 5G will be a key enabler "as we transition to an ever-greater connected world with the exponential increase that will drive both the transfer and processing of data".
He added: "We have a flood of data coming and it is important that the UK takes a lead. It is great to see the government recognising this, but our infrastructure still lags, and more investment is needed."
Brian Carmody, CTO at Infinidat, said Hammond's promise of funding for the development of driverless cars – an industry that the government estimates will be worth £28bn to the UK economy by 2035 – is encouraging, but it means the UK "will need to think quickly about how it will be able to support such a rapid technological overhaul on the roads".
If the government is to meet its target of having driverless cars on the roads by 2021, infrastructure must be a priority, said Carmody.
Mountains of data
"Blanket availability of low-latency wireless connections to fibre networks over 5G will be required, and to deal with the mountains of data produced by these vehicles, high-performance data storage and number-crunching infrastructure will need to exist almost everywhere that cars can drive," he said.
Carmody pointed out that research from Intel has shown driverless cars could produce up to 4TB of data a day, which will need to be stored safely.
This will require proper data storage, at a time when TechUK lobbyists say the UK datacentre sector is at high risk of being destabilised by rising power costs unless there is urgent government intervention.
Ahead of the Budget, Giles Derrington, TechUK's head of policy for European exit, told Computer Weekly that the datacentre industry will struggle in the context of Brexit, and said he wants the government to put support in place for the sector.
"We could be in a position then where we have to potentially introduce emergency measures [to protect economic interests], and come out of this not as strong as if we focus on it right now," he said.
Throwing another spanner into the works, the 2017 Budget book confirmed that the government is mulling over rolling out the IR35 reforms to the private sector, as part of an ongoing clampdown on limited company contractors working as disguised employees to avoid paying PAYE tax and national insurance contributions.
AI investment
The government is also investing £75m to take forward the recommendations made by Wendy Hall and Jérôme Pesenti in their report on AI, Growing the artificial intelligence industry in the UK, which said the AI sector could squander a historic lead unless government, industry and academia come together to give it cohesive support.
The government also intends to create the world's first national advisory body for AI – allocating £9m for a centre for data ethics and innovation, which it hopes will "ensure safe, ethical and ground-breaking innovation in AI and data-driven technologies".
But Jane Zavalishina, World Economic Forum member and Yandex Data Factory CEO, said the scientific development of AI is not what will be "game-changing".
"While AI is too often associated with self-driving cars and robots, the truth is that the AI applications that are of most significance to businesses are actually the least visually exciting," she said. "AI that improves decision-making, optimises existing processes and delivers more accurate demand prediction will boost productivity far more powerfully in all sectors.
"The beauty of AI lies in its ability to be applied with no capital investments – making it an affordable innovation for businesses to adopt."
So, the chancellor has set out an ambitious Budget, and the general consensus is that it does go some way to easing people's worries about the UK's future outside the EU. The £1.7bn transforming cities fund to support devolution and local government could ensure that it is not just London that will see investment and innovation.
Boosting digital skills and retraining the workforce will ensure fewer people get left behind as technology develops further.
CBI director general Carolyn Fairbairn said it was good to see "focused investment in the long-term drivers of growth that underpin sustainable prosperity", such as skills, infrastructure and R&D. But she added: "Delivery is everything – the challenge now is to turn words into action."
Read more on IT for government and public sector