IBM offers alternative in the Workplace
Microsoft has a huge leadership on the desktop, which has recently been challenged by the Linux brigade. But could there be another option coming down the line?
Microsoft has a huge leadership on the desktop, which has recently been challenged by the Linux brigade. But could there be another option coming down the line?

Download this free guide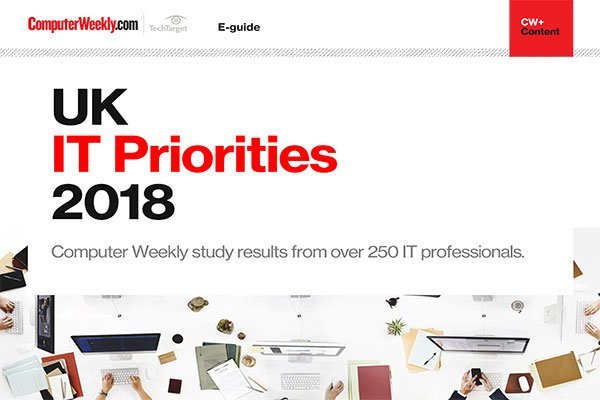 UK IT Priorities 2018 survey results
Download this e-guide to discover the results of our 2018 UK IT Priorities survey, where IT leaders shared with us what they are going to be investing in over the coming 12 months.
By submitting your personal information, you agree that TechTarget and its partners may contact you regarding relevant content, products and special offers.
You also agree that your personal information may be transferred and processed in the United States, and that you have read and agree to the Terms of Use and the Privacy Policy.
Well, we have IBM back on the case again. Having failed abysmally many years ago with OS/2 and Presentation Manager, it has decided to use its much-vaunted platform agnosticism to push a combined desktop and server approach based on its Websphere Portal technology.
Called Workplace, it offers a functionally-rich communication and collaboration platform (e-mail, instant messaging, document sharing, presence awareness, etc), built upon a highly componentised portal approach. Workplace gives the user a functionally-rich view, irrespective of the underlying desktop.
Let's get past all the religious wars: choose Linux if you feel that it gives you an up-front cost saving; choose Windows if you want to run Microsoft Office natively; and run the built-in Workplace editors (a set of word-processor, spreadsheet and presentation components in an open document format) if you don't need the overall richness of Office.
Integrate by using the power of the Websphere Portal technology to visualise your enterprise applications. Use the in-built presence sensitivity to work together as virtualised teams, without having to know where people are actually situated yourself.
Workplace comes in two versions. At the high end, Workplace Collaborative Services should be a reasonably easy sell to the largest organisations where IBM has many good direct relationships and heterogeneous support at the server.
For smaller businesses, Workplace Services Express will be competing with Microsoft's Small Business Server, which has Exchange and Sharepoint bundled. Can Workplace play against this? At a business and technology level, I think so.
The fact that Workplace integrates better with older Microsoft Office environments than the Microsoft stack does should not be overlooked. The richness of the experience and the capability of easier integration into existing back-end systems should make it attractive to small and medium-sized enterprises.
Workplace is still new, and so has a few rough edges. Apart from the Websphere Portal, it has been built from the ground up; this is no 1990's IBM trying to re-engineer technology born in the past to meet today's needs.
Not all the functionality is there yet - but it is being added to all the time. The biggest problem? Well, it has to be IBM itself.
The very use of the name Websphere conjures up perceptions of Big Iron, the need for the besuited hordes of IBM Global Services' consultants, and for large numbers of support staff.
Therefore, I think we will see the Websphere name demoted to the benefit of Workplace as we go forward.
Also, IBM has to get its marketing sorted - yes, we all know the brand, and the Big Blue adverts have imprinted in most people's minds.
But has all of this resonated with the mid-market and the SME? Not one bit - IBM is still seen as the friend of the big guy. Workplace needs to compete with Microsoft in its heartland and this is the SME.
Can IBM compete effectively in this space? Only with considerably more help from the channel, and by playing the Lotus card as a differentiator.
Sure, Microsoft has the brand and messaging for the SME and mid-market, and will be able to move forward rapidly with its next generation of .net (Indigo). But for the moment, Workplace is looking good. And if IBM can get it right, Microsoft may just have a challenger to its desktop dominance.
Clive Longbottom is senior director at analyst firm Quocirca

Read more on Operating systems software