Headhunter reveals traits for CIOs
You know that you have arrived as an IT director when your chief executive routinely takes you along to meet City analysts. But...
You know that you have arrived as an IT director when your chief executive routinely takes you along to meet City analysts. But few IT directors are up to this task, said Cathy Holley, partner at headhunting organisation Boyden, speaking at the IT Directors' Forum.

Download this free guide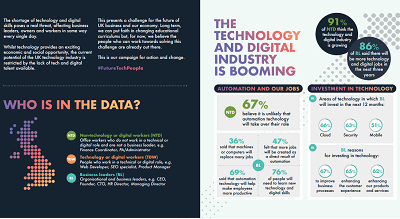 Infographic: Future-proofing UK technology
The current potential of the UK technology industry is restricted by the lack of tech and digital talent available. Read through this challenge for the future of UK business and our economy.
By submitting your personal information, you agree that TechTarget and its partners may contact you regarding relevant content, products and special offers.
You also agree that your personal information may be transferred and processed in the United States, and that you have read and agree to the Terms of Use and the Privacy Policy.
IT directors should be able to answer searching questions about themselves convincingly, said Holley.
The core questions Holley asks when looking for candidates relate to the amount of strategic influence they have in the business, their leadership skills, their ability to deal with ambiguity and their strategic thinking. Holley said she also looks for examples of bold decision making. The questions she asks include:
How have you built an outstanding team - and how do you attract top quality people?
How do you lead and motivate that team to bring out top talent?
How do you deliver service? You should demonstrate that you delegate service delivery rather than do things yourself.
What innovations have you achieved?
How are you an ambassador, not only for the IT department but for your whole organisation?
"If you are at the top table, you have to contribute to every part of business decision making and have a view on every aspect - whether it is finance, human resources, sales or marketing - and hold your own," she said. Holley also looks closely at the composition of the candidate's team. "Your team is your legacy to the business," she said. "When you have gone, it will deliver your strategy and reflect directly on you.
"A common mistake when recruiting is to think that top teams need to be made up of people like you.
"They do not have to look like you. A good team is a diverse team with different skills and talents."
Holley added that it was not enough for an IT team to have functional and technical capability, delivery skills and operational effectiveness. "That is just what I would expect from a bog standard team," she said.
Some IT teams display drive, resilience, adaptability, teamwork and relationship building, but that is still not enough for an excellent team, Holley said.
"The huge lack is finding a team that can demonstrate in its members innovation, bold decision making, strategic thinking, strategic influencing, customer focus, business acumen and leadership," she said.