Half of top UK firms fail to recruit e-commerce head
Only half of the UK's top 1,000 companies have put in place the necessary management structure to further their e-business...
Only half of the UK's top 1,000 companies have put in place the necessary management structure to further their e-business strategies.
Hazel Ward
Most are failing to benefit from electronic commerce through a lack of strategic planning, research published last week has revealed.
The survey, carried out by research firm ICM, showed that in spite of far-ranging plans to exploit new channels, such as mobile commerce and interactive TV, only 50% of the Times Top 1,000 companies had employed a dedicated head of e-commerce to implement their e-business strategies.

Download this free guide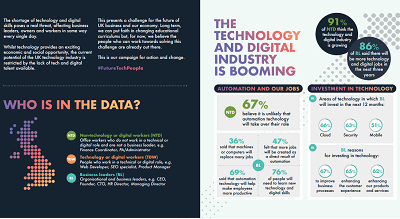 Infographic: Future-proofing UK technology
The current potential of the UK technology industry is restricted by the lack of tech and digital talent available. Read through this challenge for the future of UK business and our economy.
By submitting your personal information, you agree that TechTarget and its partners may contact you regarding relevant content, products and special offers.
You also agree that your personal information may be transferred and processed in the United States, and that you have read and agree to the Terms of Use and the Privacy Policy.
Although 90% of respondents, the majority of whom were board-level directors, acknowledged the importance of using technology to further their business objectives, only 15% of companies had developed a formal e-business strategy for 2001.
Michael Walton, chief executive of Rubus, which commissioned the research, said the most surprising aspect was the discrepancy between the stated intention to use Internet technology and the ability put this plan in place.
"It's not surprising many companies don't have a proper e-business strategy if they don't have a dedicated person responsible for forming one," he said.
Walton warned that a lack of strategic planning could affect the UK's ability to compete in the international business arena.
"The results show that most senior directors still have not got to grips with how important e-business is for improving productivity and keeping their businesses competitive," he said.
"This could open the Top 1,000 up to competitive threat and could harm their ability to compete with players outside the UK," Walton added.
Just over a third of respondants - 35% - said one of the most significant challenges to successfully implementing their e-business objectives was the competition from other business issues for priority. A lack of board-level support and a shortage of in-house skills were also cited as challenges.
hazel.ward@rbi.co.uk