Fresh air cooling makes HP datacentre super-efficient
HP's datacentre in Wynyard, near Newcastle, is among the most efficient in the world, thanks to its use of fresh air cooling. Cliff Saran looks at how the facility has been put together.
HP's datacentre in Wynyard, near Newcastle, is among the most efficient in the world, thanks to its use of fresh air cooling. Cliff Saran looks at how the facility has been put together, and pulls out some tips.
Continue Reading This Article
Enjoy this article as well as all of our content, including E-Guides, news, tips and more.
The 300,000 square foot HP Wynyard datacentre became operational at the start of February. The site will provide hosting and cloud-based computing for businesses and government departments. The first HP customer has now moved in.
The datacentre claims to be significantly more energy efficient than comparable datacentres. Each of its four server halls boasts a power utilisation efficiency (PUE) quota of 1.16, which means that for every kilowatt of electricity required to power servers, the datacentre consumes 1.16kW of electricity. This compares well with a significantly higher industry average of a PUE in the range of 2.5 to 3.0.
A breath of fresh air
Wynyard is the only HP datacentre to use fresh air cooling. Maurice Julian, facilities project director at HP, says the North-East was a perfect location for this type of cooling system, due to the cooler climate compared with the South. "We took a 100-year weather report for the region. It is an ideal climate for a cool air solution."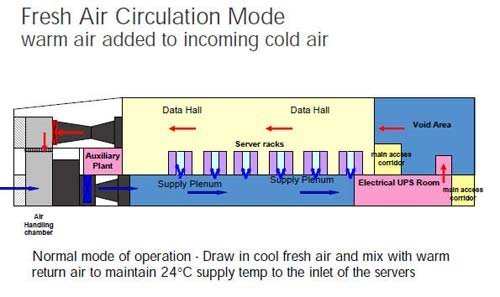 The datacentre uses enclosed cold aisles to chill the hot datacentre servers. The warm exhaust air is extracted from the top of the centre and mixed with fresh air to cool the centre to a temperature of 24°C. Since Wynyard uses fresh air cooling, it produces 12,500 tonnes less CO2, which is equivalent to the CO2 generated by 2,240 homes or 4,960 cars per year. Although there are eight back-up chillers, it is expected that they will only be used for 20 hours a year.
Along with the cooler climate requirements, HP looked at a number of other criteria when choosing the location for the datacentre. "We looked at flood risk, air traffic routes, proximity to roads, ground contamination, seismic risks, terrorism and military installations."
The datacentre is certified as tier 4, which means it offers 99.995% uptime, the highest level of availability for datacentres. It has a back-up power supply comprising 10 generators arranged as pairs which are powered from 85,000-litre fuel tanks, allowing Wynyard to run for four days of continuous use without external power.
Wynyard is linked to another HP datacentre, 16 miles away in Sunderland, using two diverse dark fibre routes, to provide resilience in the event that the centre goes offline.
Flexible business enabler
To make the most of the energy-efficiency gains, a state-of-the-art datacentre such as Wynyard needs to be managed carefully, says Martin Riley, HP converged infrastructure marketing programme manager. A datacentre needs to be considered a facility for running business services, he says.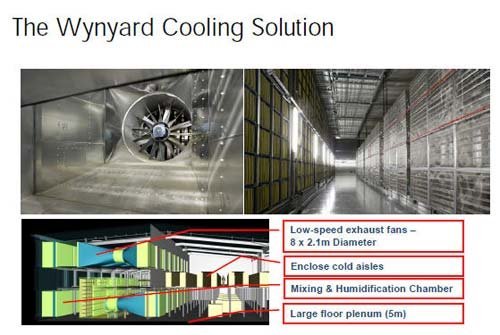 In his experience, some business users have to wait 12 months to provision networks, servers and storage for new applications from datacentres, which presents a barrier to launching new business services.
HP has developed a blueprint that aims to speed up this process. It uses modular blade server building blocks along with virtualised storage and network infrastructure, which separates the application from its hardware requirements. HP has developed technology, known as Flex Fabric, that allows IT administrators to concentrate on provisioning a new application rather than worrying about the underlying IT plumbing.
"Networking has been a big issue for provisioning. HP's Flex Fabric gets rid of 95% of wiring so there is single point of contact between a physical server and storage," says Riley.
HP is looking at portal-based provisioning, which would enable an IT administrator to use a web-based tool to provision systems such as a test/development SAP system, without the need to connect cables and set up network ports in the datacentre.
Tips on improving datacentre efficiency
Use lower levels of availability. Multi-tier datacentres do not need to run all applications at level 4.
Consolidate servers. As much as 15% of servers sit in datacentres without doing anything.
Assess cloud computing.
Use "good enough" software, rather than best in class.
Implement ITIL fully.
Read more on IT efficiency and sustainability