Extreme teleworking from Everest Base Camp
Technical project manager Astrid Byro is planning to work remotely from 5000m above sea-level in the Himalayas using a Kindle Fire
Technical project manager Astrid Byro is planning to work remotely from 5,000 metres above sea level in the Himalayas using a Kindle Fire tablet to access an online project tracking system
The pay-per-use project tracking software from Atlassian will enable Byro to work remotely from the side of the world's largest mountain, Everest in the Himalayas, during a fundraising trek for The National Museum of Computing.
Remote working usually involves a string of problems and concerns along the lines of: 'How do I connect my work laptop to the network from my dining room table?' During the Olympics last summer, thousands of London commuters successfully managed to connect to virtual private networks (VPN), dial into conference calls and write up reports without having to face the crowds in the city.
However, for Byro, remote working involves going a lot further afield, with a lack of hardware, limited networking resources and an insufficient amount of oxygen at 5,000 metres above sea level, at Everest Base Camp.
Test run
Since the Atlassian software works well with the team in the UK, Byro said that only a lack of internet connectivity would act as a barrier to extreme remote working.
On a trek in November 2012, to the Gokyo Ri trail in Nepal, Byro was able to test the Atlassian software and Himalayan internet connectivity.
Byro found the connectivity in the mountain ranges sometimes a little patchy, but she travelled with a local SIM card and found that most of the little villages on her route had some kind of internet connection.
She is planning a trip to Everest Base camp for the National Museum of Computing at Bletchley Park. "Conserving computing history is very important. The problems we face in computer security and architecture today are the same problems as decades ago. The material and languages have changed, but the fundamental challenges haven't changed at all," said Byro. "We need to conserve this and communicate the history out, and perhaps people can use that in their consideration of solutions today."
Remote working
Her encounter with extreme remote working began closer to home. A team of software developers distributed across England needed a stable remote working environment to prevent unnecessary travel.
Byro is an independent contractor currently working on a two year project as a technical project manager, developing software for GE Healthcare's pharmaceutical subsidiary. She manages and mentors a core development team of eight people who, prior to remote working, would meet on a daily basis in an office in Amersham, Buckinghamshire.
For Byro, remote working means the geographically dispersed team can avoid having to travel great lengths to reach the office every day.
"I was living in Greenwich and commuting to Amersham, but the turning point was when the Olympics were about to come to town this summer and I realised I really didn't want to commute."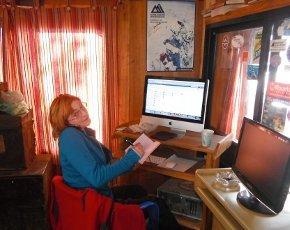 Over the summer and during a trip to New York, the team tried various different technologies to attempt to work remotely from different areas of England as well as the US.
"We were 'VPNing' into the systems and using Cisco's WebEx for screen sharing. For management we tried Microsoft's OneNote, spreadsheets and Google Docs, none of which were particularly satisfactory," she said.
With OneNote she said the software lacked alerts to inform team members of updates. If one person made changes to a document the rest of the team wouldn't know unless they were to announce it. Additionally the software needed to be hosted on a server. Google Docs, on the other hand, was difficult for the whole team to access, she said.
"We were able to make it work, but it was not very efficient, so we continued to look at additional ways of working remotely. I prefer to work from home and be able to travel so we needed something more robust."
Online project management
Byro settled on two pieces of software from business enterprise software company, Atlassian: project tracker, Jira, and collaboration software, Confluence.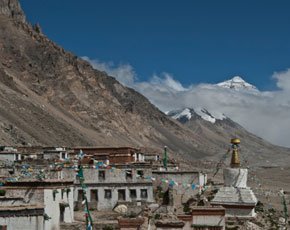 During the GE project, the programme manager was also aware of Atlassian before and was therefore happy to implement the software. Within 15 minutes the team had the beginnings of a dashboard up and running.
The project tracker, Jira, enables teams to organise and prioritise actions that need to be completed, allowing each member to stay on top of changes to the project as they happen.
"The interface was just so simple. We would storyboard the project as we saw it and I translated it to the management dashboard. Being a web-based dashboard, everyone could see what needed to be done by whom and [status levels]."
With Jira, team members always have an up-to-date view of the work they are doing via email, chat or RSS notifications, or logging onto the Jira dashboard which shows user activity streams. The dashboard is also accessible by the upper management team, which mean Byro no longer needs to take time to report on the project.
The second piece of software, Confluence, is a similar piece of collaboration software which connects teams together to show threads of conversations and project activity trails.
"Now the team get together face-to-face twice a month, rather than every day," she added.
After previously trekking to Everest Base Camp in August 2011 raising money for Bletchley Park, Byro caught a taste for hiking. She recently came back from a last minute trip to the Gokyo Ri trail in Nepal, where she gained first-hand experience of extreme teleworking.
Byro's next trip in April 2013 will see her continue to manage her team using the Atlassian software, while fundraising for The National Museum of Computing, based at Bletchley Park.
Remote working should make absolutely no difference up a mountain. It is just my ability to stay motivated while exhausted due to a lack of oxygen

Astrid Byro
"The Gokyo Ri trip in November was a beta test, I can now have a little think about what I need for the trip in April to Everest Base Camp, and think about what did and didn't work in order to settle on my final arsenal of technology."
On her previous Gokyo Ri trip the time difference worked to her advantage in Nepal. This will also apply on the Everest base Camp trek. "I can get up early, hit the trail at 8am, do seven hours of trekking and then still make the morning meeting at 9.30am UK time."
The only computer equipment Byro plans to take on her trek is a Kindle Fire HD, which is able to run the web interface of the Jira dashboard through the web browser.
"Personally, I'd prefer a larger screen like the iPad, but I pay for all of my trekking equipment myself, so I'm constrained by my wallet."
When a computer becomes available at internet cafes, she also plans to log into the team's VPN to access Outlook email.
"I can run VPN on my Kindle, but it's a bit of a pain," she says. The Kindle will be used to see project dashboards. It can also be used to access WebEx and Skype.
"Remote working should make absolutely no difference up a mountain. It is just my ability to stay motivated while exhausted due to a lack of oxygen," she said.
To follow Byro's journey to Everest Base Camp in April, read her blog, ABC2EBC, and to sponsor Byro's trek for The National Museum of Computing, visit her JustGiving page.
---
Picture credit: Thinkstock