Dutch government organisations innovate in the field of BI
The Dutch Food and Consumer Product Safety Authority and the Radiocommunications Agency are using advanced BI to do new things
Business intelligence (BI) would do well to shed its reporting image. BI tools are now so mature that organisations can use them to anticipate the future. By drawing on data from varied sources, better decisions can be made that lead to better results.
Two parts of the Dutch government are taking a lead – the Food and Consumer Product Safety Authority (nVWA) and the Radiocommunications Agency (Agentschap Telecom).
The Food and Consumer Product Safety Authority (nVWA) is the largest special inspection authority of the Netherlands, formed from a merger between the General Inspection Service (AID), the Plant Protection Service (PD) and the Food and Consumer Product Safety Authority (VWA). One of the key tasks of nVWA is to maintain laws and regulations in the area of ​​food safety.
The enforcement strategy is based on voluntary compliance by companies, institutions and consumers. Surveillance and detection take place on the basis of risk. To make this way of working possible, it is necessary that the sections that carry out risk assessments can make use of a variety of internal and external data sources.
"We were already using BI and BA [business analytics] tooling," says Wout van Benthem, a management consultant in the information management department at nVWA.
"We use BI to encourage corporate control and BA regarding risk-based or information-driven supervision. Especially in the latter area, you see differences by domain. NVWA has about 25 domains, such as fertilisers, animal welfare, alcohol or tobacco. Each domain has its own specific rules and processes. Through the merger, we are now inspecting on a more information-driven basis. Also, we wanted our BI environment setting to be more generic and scalable," he says.
More efficient inspections
The organisation chose a system from SAS for supervisory preparation in the regular inspection process.
More on government use of business intelligence in Europe
"We want to gather as much information as possible so that the inspector can be sent on the road with the best possible file. In addition, we can schedule our inspectors much more efficiently. By pre-conducted analyses we know better where the risks are," says van Benthem.
The datasets nVWA works with are large and often of different formats. The amount of data about manure transports, for example, is very large indeed.
"It consists of about 15 million records with many columns that are updated four times a week. Depending on the domain under analysis, we also use external data from the Chamber of Commerce, customs or health," says van Benthem.
"Because the area of manure is so data-driven, it was one of the first to be looked at. With less data-driven domains, like alcohol or tobacco, there is a world to be conquered. Especially if you take into account the enormous amount of unstructured data from, say, social media," he adds.
Quick discovery of food poisoning
NVWA wanted to bring BI from technology to functional use.
"In the past, we were quite dependent on technical management, but now we can be much more dynamic and flexible because end users can use the tools. We have also heavily plugged in data-mining techniques, and SAS was the only [provider] which could help," says van Benthem.
Our risk analysis consists primarily of structured data. Soon, a swathe of unstructured data will be added to that

Wout van Benthem, nVWA
The organisation is now on the eve of the use of social media and big data in the BI process.
"That is something we are now implementing," he says. "Our risk analysis consists primarily of structured data. Soon, a large swathe of unstructured data will be added to that. With that combination, we hope to be able to discover and predict outbreaks of things like food poisoning. The faster we have those insights, the better we have an opportunity to act.
"The data sources are viewed not only nationally, but internationally, and risks are mapped, as now with the Ebola outbreak."
Ad hoc queries
Along with the regular inspection work, the information management department also supports dynamic analysis. Thus, reports are created for project evaluations in which the planned turnaround time is compared to the realised throughput.
"That's valuable information to assess the effectiveness of the organisation and improve it," says van Benthem.
Besides the regular and dynamic analyses, nVWA also regularly copes with ad hoc questions. The ability to combine multiple data sources in a smart and quick way, and to report from those, is used to answer questions from the Ministry of Economic Affairs, Agriculture and Innovation and from the government more generally.
"These are rarely standard questions, and a correct answer is needed quickly. The dynamic analysis and selection power of our tooling helps us to combine all available information efficiently to come to the right answers, regardless of whether that is for specific reporting, process support, the regular inspection process or for an ad hoc question," says van Benthem.
Frequency spectrum monitoring
The Radiocommunications Agency (Agentschap Telecom), also funded by the Dutch government, uses BI to perform faster, better and more efficiently.
Agentschap Telecom is responsible for the distribution of the radio frequency spectrum. It also monitors compliance of licences for radio frequencies. This is not merely radio stations, but for everything that uses radio waves, such as the centralised remote control of your car or remote control for your garage door, says Frans Hofsommer (pictured below), head of technical and logistical support at Agentschap Telecom.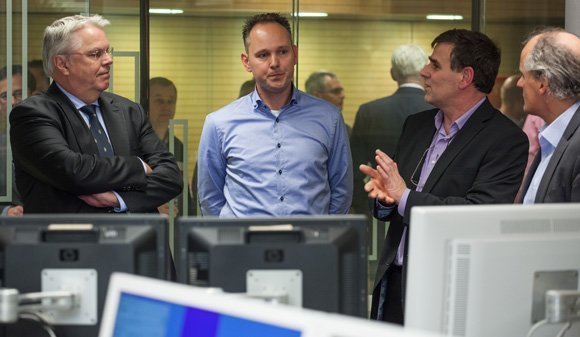 Agentschap Telecom's Frans Hofsommer (second on the right) talking to former secretary-general for economic affairs Chris Buijink
"The frequency spectrum is becoming busier and, because of austerity, we must do our work with fewer people, so we benefit from good information to perform our tasks," he adds.
Hofsommer started in 2001 with a strategic information platform. "That was a simple PC that stood somewhere behind a curtain, and which used a small database to perform several measurements and look for correlations in the licence file," he says.
"For the past 13 years, we have been looking for ways to effectively link the concrete use of the spectrum to all the other information we have about the spectrum. Last year, Sogeti built us our own system, which unlocks different data sources."
Sogeti coupled the usage data to the database of licences issued, the database containing the antenna registry and database error messages.
Linking external sources
These are currently still mainly internal sources, but Hofsommer would also like to link to external sources such as the KNMI (Royal Dutch Meteorological Institute) or customs. The weather affects radio waves. Those waves travel less far in fog, for example.
"If we can link to the meteorological databases, we can assess whether interference is the result of an 'ether' [radio frequency] pirate or just the fog," says Hofsommer.
"A link with customs would make it possible to detect inferior equipment that enters our country. Such devices may interfere with certain frequencies, which we would rather know about before they go to the store," he says.
A link with customs would make it possible to detect inferior equipment that enters our country

Frans Hofsommer, Agentschap Telecom
Agentschap Telecom continuously measures the use of ether in the Netherlands. There are 13 permanent monitoring stations and 25 cars equipped with mobile stations. The BI system Sogeti built makes it possible to send the cars on the road with a clear destination to keep costs down.
Innovative linking
The agency has also been busy tracing GPS jammers – devices that interfere with signals from GPS satellites. This affects security, because the Dutch defence forces also use GPS satellites, therefore the devices are illegal.
At the touch of a button, Hofsommer and his colleagues can see where illegal devices are being used. This is remarkable because Sogeti had to build a special link between the Oracle BI system and the Matlab software the agency uses. This link was desirable because the data Agentschap Telecom use is composed of multiple dimensions.
"You really need a tool to translate that information into something that we humans can understand. Matlab can do that visually. So we wanted the gigabytes of data arriving daily to be translated into a single image per county, to provide insight. But the software from Matlab and Oracle was not easily compatible, so Sogeti had to do some innovative mathematical coupling," he says.
"This way the information is quickly available throughout the organisation, where users previously had to go to a technical engineer and sometimes had to wait weeks or months before the information was available."
Europe-wide potential
Besides the desire to connect additional external data sources to the BI system, Hofsommer also sees the agency being used as a European example.
"The frequency spectrum is becoming even more centrally controlled by Brussels. As more and more devices come to the market, it is important that the spectrum remains clean and divided," he says.
The innovative BI system used by Agentschap Telecom is of wider European interest
The European Commission is committed to achieving that, and this requires solid information. The innovative BI system used by Agentschap Telecom is therefore of wider European interest.
"We would have to implement this type of system across all of Europe, so that comparisons are possible between European countries. Trends can be identified on the basis thereof and predictions can be made," says Hofsommer.
That insight came in handy when the organisation responsible for European satellite SMOS (Soil Moisture and Ocean Salinity) contacted the agency because its radio signals in the Netherlands were disrupted.
"Thanks to the coupling of all data with a graphical representation, we quickly learned that it was three households in the south of our country who used a broken modem. They were totally oblivious and the modem manufacturer provided them with new equipment immediately. We are the only organisation in the world that can detect this so quickly, because of our innovative BI-solution."
Read more on Master data management (MDM) and integration