Dispute may force employers to confront Tupe muddle in court
The row about who should pay off Atos Origin's staff after their work for Lucent was transferred to Compaq could lead to...

Download this free guide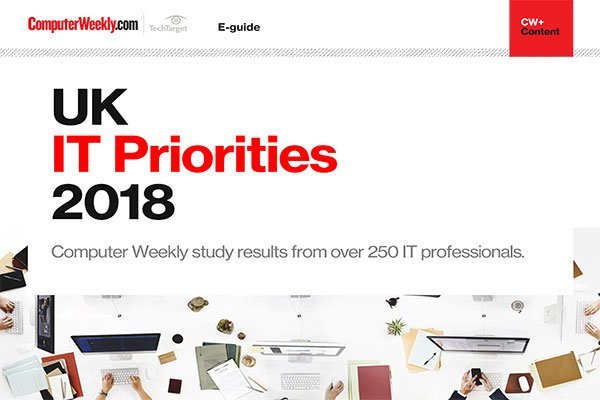 UK IT Priorities 2018 survey results
Download this e-guide to discover the results of our 2018 UK IT Priorities survey, where IT leaders shared with us what they are going to be investing in over the coming 12 months.

By submitting your personal information, you agree that TechTarget and its partners may contact you regarding relevant content, products and special offers.

You also agree that your personal information may be transferred and processed in the United States, and that you have read and agree to the Terms of Use and the Privacy Policy.

The row about who should pay off Atos Origin's staff after their work for Lucent was transferred to Compaq could lead to clarification of how Tupe law applies to outsourcing. Bill Goodwin reports



A row between IT suppliers Compaq and Atos Origin over the fate of 60 desktop and network support staff has highlighted the legal uncertainty surrounding the regulations that govern the transfer of staff from one company to another during IT outsourcing contracts.

Introduced two decades ago, the Transfer of Undertakings (Protection of Employment) - or Tupe - regulations were designed to protect employees' jobs, pay and conditions, when organisations sold or outsourced parts of their business operations to other companies or contracting firms.

A European law, known as the Applied Rights Directive, has ensured that similar rights are available to workers across Europe.

Throughout the 1980s test cases in the UK and Europe built up a body of case law which has reinforced employers' obligation to staff when business units change hands.

But more recently, the European Court of Justice has shown a shift in emphasis away from employees and in favour of employers. This culminated in a 1997 case which ruled that, if employees, for whatever reason, do not actually transfer to the new organisation, then their Tupe rights do not apply.

The result, said Julian Hemming, employment partner at London law firm Osborne Clarke, is two conflicting lines of case law and a great deal of confusion.

One argues that Tupe rules apply whether or not employees actually transfer to a second organisation. This would stop them being left in limbo over a disputed outsourcing deal such as the current disagreement between Lucent, Compaq and Atos Origin. The other suggests that employees do not have Tupe rights, if their transfer does not take place.

This murky scenario is the backdrop for the row between Atos Origin and Compaq. Both companies were chosen by telecoms supplier Lucent to provide an outsourced desktop and network support service in July 2000.

With the collapse of the telecoms market this year and after some heavy shedding of staff, Lucent decided to end its contract with Atos Origin and rely solely on Compaq for support services.

Atos Origin assumed that under the Tupe rules the 60 staff, half of whom are in the UK, that it employed to meet the Lucent contract would automatically transfer to Compaq and retain their terms and conditions. But Compaq thought otherwise.

Paul Bingham, managing director of Atos Origin, said, "The first group of staff who were affected by this left our organisation on 31 July - five employees. We notified Compaq in the UK that these staff would be reporting for duty to them the following working day. But Compaq has not accepted responsibility for any of them."

Compaq set out its case in an e-mail to the Atos staff who were affected. It argued that the transfer falls outside Tupe regulations because:

No assets will be transferred from Atos to Compaq


No employees need to be transferred from Atos to Compaq to provide the services to Lucent


Compaq would use a different operational model to provide the services, including providing helpdesk and network support from a remote call centre, rather than locally


The firm will need fewer resources; it will provide services in fewer countries to a lower volume of users.


Compaq's publicly-stated reasons have failed to impress employment experts contacted by Computer Weekly. However, Compaq's claim that no assets have been transferred, and that helpdesk services will be provided from a central call centre, rather than locally, have little relevance, said Robert Morgan, chairman of Morgan Chambers, an outsourcing advisory firm.

Ultimately, Compaq's position under the Tupe regulations will depend on just how different the services it provides to Lucent really are, he said.

"In my opinion, Atos is right and Compaq is incorrect. If the service continues in the same operational way, Compaq should take the staff. Lucent would want that for its business continuity, so that it doesn't lose people who it is used to dealing with and who understand the system."

Valmai Adams, employment partner at Nabarro Nathanson, agreed. "Compaq will have to argue that the services provided are so different that you can't say there was any similarity. Atos employees were employed to X and Compaq will do Y, therefore Tupe does not apply," she said.

Compaq could argue that it needs fewer support staff for technical, economic or organisational reasons. But under Tupe, the company would still be obliged to hire the Atos staff before offering them redundancy.

The dispute has left 60 IT staff, including 30 in the UK, most of rest in Germany, and others in the Middle East and Africa, in a state of limbo, effectively employed by no one, with no work and no redundancy payments.

"Both firms are saying that they are definitely employed by the other," said Graham Briggs, national organiser of the Association of Management and Professional Staffs. "If they go down to the benefit office and they are asked whether they are unemployed how can they answer?"

The union plans to bring an the case to an employment tribunal against Lucent, Atos Origin and Compaq to force the issue. "We will take it to the European Court of Justice if necessary," he said.

The case is likely to become an important test case, said Adams. "Having those arguments aired before the employment appeal tribunal or even the European courts would be useful, as this is an area where there is uncertainty."

Just how far the case will go is open to debate. Compaq or Atos, for example, may decide that it is simpler and cheaper to pay redundancy costs than to fight.

Some clarification in the Tupe laws could, however come later this year, when the Department of Trade & Industry publishes the results of consultation on Tupe reform. Meanwhile, any IT department looking to outsource some of its functions should take specialist expert advice, particularly if it wants to ensure continued access to its former staff.

"Because Tupe is an evolving law you cannot expect your own legal people to deal with it," said Morgan. "We have also seen innumerable cases where companies go to corporate lawyers who know very little about outsourcing or Tupe. It needs a very specialised person to understand the issues. There are probably only 20 legal practices that have that expertise."

What you need to know about Tupe
Julian Hemming, employment partner at law firm Osborne Clarke, offers the following advice:

Tupe implements a European Directive in the UK which applies in most other EU countries


All employees caught by Tupe will transfer automatically on their existing terms and conditions


Suppliers cannot contract out of their Tupe obligations


Tupe applies when there is a transfer of a business operation from one organisation to another where the business is in the UK immediately before the transfer


Does Tupe apply? Key criteria include (but are not limited to): whether tangible or intangible assets have transferred; whether employees have transferred; the similarity of the activities carried on before and after the transfer.
Top Tupe tips for IT departments

Make sure your outsourcing agreement is well drafted and anticipates what will happen at the end of the contract


The contract should only allow the supplier to move key employees who are dedicated to the contract with your consent during the notice period


Subject to any Data Protection Act restrictions, your contract should give you the right to inspect all the suppliers' employment records relating to the employees working on the contract.
Read more on IT outsourcing