Citrix plans load balancing tools to boost application performance
Thin client specialist Citrix is planning to release tools in the near future to improve load balancing and application monitoring and performance.

Thin client specialist Citrix is planning to release tools in the near future to improve load balancing and application monitoring and performance.

Download this free guide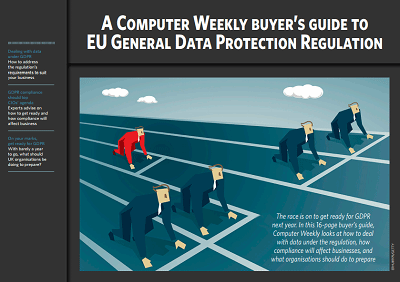 Computer Weekly's Buyer's Guide to GDPR
The race is on to get ready for GDPR next year. Computer Weekly looks at how to deal with data under the regulation, how compliance will affect businesses, and what organisations should do to prepare.
By submitting your personal information, you agree that TechTarget and its partners may contact you regarding relevant content, products and special offers.
You also agree that your personal information may be transferred and processed in the United States, and that you have read and agree to the Terms of Use and the Privacy Policy.
Speaking at the iForum user conference in Edinburgh, Citrix chief executive Mark Templeton (pictured) said the company would be developing tools for monitoring and measuring end-user application performance and auditing who accessed what, when and where. It will also be offering compliance-based auditing tools and support for forensic capabilities.
Some users have reported problems load balancing Citrix-based applications, because it is difficult to prioritise certain types of users, such as the finance department during busy times.
Templeton said, "We need to improve load balancing: today you have to hard code the load balancing algorithm. It is very sophisticated and highly capable, but it needs to take a back seat, and the system needs to learn how the user uses the application to auto-optimise bandwidth and offer the best access experience."
The recent acquisition of NetScaler, which produces technology that can speed up applications by up to five times, should help Citrix to improve both application throughput and load balancing. Citrix said it would integrate NetScaler technology into the core Citrix Access suite.
NetScaler will perform application load balancing and integrate with Citrix's Presentation Server, carrying out Secure Sockets Layer encryption processing, which can tie up server processing power. This should speed up Citrix-based applications.
Citrix unveils SME Presentation Server
Citrix demonstrated a small business version of its core Presentation Server at the iForum conference. The product, Citrix Allinone, can support 75 users on a single server.
Allinone is a simplified version of Presentation Server, with simple wizards used to configure all aspects of the system.
Independent Citrix analyst Brian Madden said the real value of Allinone was in the configuration wizard. The wizard automatically installs Windows Terminal Services, then the Terminal Services Licensing Service. It then steps the administrator through the various configuration options.
"I cannot express how cool this wizard is. The Allinone version of Citrix looks like it will have most features of Presentation Server except for being allowed to participate in a farm," said Madden.
Windows Server 2003 is required and pricing and release dates are to be announced.
Read more on Server hardware