CW500: Transforming IT at HMRC, with CIO Phil Pavitt
Phil Pavitt, HM Revenue & Customs CIO, revealed the secrets behind running the UK's largest IT estate to CW500 Club members.
Since Phil Pavitt took on the role of CIO in at HM Revenue & Customs (HMRC), he has transformed both the organisation's IT infrastructure and its relationship with its IT suppliers.
Under his watch, HMRC has simplified its IT estate, eliminated 65 software applications, shed nearly 2,000 servers, retired over 15,000 workstations, and brought in savings of £161m a year.
And, in a rare coup in government IT, Pavitt, has renegotiated HMRC's Aspire contract with Capgemini, saving a further £200m a year.
Not bad, he says for a "lumbering giant of a department" he told CIOs and IT leaders at a meeting of Computer Weekly's CW500 Club in March.
Spending review
Pavitt's current focus is to help HMRC meet the demands of government's 2012 spending review .
HMRC's IT systems
80,000 desktops
10,000 printers
7,500 laptops
6,000 datacentre servers
2,000 Blackberrys
1,100 interfaces
600+ applications
Source: HMRC
That will mean a 25% cut in the department's overall spending, and a 33% cut its IT budget. At the same time, HMRC has been charged with collecting £22bn more in revenue
That is a big task for an organisation with the largest IT estate in the UK and one of the 15 largest IT sites in the world. It has over 400 different tax systems, at least seven different versions of SAP, and a whole host of specialist software that has grown up over time.
"We have bought one of every application any vendor has ever sold over the past 50 years," Pavitt said, perhaps only half-jokingly.
There will be a human cost to the spending review too. 10,000 civil servants will lose their jobs, half of HMRC's offices will close, and 12,000 civil servants will change their jobs.
Taxing numbers
£468bn revenue collected last year
£40bn entitlements paid
200 million calls handled each year
55 million PAYE returns processed each year
8.3 million tax credit renewals processed
7.65 million self-assessment returns filed online
Source: HMRC
Move to standard software
HMRC embarked on Aurora, a huge programme to replace a huge number of heavily customised pieces of software with fewer standard systems.
Persuading officials that their specialist tax platform will work effectively on a standard SAP package, has been a challenge, says Pavitt.
He kick-started the project by offering free consultancy to help tax departments re-engineer and simplify their processes.
"One tax was so unique I was told it could never go on to SAP because SAP would never cope with what they wanted," said Pavitt.
"It went live three months ago on an SAP 'vanilla' solution. And the good news is their running costs dropped by 83%."
Self-financing
Pavitt is using this example to persuade other tax officials that their systems too can be successfully migrated.
Computing transactions per year
1.2 trillion banking actions
1 billion transactions
608 million items printed
450 million e-mails
Source: HMRC
Moving to new platforms is yielding huge savings both for HMRC and its suppliers.
And Pavitt is ploughing the money back into more upgrade programmes, effectively making Aurora self-financing.

"We keep that money. then use that money to retire the next system, and the next system," he said.
By the end of next year, HMRC will have modernised every application, on new infrastructure, for an investment cost of zero, says Pavitt.
This includes rolling out 25,000 new desktops, video conferencing for 80 different sites, new telephony infrastructure for 75,000 people, and 15,000 printers, fax machines and photocopiers, replaced by 4,300 printers and multifunction devices.
As a further incentive, Pavitt has introduced a 2-for-1 rule. If a department wants a new application, it has to find two more applications of higher value to shut down.
"If you can't do that, you can't have the investment," said Pavitt.
13-machine strategy
HMRC is building on Aurora with, what Pavitt calls his 13-machine strategy. The idea is to migrate every platform in HMRC on to 13 standard, non-customised platforms.
Selling the project to the business was not exactly difficult, said Pavitt.
"We had a spreadsheet, and a chart, which showed every machine, the age of the machine, and when it went out of support," he told the meeting.
"And then I really shocked them, I showed them the cost of running each machine and the average age of the support people."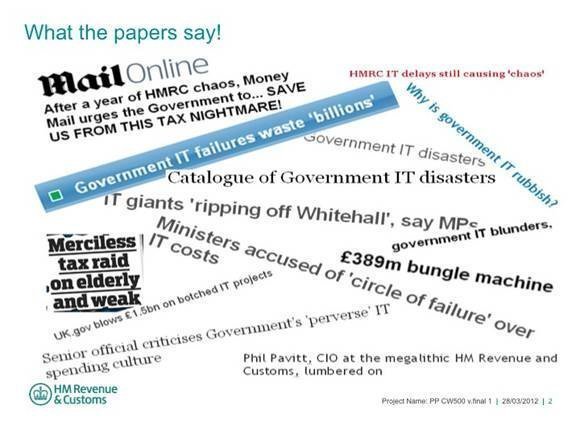 When IT goes wrong
HMRC had been tarnished in the past by IT disasters, including the failure of tax credits system, and its embarrassing loss of a disk containing personal data of 25 million people.
Pavitt got an early inkling of the state of HMRCs IT when he work-shadowed a tax inspector as part of his preparation for his new role in September 2009.
"Much to my pleasure and excitement she opened her bottom drawer of her desk and pulled out her laptop. I thought this is so cool," he said.
His heart sank when she put the laptop back in the drawer and left with only the laptop case.
"I don't use the laptop, its too bulky, too inefficient, she told him "But with all the zips in the case, I can keep my confidential papers really safe."
Today he keeps a collage of some of the more sensational headlines about HMRC's IT systems on his wall, just to ensure he doesn't become complacent.
"Most reporters have already written a story about me and HMRC. It has got billions, IT failure, loss, incompetent, and then Pavitt. And all they do is gently move those around depending on the nature of the story," he said. "The story does not have to be genuine, by the way."
The analysis showed that HMRC was paying a fortune to keep systems going that had not received investment for years.
And in many cases, the IT staff providing support for those applications were approaching retirement.
What started off as an IT-led strategy quickly became a business-led strategy, he says.
"I get summoned to meetings to apologise for not delivering their 13-machine strategy fast enough, I laugh in my head and apologise with my mouth."
So far, the strategy has helped HMRC slim down 900 IT applications to 150.
Turning HMRC into an intelligent customer
Pavitt says he was determined to reform HMRC's relationship with its suppliers.
The department had a history of buying IT systems that suited the suppliers, rather than meet the needs of the users.
HMRC spent £1.4bn a year on IT, much of which went to Capgemini and Fujitsu, the main contractors in the Aspire consortium.
"We didn't realise we were the customer, so we were pretty happy to take what we were given, which is true for a lot of government IT," said Pavitt.
Aspire
Renegotiating HMRC's frame work Aspire IT contract with Capgemini and Fujitsu was a coup.
The suppliers are responsible for providing HMRC's IT services, from tax credit systems to desktops and laptops, under an £8.5bn contact.
After five months of tough negotiations, HMRC and its suppliers agreed a new deal that opened up Aspire to greater competition, saving £110m a year.
It is the first systems integration contract to be successfully renegotiated without having to go through arbitration, says Pavitt.
"Did they get the deal they wanted? Probably not. Did they get the deal they could work within, absolutely. The press release was jointly written," he said.
Pavitt acknowledges it will be a lot harder for Aspire to make big profits under the new regime.
"But as a man responsible for what you are paying as taxpayers in expenditure. That is the right answer"
Benchmarking
All IT contracts now go through benchmarking to ensure they represent value for money.
Phil Pavitt on IT suppliers
Phill Pavitt doesn't hide his scepticism about IT suppliers.
He has seen too many Powerpoint presentations from companies trying to sell him solutions to problems he doesn't have.
"Hang on a minute," he tells them after enduring the first few slide. "I just have to remind myself who is the customer. Okay I have got it, lets start again."
The problem is that few suppliers take the trouble to understand what their clients really need.
He describes thin-client computing as "the lie that the industry sold us" - and far more expensive than the desktop PCs it is designed to replace.
He is just as unconvinced by the hype around cloud computing. Private cloud, he argues, is just datacentre IT with a new name.
"I do love the whole cloud conversation. Its kind of novel and exciting and a bit pointless," he said.
"There is nothing new in the IT world under the sun. Its all marketing and packaging."
Pavitt, who pioneered the idea in his previous role as CIO at Transport for London, uses Gartner to source a comparable quote for each project.
"It's a like-for-like comparison, as best you can. And we pay the supplier to quote it, because they are never going to win the business," he said.
If the quote is cheaper, HMRC's supplier must match it. The tactic has saved HMRC £80m in the year to March, Pavitt revealed.
Getting the business on board
Pavitt could not have made the progress he has without winning over both HMRC's IT staff and its senior leadership.
His first job, he said, was to make IT so boring, that it no longer featured on the board's agenda. He believes he has succeeded.
"When I first got there, there were 11 items on the board agenda, and six of those items were IT related," he said. "The last board meeting and the one before and the one before, we did not mention IT once apart from Aspire contract "
Pavitt says that making sure basic IT services like e-mail and printing worked properly across the organisation was his initial priority.
He realised, he says, that the board would be more likely to listen to him if HMRCs basic IT services were working.
"My biggest success in persuading the board to tackle the Aspire contact, which we have talked about for many years, was making sure everyone's printing works."
Unit pricing
More from Phil Pavitt at the 500 Club
Pavitt has mobilised HMRC's own finance directors to help him keep IT costs down.
Every time an employee uses part of the IT estate, the details are recorded, and costs allocated on a unit pricing system. The results are sent directly to the finance director of each department.
Finance directors have identified and returned thousands of un-needed SAP licences to the IT department, along with thousands of unused telephones and hundreds of laptops.

The project led to 74 million fewer items being printed, and 5.5 million fewer items being processed.
"I saved £22m off my operational costs in first few months. It was nothing to do with the IT department, it was all through the finance directors," he said.
Similarly, HMRC's investment committee now insists that each department goes through a process re-engineering programme, before it approves new IT project.
"I had to persuade the investment committee that was the important hurdle for them to manage, " said Pavitt. "Suddenly the IT demand dropped like a stone."
Awards
Pavitt has worked hard to build the enthusiasm of his IT staff. The IT staff at HMRC are among the best in the business, he says - they just didn't know it.
"I told them last year we are going to go for every award we think we could, but no public sector ones, only against the private sector. And if we are any good, we will win," he said.
Pavitt and his team now have a bunch of awards to their name. At the last awards ceremony, HMRC beat off competition from GlaxoSmithKline, Tesco and Virgin.
"We won an award against five of the top 100 organisations in the UK. And my team walked away thinking, 'He said we were good, I think we probably are'," he said.
Awards, he says, help productivity move up a few points. "People become less risk adverse, and believe in themselves a bit more," he said.
Does Pavitt's success at HMRC mean the era of big government IT failures is at an end ?
He is realistic. IT is a collection of mechanical components, and every now and then they will fail, he says.
"I promised my board that we would still have IT failure, project failure, all sorts of failure. But I promised that the failures would be very short."
Nevertheless Pavitt says he has succeeded in reducing the failure rate dramatically. HMRC prints 500 million pages a year, but instead of million incorrectly addressed envelopes there might now be a few thousand.
"I do have the odd moment of self doubt, on the train, going home in the car," he said. "But it does not last long. Only for a moment."
Read more on CW500 and IT leadership skills