Best of VMworld Europe 2010 User Awards: Virtualisation for disaster recovery
The best virtualisation for disaster recovery user project improved availability and enabled semiannual failover and failback tests.
Best virtualisation for disaster recovery project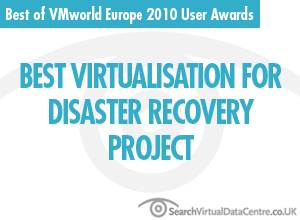 Winner: University Hospital Leipzig
IT project owner: Daniel Pfuhl
Vendors and technologies used: VMware vSphere 4.1
VMware Site Recovery Manager 4.1
EMC Corp. NetWorker 7.6
Fujitsu Ltd. Primergy RX600S4 server with Intel Xeon 7350/7460 and RX300S5
EMC Corp. CLARiiON CX4-960 and CX4-480
Brocade Fibre Channel switches
IT project: This project, dubbed "Red.IT" (or "Redundant IT Infrastructure"), enables the hospital to perform failover and failback tests twice a year. With VMware Site Recovery Manager, the hospital has also improved the availability of its most critical application, SAP, as well as that of medium-priority applications (95% of which are virtualised).
What the judges said: "An ideal virtualisation disaster recovery project."
Read more on Datacentre disaster recovery and security