Barclays heads for the Isle of Man
Barclays is considering locating high-value e-business services on the Isle of Man, according to the bank's head of e-business...
Barclays is considering locating high-value e-business services on the Isle of Man, according to the bank's head of e-business strategy, Stuart Brocklehurst.
Antony Adshead
He said, "To date the issue of location for e-business has revolved around where in Clerkenwell, London, to rent premises. For businesses looking to set up online ventures which anticipate major revenues, the tax regime and legislative environment of the Isle of Man could be favourable."

Download this free guide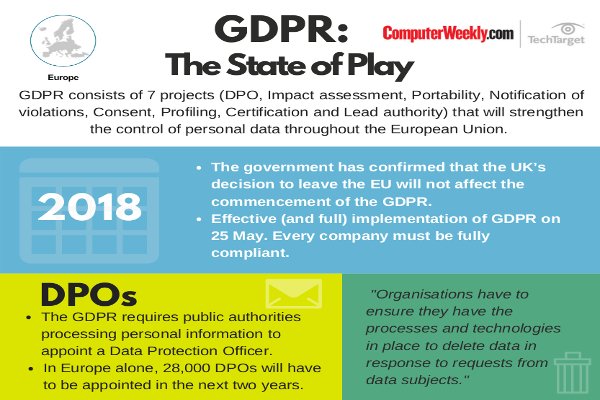 Infographic: GDPR - The State of Play
Get the latest information on how GDPR is going to affect your business and how to avoid any unwanted fines with this simple infographic.
By submitting your personal information, you agree that TechTarget and its partners may contact you regarding relevant content, products and special offers.
You also agree that your personal information may be transferred and processed in the United States, and that you have read and agree to the Terms of Use and the Privacy Policy.
The Isle of Man has been promoting itself recently as a haven for e-business, citing its favourable legislative, tax and communications infrastructures.
Last year the island's government passed e-business legislation validating digital signatures to attract organisations seeking to avoid the UK's Regulation of Investigatory Powers (RIP) Act.
Telecommunications facilities on the island are well developed with grants available for free installation of ADSL high-speed Internet and a 1.2 terabit per second link to mainland Britain and Northern Ireland.
Manx Telecom - a BT subsidiary - is to introduce third generation (3G) mobile phone services in April 2001.
The island's government plans to lower business and personal taxation to 10% over the next five years as well as create a number of allowances and deferrals.
The island is being seen as a test bed, both for the business use of new communications technologies such as 3G and ADSL and for new business models which can benefit from a more liberal and speedier legislative process.
Brocklehurst said, "The business infrastructure on the island allows us to try out new business models in a less restrictive environment than the mainland. To change legislation in the UK parliament is a lengthy process but in the Isle of Man business can take advantage of a shorter legislative cycle."
Gartner vice-president for e-business Alexander Drobik was more cautious. "The Isle of Man does not have the RIP Act so one could argue that business would not be as burdened by this as on the mainland. In general there is less regulation and legislation to worry about.
"But the crucial questions are: does it have the bandwidth; does it have the skills; does it have the technical and commercial structures? Here the Isle of Man might struggle."
Read more on IT legislation and regulation