An alphabetical slice of the telecoms pie
To get real value for money from your communications infrastructure, you've got to understand exactly what the suppliers are...
To get real value for money from your communications infrastructure, you've got to understand exactly what the suppliers are saying. Jane Dudman spells out what the jargon means in her A-to-Z guide to telecoms technologies



IT directors are now facing a multitude of complex choices about implementing the most effective communications strategies for their organisations. If you are unfamiliar with jargon, it puts you at a disadvantage. So what does it mean?

Application service providers (ASPs) offer a way out of hiring expensive skilled telecoms staff and investing large amounts in upgrading capital equipment. This is by piping in specific applications direct to users' desktops, via the Internet or over leased lines. The ASP market is settling down, but companies are seeing the benefits of paying a flat monthly fee for applications such as e-mail. Telford-based law firm Martin Kaye runs its e-mail, administrative and legal systems via a local ASP hub, for less money than it spent on in-house systems. The key issues are security and reliability. Small businesses are finding benefits from moving to ASP services. The range of applications available continues to grow, although some industry-watchers are warning of a shake-out as suppliers tackle challenges of changing existing business models.

Download this free guide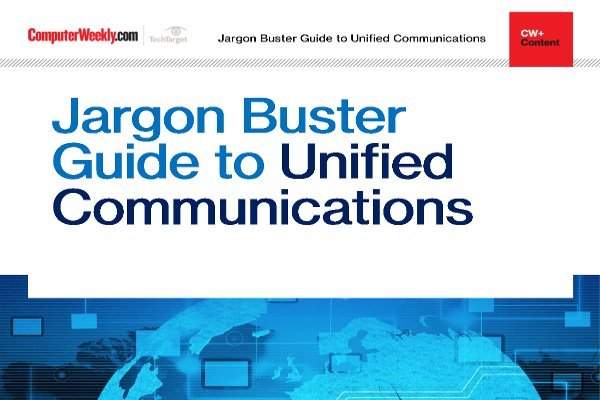 Jargon buster guide to Unified Communications
Explore some of the key elements of a Unified Communications deployment and discover insight into some of the emerging trends that are changing the way we communicate in our working lives.
By submitting your personal information, you agree that TechTarget and its partners may contact you regarding relevant content, products and special offers.
You also agree that your personal information may be transferred and processed in the United States, and that you have read and agree to the Terms of Use and the Privacy Policy.
Billing systems can be a headache. Having to wade through different bills on different tariffs, for fixed-line voice and data services, mobile phones and Web hosting services, makes it hard to compare and manage costs effectively particularly when telecoms operators bundle services and charges together. Some suppliers offer integrated billing, but the market has to make life simpler for IT managers wanting clearer information on telecoms spend.
Cyber crime is on the increase. Credit card fraud, hackers and data espionage are threats to every organisation, as the hacking incident at Microsoft demonstrates. Counter-measures include setting up a Global Forum of Law Enforcement and National Security. Its president is former Soviet leader Mikhail Gorbachev and chairman former Liberal Democrat leader Paddy Ashdown.
Dial-up access to the Internet is still with us, despite ISDN and the long-awaited promise of always-on, high-speed access systems. Speeds have increased and are pushed further by cable modems as alternatives to ADSL (see box on p108). But dial-up connections are slow and holding up the UK's move into e-commerce, according to the European Union. It says the UK has relegated itself in European telecoms terms. According to cable modem supplier Telewest, UK businesses could waste £7bn a year on slow dial-up connections.
Electronic interfaces are necessary to facilitate the exchange of business documents between supply chain partners. The problem is which standard to pick. XML is now the de facto core standard, but there is already a huge range of XML-based standards for specific industries, such as FIXML in financial services, and competing proprietary technologies such as Microsoft's Biztalk server.
Flat-rate tariffs, US-style, provide unmetered access to the Internet. They are currently some way off in the UK, following the demise of services from AltaVista UK, LineOne and EZSurf as operators continue to wrangle over tariff terms with BT under the Friaco system (see box on p108). In October, AOL began rolling out a limited flat-rate service. Other providers include RedHotAnt and TFI-Excite.
Global numbering is one step away from the concepts of unified messaging and personal numbers. Neither have yet caught on. Now, with services like BT's Geoverse, a company can use the +88210 prefix and its customers won't know if it is based in London or outer Mongolia.
Human Rights Act, which became law in England and Wales last month and was already in place in Scotland, is giving network managers a headache. Article 8 prevents organisations from monitoring their employees' e-mail and phone calls. This contradicts the Regulation of Investigatory Powers Act, which says companies must ensure communications are authorised.
Instant messaging is the hottest mobile phone application around. Initially seen as fun, it could be an important complement to e-mail in the workplace. It enables project teams and workers to share notes and ideas in real time.
Java has become a ubiquitous technology in developing e-business systems. Its success has created a major challenge for IT directors, as it becomes difficult and expensive to find and retain Java specialists.
Keysets used to be telephones with features like call-holding and auto-dialling. Now, Internet protocol (IP)-based keysets are being rolled out as the convergence of IP-based networking with voice telephony. Features like voice mail sit on the local area network, integrated with the telephone system rather than on a central branch exchange.
Local loop unbundling is a political and technical hot potato. It earns brickbats for the regulator Oftel (see page 84 and p110). The watchdog's critics accuse it of not being tough on BT. It is supposed to be opening the "last mile" of copper connections into premises around the UK. It will bring faster, cheaper broadband services to businesses of all sizes.
Mobile commerce is the logical step on from e-commerce, where customers access online services via mobile phones. Originally forecast to be huge, mobile commerce is suffering from technical problems and a lack of enthusiasm for the wireless access protocol (Wap). Look for the i-Mode standard from Japan, where enthusiasm for m-commerce is high.
Nokia is the Finnish mobile phone company whose good results pulled a lacklustre technology market out of the doldrums. But even Nokia is having problems with Wap phones and has recalled its 7110 Wap handset. Nokia, with Ericsson, is also a supporter of Bluetooth radio-based technology, developed for several different areas. This includes cable-less keyboards and file transfer, automatic data synchronisation between PCs, mobile phones and personal digital assistants.
Optical networks are coming on fast, from suppliers like Harmoni, ONI and Storm Telecommunications. The latter recently announced its Optical Gigabit Ethernet service. A selling point of optical networks is that they are easy to scale up and down when capacity needs changing.
Personal digital assistants are becoming serious as a business tool, because they have greater functionality than Wap phones. The biggest issue isn't access or speed, but how to synchronise corporate data so it is automatically updated, irrespective of device.
Quality relationship management is the new label for customer relationship management. It is based on self-service online Web sites, where customers report faults, pay bills etc.
Rich media communications is a name for the combination of voice, data and video communications. Videoconferencing has been a niche application, used for distance learning, tele-medicine and corporate business meetings, but IP-based and broadband videoconferencing could open up new possibilities, like adding live video links to call centre operations. It will enable customers to see the call centre agent or to see a bill or statement.
Symmetric digital subscriber line (SDSL) is a type of DSL. As its name suggests, it provides equal bandwidth in both directions, unlike ADSL (see box below). It runs over existing copper lines and is suitable for small businesses and small offices and teleworkers, allowing them to run high-speed voice and data simultaneously.
Tracking traffic is vital in running online services efficiently. But too few UK firms are collating and tracking data properly, says e-business strategy consultant Visual Insight. It says only 5% of businesses are monitoring Web sites' performance.
Universal mobile telecommunications system (UMTS) is the technology on which the third generation (3G) of European mobile networks will be based. Due to start being rolled out next year, UMTS provides wireless data speeds of up to 2 megabits per second. The auction of 3G licences in the UK brought in billions for the Treasury. This leads to questions over whether 3G service providers will charge high prices to get back investment.
Voice over Internet protocol: using the internet to make telephone calls and as a platform for services such as unified messaging
Web to wireless systems, developed by suppliers such as Nextron, provide businesses with the flexibility to notify their customers, via Wap mobiles, of special Web site offers or promotions.
Xmodem, Ymodem and Zmodem are the terms that reveal a network manager's age. If you can recall wrestling with these early PC file transfer protocols, it's best not to acknowledge it. But these protocols are around today for the many businesses using dial-up modems, usually disguised under application layers.
More telecoms terms explained
Assymmetric digital subscriber line: common implementation of DSL with speeds up to 1.544 megabits per second (mbps)
Broadband fixed wireless access: radio-based access points providing alternative local access into high-speed network services
Code division multiple access: dominant US standard for wireless data with speeds up to 64 kilobits per second (kbps)
Dense wave division multiplexing: core optical networking standard
Edge: system to run wireless data up to 384 kbps over existing GSM networks
Flat-rate Internet access call origination (Friaco): wholesale unmetered access rates from BT to other operators. It is a first step in providing full, unmetered Internet access in the UK
General packet radio service: available soon, it should boost mobile data speeds to 115 kbps
High data rate: fast data over radio, developed by US company Qualcomm with speeds up to 1.8 mbps
Infinniband: US-developed interconnect technology with bandwidths to 2.5 gigabits per second (gbps); first products due out late next year
Jini: Java-based network delivery system from Sun
Kilobits per second: the chrome scooter of networking. Most business need megabits, if not gigabits per second
Local loop unbundling: pushing BT out from that last half-mile of copper
Navigation: how to get Web users where they need to be, quickly
Oftel: the UK telecommunications regulator. Toothless tiger or consumer champion?
Profiling: gathering and collating information on customer preferences to form an e-personality which are then targeted with specific offers and services
Quality of service: ensures important traffic gets across the network first
Reverse geocoding: know where your customer is? Now get their full postal address
Scalable vector graphics: next step up in web graphics
3G: third generation mobile networks
Universal description, discovery and integration: initiative aimed at building a global registry of business-to-business trading partners
wireless access protocol: data access standard for mobile phones
XML: emerging standard for Web-based commerce
Zoomable: the close-up feature of geographic systems
Read more on Voice networking and VoIP