Avatar_023 - stock.adobe.com
African anti-malaria programme thrives on strong data culture
Path health organisation is fuelling its anti-malaria programme in Zambia, and other African countries, with data analytics from Alteryx, Tableau, and others
When, in 2007, Bill and Melinda Gates called for the eradication of malaria in their lifetimes, they shocked the malaria world.
Continue Reading This Article
Enjoy this article as well as all of our content, including E-Guides, news, tips and more.
Duncan Earle, director of country programmes for the Malaria Control and Elimination Partnership in Africa (Macepa) at international non-profit health organisation Path, says this call "stunned" the malaria healthcare community. "We have only really eradicated one disease in the world – and that was smallpox," he said.
Path is focused especially on women and children in Africa and Asia. It aims to speed up innovation in vaccines, drugs, diagnostics, devices, systems and services. Earle explains how it got started in the 1970s, focusing on reproductive health, "trying to come up with technologies that would make family planning more accessible to women in the third world".
He describes how data management and analytics have already contributed greatly to the goal of eliminating malaria. Software suppliers, such as data visualisation specialist Tableau, data analytics firm Alteryx, and in-memory database company Exasol, have played an invaluable role by contributing technology and people to the cause free of charge, he says.
And what a cause it is. Malaria kills about 450,000 people a year, most of them children aged under five, says Earle, and about 420,000 in Africa.
"I believe we can eradicate malaria," he says. An obvious conjecture is: would killing all the mosquitoes on the planet do that? "The short answer is no," he says. "Killing all mosquitoes in a way that is safe to humans and the environment is not possible. More than 110 countries have eliminated malaria without killing all the mosquitoes, most recently and notably Sri Lanka."
Malaria has also been driven out of the country that first named it, as "bad air" – Italy. But it can still crop up in humid environments in the west, because of globalisation – airport malaria, so to speak.
The disease is spread by blood-sucking mosquitoes that inject the parasite that causes it into humans, where the parasite lives for 98.5% of its life, says Earle.
The most recent development in the malaria world is the rise of so-called "super-malaria", which is resistant to the artemisinin drug group, in South-east Asia. It has not yet reached Africa, where malaria fells most of its victims.
Fighting malaria in Zambia
Path received funding for Macepa from the Bill and Melinda Gates Foundation in 2004, and selected Zambia in 2005 – although the plan is to generalise what works there to other African countries, including Senegal, Ethiopia and Kenya. The Gates charity remains the core funder.
Macepa has pursued a three-pronged strategy of insecticide-treated bed nets, a diagnostic test that enables health workers to separate malarial from other fevers, and the artemisinin drug. They found at an early stage that the nets could protect about 70% of the population, but, over time, they started to wear out.
Earle, who first came to Africa as a US Peace Corps volunteer in 1982 and has twice had malaria, recalls that in 2010, his team noticed from their data analysis that cases of malaria were on the rise in the north of Zambia, but stable in the south. They spotted an area where cases had come down from 800 per thousand to six or eight per thousand, and stayed at that level. "We knew we were on to something," he says.
"I believe we can eradicate malaria"

Duncan Earle, Path
That was an impetus to find out, at a more granular level, what was going on at more specific geographical areas.
The team put in place a five-stage approach, informed by forms of data analysis that have bred a data culture right down to health workers in medical facilities at ground level, says Earle. This approach has enabled the programme to use its health-worker resources more efficiently, so they can identify and treat likely carriers of the disease – bitten and infected but not exhibiting symptoms.
Earle sums up the five stages: "A is accelerating the interventions, B is getting better data to make decisions, C is about clearing the parasite out of the community, D is about detecting and driving the parasite out of individuals, and E is elimination." These make up the World Health Organization's new malaria elimination framework, which was published this year.
"Getting the data from health facilities about their case counts, their clinical [apparent] versus confirmed cases, their test positivity rates is very important," he says. "It's not about survey data." That data from the facilities is rendered in dashboards that programme workers and Zambian health officials can use to make treatment and policy decisions.
Earle and his colleagues do not see their step C, or mass drug administration, as a long-term solution. Step D comes in when the malaria parasite reservoir in the broad population is reduced to a point when the cases that do come up can be realistically followed up at an individual level. "That is the 'canary in the coal-mine', which means we can go to the household or village," says Earle. "A community health worker can deal with, say, three cases a week. This is an under-resourced health system. This is very data-driven. It's about geo-location."
John Snow and cholera
Earle's hero here is John Snow, who tracked the source of a cholera epidemic in London in 1864 by using questionnaire data and mapping to find out where disease victims where commonly going – in that case a public water pump in what is now known as Broadwick Street in Soho. When collecting an Alteryx for Good award at the supplier's user conference in London recently, Earle made a pilgrimage to the John Snow pub, which commemorates the epidemiology pioneer.
"Our ability to map and visualise the 283 health facilities in southern Zambia, and the 2,800 community health workers, at a ratio of six to eight per facility, is helping us to introduce a data use culture," he says. "We are leap-frogging years, if not decades, of progressive development in reporting in health systems."
It was in 2015 that Path teamed up with Tableau, Alteryx and five other technology companies to set up Visualize no Malaria, a campaign focused on integrating tools and systems for data use to support Zambia's Ministry of Health and its National Malaria Elimination Centre (NMEC) in their efforts to eliminate malaria by 2021.
Read more about data analytics in healthcare
The Path-supported malaria laboratory located at the NMEC in Lusaka, Zambia, is implementing molecular tools in the quest to achieve the goal of elimination. Every month, thousands of blood samples from around the country are processed to answer questions about diagnostic efficacy, drug resistance and transmission intensity.
Among other things, Path is using Alteryx to automate workflows to process lab results and notify health workers of positive malaria cases more quickly in targeted study sites. Also using Alteryx, it has been able to access survey data as it is collected through a cloud application programming interface (API) and then validate and summarise the data to ensure it is on track.
The lab has reported a 90% decrease in malaria cases in the Zambia's southern province since 2014.
Dashboards in use
One of the dashboards gives a "risk overview" of malaria cases over time (see graphic below). It is used by district-level supervisors and administrators from all levels of the health system and national policy-makers, says Earle, as well as Path's monitoring and evaluation specialists. It tracks when and where cases are reported, and shows how they are being detected by community health workers or at health facilities.
National and provincial officials use other dashboards, such as "incidence by health facility", to identify higher-need health facility areas. Once these are identified, officials can send additional medicines, household spraying teams, bed nets and other vector control measures to these areas.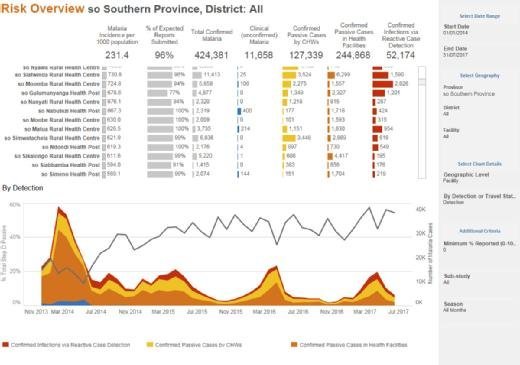 Earle concludes: "Our team has praised Alteryx as an extremely flexible tool, and we are only just scratching the surface of it. It allows us to consolidate and automate workflows that are critical to the way we process data. The lab is a great example of where shortening processing time decreases the amount of time it takes to get results back to health staff and beneficiaries.
"Also, because Alteryx links so well to R [programming language] and to geospatial analysis, it has allowed us to start bringing in higher-level analytics and analysis into our operational dashboards. A prime example is our ability to synthesise boundary catchment areas on a map so we can give health personnel a useful picture of both the time and place related to the disease.
"When it comes to data modeling, again we are only just getting started. Disease elimination is an enormous challenge, but models are helping us in two primary ways – by pushing our thinking about how we can use secondary data sources to improve our knowledge, understanding and action around the disease context; and by exposing data to decision-makers who do not get the opportunity to interact with this data when thinking about programme planning. Even if the models are determined to be inaccurate, we have benefited from bringing together an immense amount of data in one place – for example, topography, rainfall, wetness, temperature, case numbers, and so on."
Taking the global view beyond Zambia, Earle adds: "Accounting for population growth, if we hadn't done anything from 2004 onwards, the number of deaths from malaria would be 1.6 million a year, not 450,000. And those lives are saved every year."