During the Windows 8 preview day in Amsterdam, Microsoft explained how it plans to change the way everyone uses computers in its so-called "beautiful experience".
This will inevitably affect the way corporates use the Windows operating system (OS). The Windows 8 Metro user interface (UI) is touchscreen-focused, which means there is no real concept of a Start menu to launch applications. Applications never exit; they simply stop, or suspend, when the user moves to a different application.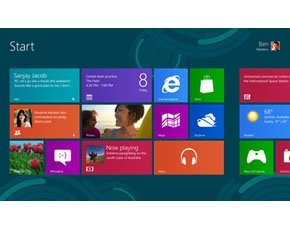 With a mouse, the corner of the screen is used to invoke Windows features, switch apps and scroll. People will need to get used to keyboard shortcuts to navigate Windows 8 on a laptop.
But it is the programming model that could cause the biggest headaches in corporate IT. It enables internet-style programming, where applications can use mashups of other web applications, such as embedded Google Maps.
Windows 8 programming complexities
Microsoft has introduced a publish/subscribe model for programming applications, which allows app developers to publish information they wish to share with other apps. The developer does not need to know how a third-party app will use this information. 
People will need to get used to keyboard shortcuts to navigate Windows 8 on a laptop
During TechEd in Amsterdam, Antoine Leblond, corporate vice-president of Windows web services at Microsoft, showed how National Rail's Windows 8 app could be enhanced automatically because it publishes information on station locations that Windows 8 can pick up and pass to a mapping app to show the user where the station is located.
Microsoft calls this concept a "contract". Chaitanya Sareen, principal program manager at Microsoft, said a contract is an agreement the app has with Windows. "The app register shares contracts. When multiple apps share contracts, they share features," he said.
From a presentation perspective, Windows 8 provides "charms", a UI feature that allows the user to select application options, rather like the right mouse button in Windows 7. The charms show the contracts the app supports.
"Supporting contracts makes the app part of the system, to improve the whole Windows 8 system," said Ian LeGrow, partner group program manager at Microsoft.
He added that developers can bring their existing skills to Windows 8. "Visual Studio Express is available free to any developer," said LeGrow.
In a new paper on Windows RT – Windows 8 changes Windows as we know it – Gartner analyst Michael Silver noted that RT, the underlying Windows runtime environment, represents a major disruption to the Windows OS.
The Metro/WinRT side of Windows 8 is likely to require some polishing to get the user experience right

Michael Silver, analyst, Gartner
"We believe Windows 8 is the start of Microsoft's next technology shift to WinRT technology," he stated in the report. "The shift to WinRT technology does not seem to make significant changes to the Windows kernel, but the major interfaces to the plumbing are changed, including the APIs (application programming interfaces) and UI. 
"In many ways, these changes are more major and disruptive than most plumbing releases. The Metro/WinRT side of Windows 8 is new plumbing and is likely to require some polishing to get the user experience, among other things, right," wrote Silver.
Bola Rotibi, an analyst at Creative Intellect Consulting, questioned whether a Windows 8 app would run in a usable fashion on Windows 7: "Many businesses will want to stick with Windows 7 for the time being, but if they wish to future-proof applications, how much extra work would be required?"
Email Alerts
Register now to receive ComputerWeekly.com IT-related news, guides and more, delivered to your inbox.
By submitting your personal information, you agree to receive emails regarding relevant products and special offers from TechTarget and its partners. You also agree that your personal information may be transferred and processed in the United States, and that you have read and agree to the
Terms of Use
and the
Privacy Policy
.