Government to train unemployed in IT
The Government has launched a scheme to retrain around 20,000 of the long-term unemployed in IT skills.
The package, called Ambition IT, was announced by Chancellor Gordon Brown and Tessa Jowell, the employment minister, and is backed by key firms including IBM, Microsoft, ICL, Oracle, BT, Cap Gemini and Consignia.

Download this free guide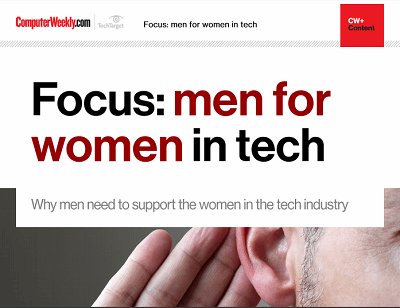 Men for women in tech
This guide showcases some of the men who are helping women to progress in the technology industry and the methods they are using to do so.
By submitting your personal information, you agree that TechTarget and its partners may contact you regarding relevant content, products and special offers.
You also agree that your personal information may be transferred and processed in the United States, and that you have read and agree to the Terms of Use and the Privacy Policy.
The Government aims to spend £50m over three years to provide IT training through its New Deal scheme. It admits that demand for skilled IT technicians is likely to grow 25% during the same period.
At the end of the training, the sponsoring companies will offer trainees up to 5,000 IT technician jobs.
A further 15,000 job seekers will receive basic IT skills training in a bid to improve their future job prospects.
A spokesperson for the Communications Managers' Association welcomed the initiative and said, "This appears to be a very constructive step. It is plain that we still have a great requirement both on the demand and the supply side for skilled people. Anything that provides a bigger skills base is to be welcomed."
Read more on IT jobs and recruitment