As many as 181,000 illegal immigrants could be in the UK because their work visas have expired and the current immigration system lacks a process to ensure they leave UK shores, according to a National Audit Office (NAO) report.
The report, entitled "Immigration: the Points Based System - Work Routes", revealed that the UK's points-based immigration system is inefficient and is not policed.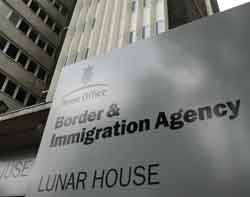 The NAO report said the UK Border Agency (UKBA) did not carry out checks on workers after visas expired and relied on employers to police their own employees.
"[The UKBA's] processes and systems are not efficient and customer service could be improved," said the NAO. "The agency can also provide little assurance that it is effectively managing the risk of non-compliance with immigration rules by migrants and their sponsors."
The immigration system is vital to UK businesses that rely on services from offshore companies. Thousands of IT workers enter the UK every year, many of them from India, and work for the major Indian IT service providers that serve UK businesses.
However, IT suppliers are often accused of bending the rules by misusing visas known as intra-company transfers. A total of 34,000 software professionals entered the UK on such visas between April 2008 and December 2010. None was on the Migration Accounts Committee shortage occupation list or the UK Commission for Employment and Skills priority list.
The next highest occupation to use this route during the same period was nurses, with 7,300. There were 1,500 technician/IT user support workers, 2,900 IT strategy and planning professionals, 2,500 technicians/IT operations and 4,000 managers/ICT.
The total for all occupations was 123,900.
Amyas Morse, head of the National Audit Office, said the system had yet to deliver on its full potential for value for money. "While it is well designed and adaptable, the underlying systems and management information are in need of improvement. Customer services do not meet customer expectations and the agency cannot easily identify and follow up individuals whose visas have expired."
According to Margaret Hodge, chair of the Committee of Public Accounts, the points-based system is an improvement on its predecessor, which had 39 different work visas, but added that "gaps in data, poor risk management and inefficient processes mean that we cannot be certain that it either ensures proper controls or meets the UK's need for skilled labour".
She also revealed that there was no system in place to ensure that overseas workers move on when visas expire and that the UK border office does not even check if they do. "Where the UK Border Agency refuses extensions to visas, it cannot guarantee that these people actually leave the country. The agency relies on employers to police their own employees and does not carry out its own checks," she said.
The NOA report also found that a third of sponsoring employers wanted to recruit more skilled foreign workers than they were able to.
Email Alerts
Register now to receive ComputerWeekly.com IT-related news, guides and more, delivered to your inbox.
By submitting your personal information, you agree to receive emails regarding relevant products and special offers from TechTarget and its partners. You also agree that your personal information may be transferred and processed in the United States, and that you have read and agree to the
Terms of Use
and the
Privacy Policy
.