The communications network to link the UK's smart meters should be assessed as part of the nation's critical national infrastructure, not simply another application on the existing fixed and mobile networks, says Arqiva smart meter project director Mike Green.
Opening a pilot network to test the feasibility of long-range radio to deliver smart meter and smart grid services, Mike Green said the network needed to be dedicated, secure, resilient and universal.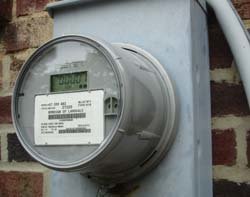 He said the mobile phone networks were highly visible in the smart meter debate. His biggest fear was that the best network technology - long-range radio - would be lost in the hype around the project as a whole. "The best technology doesn't always win," he said. "I don't want (the UK) to end up in a Betamax versus VHS situation."
Green said the network would carry billing information, making it a target for hackers. It would also carry personal data, which the Dutch found was a profoundly serious issue for consumers. This required security at a level not presently available on consumer-oriented networks.
The network should also carry system-control data to enable smart grid applications, such as limiting or accepting energy supplies to and from individual consumers. This means it would have to become part of the existing critical national infrastructure, he said.
These factors meant only a dedicated network would suffice. Other factors such as coverage, reliability, first-time connections, and long-term component reliability tilted the technology solution towards long-range radio, Green said.
Green said the network needed to provide constant service to every point on the network. BT's fixed network - expected to deliver 2Mbps broadband to every premises - was unsuitable, because the subscriber owned the network termination unit and could unplug it at any time, he said.
Green added that the GSM and GPRS mobile networks were already battling with traffic congestion. He said adding even a little more data from smart meters would only worsen the problem.
In addition, the mobile networks were unlikely to cover more than 80% of the premises, he said. He said Arqiva could cover the entire country with 2,500 transmitters, many of which were already in place. In addition, long-range radio gave better than 90% first time connection to newly installed smart meters, because it penetrated buildings more effectively.
He said the company had also studied power line carrier technology but concluded it was likely to cause interference that could make data unreliable and cost more to shield the cables.
Green said the long-range radio system proposed by Arqiva was proven in North America and Europe. He expected Arqiva's new test site at Reading would show that it also worked in Britain.
Email Alerts
Register now to receive ComputerWeekly.com IT-related news, guides and more, delivered to your inbox.
By submitting your personal information, you agree to receive emails regarding relevant products and special offers from TechTarget and its partners. You also agree that your personal information may be transferred and processed in the United States, and that you have read and agree to the
Terms of Use
and the
Privacy Policy
.