This Article Covers
RELATED TOPICS
The UK Serious and Organised Crime Agency (Soca) has called on the internet and e-commerce industry to support its global initiative to combat cybercrime.

Download this free guide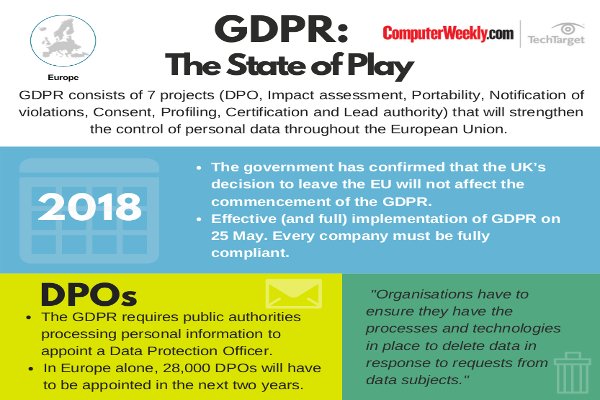 Infographic: GDPR - The State of Play
Get the latest information on how GDPR is going to affect your business and how to avoid any unwanted fines with this simple infographic.
By submitting your personal information, you agree that TechTarget and its partners may contact you regarding relevant content, products and special offers.
You also agree that your personal information may be transferred and processed in the United States, and that you have read and agree to the Terms of Use and the Privacy Policy.
Soca is lobbying global internet regulator Icann to change the way it works to make the internet a less hospitable environment for criminals.
The internet provides almost complete anonymity for criminals, said Paul Hoare, senior manager at Soca.
"It is ridiculously easy to register a domain name with false details," he told the e-Crime Congress 2010 in London.
This, coupled with the problems of working across multiple jurisdictions without common legal frameworks, makes law enforcement extremely difficult, he said.
Law enforcement needs to find a new way of tackling internet crime that is aimed at removing the enablers that allow such criminality to flourish.
"Rather than responding to malicious domains, we should be making it harder for them to register in the first place," said Hoare.
Soca has presented recommendations for policy and regulation change to Icann formulated in partnership with the FBI and with the support of Interpol.
Hoare praised Icann for welcoming input from law enforcement, but said the organisation can implement changes only if supported by its membership.
He called on the internet and e-commerce firms that are not members of Icann to join and swell the ranks of those members calling for reform.
"Everyone of you has a vested interest in seeing internet environment secured and in seeing its continued growth and prosperity," Hoare said.
There is no silver bullet to solve internet crime, but the solutions to many of the problems are achievable through working in partnership, he said.
Read more on E-commerce technology