Microsoft issues patch to remove i4i custom tags
Microsoft has released a 12.3Mbyte patch for Office 2007, to comply with a US court order banning the...
Microsoft has released a 12.3Mbyte patch for Office 2007, to comply with a US court order banning the use of custom tagging after 10 January 2010.

Download this free guide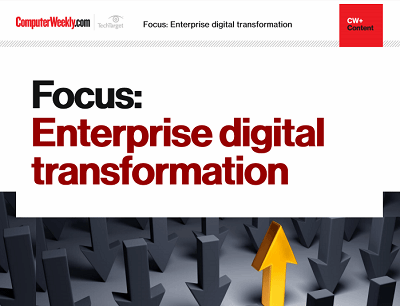 Are you digital to the transformation?
Digital transformation - the buzzword that we can't get away from. Enterprises need to accelerate their digital transformation journeys to avoid being left behind in an increasingly digital world. It's not an easy feat, but one that can be costly to get wrong. Join us as Computer Weekly takes a look at how businesses can stay on track through collaboration, innovation, and listening to user needs.
By submitting your personal information, you agree that TechTarget and its partners may contact you regarding relevant content, products and special offers.
You also agree that your personal information may be transferred and processed in the United States, and that you have read and agree to the Terms of Use and the Privacy Policy.
The move follows a patent dispute with Canadian software maker i4i.
On 11 August 2009 the US District Court for the Eastern District of Texas ruled that Microsoft must no longer sell, offer to sell or import into the US any Word products that have the capability to open a .xml file.
Microsoft appealed against the ban in September 2009.
But on 22 December 2009, the United States Federal Circuit Court of Appeals in Washington DC ruled in favour of i4i and found that Microsoft had willfully infringed i4i's patent.
The court banned Microsoft from distributing versions of Office Word 2007 that can read the custom XML markup that may be contained within .docx, .docm, or .xml files after 10 January 2010.
Microsoft has issued a patch to comply with the court order. Initially available to PC makers shipping MS Office on new PCs, the patch is now available to all Office users.
On its website, Microsoft said, "This update was issued as a result of a United States court ruling on 22 December 2009. Generally, customers who purchase or license Word 2007 or Word 2003 from Microsoft after January 10, 2010 for use in the United States and its territories will need to use updated software that does not include a particular custom XML tagging implementation."
It also warned users of Office that they must install the update if instructed by Microsoft in a separate communication.
Read more on Operating systems software