Creative Suite 5 (CS5) comes with a new application called Flash Catalyst, 64-bit versions of Premiere Pro, After Effects and Photoshop, and hundreds of new or improved features in each application. Acrobat 9.0 is the same version as in CS4.
Here is a video overview of CS5 features: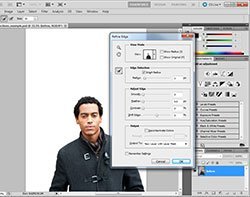 Few individuals will have the need or the skills to use every part of CS5. Adobe packages the suite into bundles aimed at three different segments: Web, print design, and video production. That said, there is considerable overlap between the bundles, which makes sense given the trend towards multiple output formats. Photoshop appears in all the bundles, and Flash authoring tools are included everywhere except the small, print-focused Design Standard.
There are extensive links to online service in CS5. These include BrowserLab, which shows a web page as it looks in multiple browser versions, Adobe Story for collaborative script writing and CS Review for production collaboration.
Photoshop is now 64-bit on both PC and Mac, though a 32-bit edition is also included. There are a ton of improvements to this bitmap editing and retouching tool, including the magical content-aware fill, which will remove an unwanted object from an image and replace it with a background derived from the rest of the image. It can be uncannily effective. Other new features include smarter edge selection, new painting effects closely mimicking real brushes, automatic lens correction and new 3D tools in the Extended edition.
Illustrator is Adobe's vector graphic editor, based on PostScript. The CS5 edition has a new Perspective Grid tool that automates perspective drawing. Multiple artboards let you handle up to 100 related drawings in a single file. There are also significant improvements to Illustrator's drawing tools.
InDesign covers desktop publishing, though Adobe now bills it as a tool for digital as well as print. To that end, you can now include animation, video and audio within documents. The ability to have paragraphs that span multiple columns is a welcome fix to an old problem, and support for multiple page sizes within a single document is another useful new feature.
Dreamweaver, Adobe's HTML editor, is notable for its excellent CSS support, along with an embedded WebKit panel that lets you maintain a live view of a page while editing. The new Inspect command is an easy way to discover the settings and source of all the CSS properties applied to an element. Finally, Dreamweaver has become an excellent PHP editor, with dynamic code hinting and integration with PHP documentation.
Premiere Pro, for video editing, is now 64-bit only. The resulting huge increase in addressable memory means smooth editing of long sections of video. The new Mercury Playback Engine hooks into NVIDIA's CUDA graphics engine, which uses parallel processing for fast graphical rendering, though this only works with a select range of NVIDIA graphics cards. Numerous other detailed improvements, and advanced DVD and Blu-ray authoring via the companion Encore application, make this a big release.
After Effects lets you create motion graphics and visual effects, and like Premiere is now 64-bit only. The most eye-catching new feature is the Roto Brush, which automates much of the effort of isolating a moving image from its background, potentially saving many hours of detailed work.
Adobe Creative Suite 5: an overview >>
Email Alerts
Register now to receive ComputerWeekly.com IT-related news, guides and more, delivered to your inbox.
By submitting your personal information, you agree to receive emails regarding relevant products and special offers from TechTarget and its partners. You also agree that your personal information may be transferred and processed in the United States, and that you have read and agree to the
Terms of Use
and the
Privacy Policy
.
This was first published in August 2010