Adobe's Creative Suite 5 is vast: 15 core applications covering web design, Flash design and development, print design and publishing, and video production. Here Tim Anderson takes a look at designing and developing with Flash in CS5.
The tooling for Adobe Flash is somewhat confused, thanks to Adobe's efforts to make Flash an application runtime as well as a multimedia player. Flash Professional is the latest version of the original authoring tool, firmly focused on design and animation and a difficult environment for developers writing code. Adobe addressed the problem by creating an XML language called Flex to define Flash content, along with a code-centric IDE based on the open source Eclipse platform for editing the XML and ActionScript, now called Flash Builder. In CS5 these two tools are joined by a third, Flash Catalyst, which Adobe calls an Interaction Designer.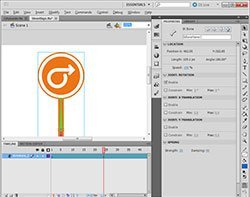 Flash Professional now has full support for the superb Text Layout Framework in the latest Flash Player. Multi-column layout, right-to-left and top-to-bottom script, and advanced typography are now features of the IDE. Flash also has a new physics engine, enabling spring effects Ð strength and damping that you can apply to an animation.
Flash Builder 4 is not new, though this version only dates from March 2010, but is included in Creative Suite for the first time. The IDE includes a visual design tool as well as features such as refactoring, profiling and debugging with breakpoints, variable watching, expression evaluation and other standard tools. The big changes in this release are support for the more advanced visual components in Flex 4, which are easily adapted with a technique called skinning, along with greatly improved tools for database clients. Flash Builder applications can use data from a variety of sources, including XML web services, PHP and Java, Adobe's own ColdFusion, or from a Java application server via Adobe LiveCycle data services or the free BlazeDS. The output from Flash Builder can be a browser-hosted web application, or a desktop application using AIR, the desktop runtime which is also based on Flash.
Flash Catalyst lets you import graphics from Photoshop or illustrator, or start from scratch, and create interactive components such as buttons, animations and data-driven lists without having to write code. The result can be compiled as a simple application, or exported to Flash Builder for enhancement with manually written code. A weakness in the current version is that you cannot go then return from Flash Builder to Catalyst.
Flash as an application platform should not be dismissed. It is fast, capable and cross-platform, and especially valuable in cases which include visualising data or including multimedia. That said, three development tools for Flash is at least one too many. It is hard to see why Catalyst could not be reshaped as an advanced visual designer for Flash Builder.
Adobe Creative Suite 5: an overview >>
Email Alerts
Register now to receive ComputerWeekly.com IT-related news, guides and more, delivered to your inbox.
By submitting your personal information, you agree to receive emails regarding relevant products and special offers from TechTarget and its partners. You also agree that your personal information may be transferred and processed in the United States, and that you have read and agree to the
Terms of Use
and the
Privacy Policy
.
This was first published in August 2010