Taming datacentre emissions - power loss
It will not surprise many to learn that between 8% and 10% of IT power throughput is typically consumed by the always-on three-phase uninterruptible power...
It will not surprise many to learn that between 8% and 10% of IT power throughput is typically consumed by the always-on three-phase uninterruptible power supply (UPS) used in datacentres. Losses are unavoidable, as standards for the most secure datacentres demand that power is always fed to the IT load through an online UPS, and no online device will achieve zero losses.

Download this free guide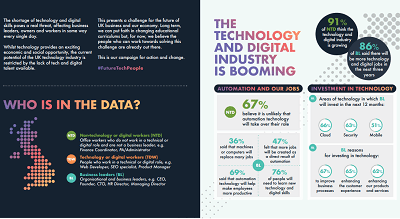 Infographic: Future-proofing UK technology
The shortage of technology and digital skills poses a real threat, affecting business leaders, owners and workers in some way every single day. Whilst technology provides an exciting economic and social opportunity, the current potential of the UK technology industry is restricted by the lack of tech and digital talent available. This presents a challenge for the future of UK business and our economy. Long term, we can put faith in changing educational curriculum but, for now, we believe the people who can work towards solving this challenge are already out there.
By submitting your personal information, you agree that TechTarget and its partners may contact you regarding relevant content, products and special offers.
You also agree that your personal information may be transferred and processed in the United States, and that you have read and agree to the Terms of Use and the Privacy Policy.
Nevertheless, it is an economic and environmental burden than can and should be cut. There is, as a result, keen competition between UPS suppliers to lower this figure. As a benchmark for a new tier-four datacentre power installation in the UK, the ongoing cost of uninterruptible power should be between 2% and 5% of total electricity consumption.
The input power requirements of individual electrical devices, from servers to UPS, are described in kiloWatts (kW) and kiloVoltAmps (kVA), the total of which is used to describe the power requirements of a datacentre. Many will also be aware that it is vital that the AC supply source, whether straight from the wall or from a big UPS, must be adequately rated in terms of both kiloWatts and kiloVolt Amps.
In all applications, the relationship between the two is defined by the system load power factor. Most devices, including computers and older UPS units, draw power in such a way that they use only those portions of the waveform of AC voltage and current that overlap. As a result, a significant amount of the total, 'apparent power' entering a UPS or device finds no ready home and is wasted. If a UPS accepts power as it is supplied (at 'unity power factor') and can provide output power to match the waveform at which it is being drawn by the devices on the network, that capacity wastage can be eliminated.
But UPS systems that draw power at 'unity power factor' are by no means ubiquitous and could provide up to 25% extra power from the same AC incoming supply cable and switchgear, enabling the user to install 25% more racks with concomitant additional income.
Non-linear IT loads and blade servers in particular need to be supplied from a source that can match the current waveform and power factor at which they draw it, and it is important that the power source can detect and supply this. A traditional UPS, faced with a typical leading power factor load, as is often drawn by blade servers often has to be significantly derated, and in some cases may only be able to support as little as 60% of the load that it could otherwise support with a conventional load.