boscorelli - Fotolia
Russian organisations have confidence in virtual backup
Russian organisations are content with the options available to them for backing up virtual servers
Russian companies are confident in the virtual server backup products and services on the market, and some don't think they need to back up their virtual servers.

Download this free guide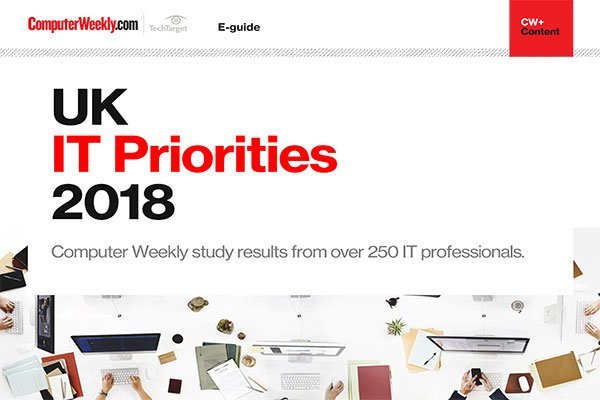 UK IT Priorities 2018 survey results
Download this e-guide to discover the results of our 2018 UK IT Priorities survey, where IT leaders shared with us what they are going to be investing in over the coming 12 months.
By submitting your personal information, you agree that TechTarget and its partners may contact you regarding relevant content, products and special offers.
You also agree that your personal information may be transferred and processed in the United States, and that you have read and agree to the Terms of Use and the Privacy Policy.
Over the past few years, virtualisation has led to major changes in the way data and servers are handled. But with resources now shared across multiple virtual machines (VMs), each running an application of its own, virtual server backup requires a different approach to physical server backup.
Russia may not be among the countries most advanced in virtualisation, but things are changing.
"Only lazy IT departments in Russian companies don't use virtualisation," says Oleg Konovalov, head of the project OnCloud.ru at software firm Onlanta.
"Everyone knows that virtualisation helps manage resources more flexibly, and provides more options for setting up failure-resistant solutions," he adds. "However, there are systems in the market for which the use of simple physical servers without hypervisor is most appropriate."
Slow to virtualise
According to a survey conducted earlier in 2015 at the request of Kaspersky Lab and B2B International, 81% of Russian companies still use physical servers, 55% use server virtualisation and 43% use storage area network virtualisation.
IT leaders at several major Russian companies say they have been able to find something that is in line with their company's needs.
Dixi, one of Russia's largest retail chains, actively uses virtualisation, according to IT director Sergei Korotkov. "The vast majority of our servers are virtual," he says. "The only exception are systems requiring extra dedicated capacities and servers using functions that cannot be executed in virtual environments."
Microsoft's virtualisation solution is developing dynamically, with functionality and stability of operation improving from version to version

Sergei Korotkov, Dixi
The company uses Microsoft systems for virtualisation, including virtual server backup. It is satisfied with these, according to Korotkov. "Microsoft's virtualisation solution is developing dynamically, with functionality and stability of operation improving from version to version," he says.
Software security company Kaspersky Lab uses Microsoft DPM and Veeam for virtual server backup.
"Generally, these solutions satisfy us but, as in any system, there are problems and room for improvement. For instance, we would like more control options, such as role-based access control. There are other issues that need to be resolved, but they are within the confines of standard operations in running a large IT infrastructure," says Kaspersky's head of corporate infrastructure development, Alexander Trofimov.
Meanwhile, some companies still use traditional backup methods for virtual servers.
"If you use standard backup methods, backing up virtual servers is hardly different from physical server backup," says Onlanta's Konovalov.
However, there are companies that don't share that approach, instead opting for more contemporary systems. Often, they choose to outsource virtualisation.
Benefits of outsourcing virtualisation
According to Sergey Verchenov, business continuity expert at Croc, a provider of virtualisation and data storage systems, Russian companies normally choose virtual server backup systems at hypervisor application programming interface (API) level, as opposed to those using agents installed in virtual machines.
"This is more efficient, convenient and cheaper," he says.
Just like most of the world, VMware occupies the top position in the Russian market, says Verchenov, adding that at least 70% of Croc's clients use VMware.
"VMware's product line for backup is wider than those of its competitors," he says.
According to Verchenov, in terms of specific solutions, vSphere API for Data Protection (VADP) is most popular.
"VADP ensures consistent creation of VMs and transfer of VM data files directly to backup servers," he explains. "Change Block Tracking (CBT) should also be mentioned, thanks to which the hypervisor tracks changes in VM files and backs up only blocks in which changes have been made, which increases the speed of the [backup] process."
Companies that see ease of control as a major factor look for products such as CommVault Simpana, Veritas Netbackup, EMC Networker and Avamar. These can be integrated with vSphere and allow users to directly control backup from vCenter.
According to Verchenov, another popular feature that companies outsourcing their virtualisation are looking for is instant recovery, substantially lowering recovery time.
Cloud backup
When it comes to cloud systems for virtual server backup, progress in Russia is slow, compared with other countries.
"Cloud solutions for backup are actively spreading in other countries, but in Russia their popularity is somewhat lower," says Verchenov, adding that some growth is noticeable, especially when it comes to backup as a service (BaaS).
Cloud solutions for backup are actively spreading in other countries, but in Russia their popularity is somewhat lower

Sergei Chukanov, IT-Grad
According to Sergei Chukanov, development director at IT-Grad, services for cloud backup of virtual infrastructures located at a company's premises are beginning to gain popularity.
"We recently signed an agreement with Veeam that lends its capacities for storage of image files of customers' virtual machines," he says. "And we immediately saw interest in this kind of service."
Konovalov says OnCloud.ru uses a two-level backup system based on VMware and Tivoli Storage Manager (TSM).
No backup
But not all Russian companies use virtual server backup. Russia's largest internet provider, Yandex, is one company that doesn't. "For the most part, our virtual servers don't contain data that needs to be stored for a long time," says Yandex head of infrastructure Vladimir Ivanov.
"Specifics of Yandex's operations prompted us quite a while ago to finetune a process for quickly developing dozens of virtual servers from a single image file and equally quickly delete them based on necessity," he adds.
Read more about virtualisation backup
Read more on IT for financial services