Prime Minister Gordon Brown has reiterated the government's determination to press ahead with plans for ID cards at a cost of £5.4bn over 10 years, despite concerns over a series of data losses by government departments.
Computer Weekly has reported extensively on the ID Cards project. See the links below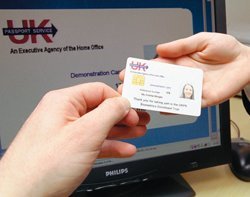 News
ID Cards to cost £5.4bn over 10 years
Cameron pledges to scrap ID cards scheme
LSE calls for review of ID cards as costs keep rising
Home Office reveals first projects for National Identity Scheme
Government not ready to play its ID cards
BBC reveals defects in ID cards
Government offered alternative national ID scheme that doesn't require national database
Biometric ID card to be issued to foreign nationals within a year, Home Office says
Government pledges to press ahead with ID card scheme
Government may drop national fingerprint database for national ID card
ID card opponents call on Londoners to sign No2ID pledge
BAE Systems and Accenture pull out of UK's ID card project
Government will have to ask permission for ID card information
Steria latest bidder to pull out of ID card project
Government says ID cards will not be compulsory for all citizens
Wave of criticism hits government ID card relaunch
Government seeks to bury ID card reviews
ID card scheme must appeal to public to succeed, government advisor says
Comment and opinion
UK has lessons to learn from Hong Kong ID cards
Computer Weekly Security Think Tank
Has the government got the business case for ID cards right?
Blog posts
Tony Collins' IT Projects blog
Phillip Virgo's When IT Meets Politics blog
The Privacy, Identity and Consent blog
Podcasts
National ID card scheme faces new criticism
Email Alerts
Register now to receive ComputerWeekly.com IT-related news, guides and more, delivered to your inbox.
By submitting your personal information, you agree to receive emails regarding relevant products and special offers from TechTarget and its partners. You also agree that your personal information may be transferred and processed in the United States, and that you have read and agree to the
Terms of Use
and the
Privacy Policy
.
This was first published in April 2008