Arne Josefsberg, general manager of infrastructure services at Global Foundation Services, Microsoft, says it is vital to monitor the average Power Usage Effectiveness (PUE) across all the company's datacentres to understand how well datacentre operations are under control, and to allow the company to make the right business decisions.
Microsoft's current annual global average PUE is 1.60, says Josefsberg.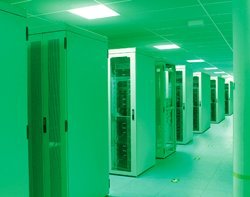 PUE is a standard measurement for the power efficiency of datacentres, as recommended by global consortium The Green Grid.
But all is not as it seems, explains Alan Priestly, consortium spokesperson. "The initial focus was on energy efficiency, meaning facility-load versus the IT load. Power comes in at the wall but only a certain percentage is delivered to the IT equipment. But how much of the energy [going to the servers] is converted to useful work? An IT department can have a datacentre that is very energy-efficient but is not doing a lot of useful work is that really efficient?
"The more complex thing is to measure the effective workload that the datacentre produces," says Priestly.
The Green Grid is working on the concept, but for the moment PUE is the best measurement IT companies have, and it is the easiest thing to measure.
Carbon emissions
It does introduce a gap, however. As a whole, IT can increase its efficiency, but that does not mean carbon emissions will fall.
Microsoft recognises this mismatch between measurement and reality, and is keen to reduce the impact of its datacentres for the entire lifecycle and along the whole supply chain.
"We want to bring the concept of Moore's law to energy efficiency in computing. We want to grow computing power but keep energy demands constant or reduced," says Francois Ajenstat, Microsoft's director of environmental sustainability.
Ajenstat says he is pushing the vision through all operations including original equipment manufacturers and suppliers.
"That is how we will manage the global growth in the IT industry," he says.
Currently the company has more or less completed what it calls Generation 2 datacentres, with a focus on improved efficiency.
Its Dublin facility, for example, will use outside air all year round except for one or two days, and the company is exploring broader range operating environments in order to deploy chiller-less datacentres for huge power savings.
"At any given time we can see the carbon footprint of one datacentre compared to another. We can even go down and compare the footprints of servers such as Hotmail compared to Messenger," says Ajenstat.
Through such metrics the company can charge its internal business groups by power consumption rather than floor or rack space.
"Business groups are becoming aware of their energy consumption and are making different decisions based on energy as a key consideration," says Ajenstat.
Ajenstat's law
Microsoft is now building Generation 3 ( best represented by the Chicago, Illinois facility) founded on Ajenstat's law of doubling efficiency every 18-24 months.
"The key concepts for our Generation 3 design are increased modularity and greater concentration around energy efficiency and scale. This facility will seem very foreign compared to the traditional datacentre," says Microsoft's Michael Manos on his Loose Bolts blog.
Key to efficiency savings is containerisation. Servers are pre-packed in lorry-transported containers complete with everything required to simply plug them into a modular datacentre. This offers interesting sustainability benefits because suppliers compete to provide the most efficient designs.
"Think of it like building blocks, where the datacentre will be composed of modular units of prefabricated mechanical, electrical, security components, etc, in addition to containerised servers," writes Manos.
And other useful concepts have emerged. Designs for the next-generation, Gen 4, datacentres have no roof. According to Manos, a roof was entirely unnecessary. "How much energy goes into making concrete? How much energy goes into the fuel of the construction vehicles? We are asking, 'how can we build a datacentre with less building?'"
Microsoft is gathering pace on its software as a service strategy, and through the application of Ajenstat's efficiency law hopes IT carbon emissions will remain static at worst. The company is helping replace inefficient customer datacentres with state-of-the-art facilities.
"As we grow into the cloud computing space we will increase our carbon footprint as a datacentre operator," says Ajenstat. "But it becomes an increasing value proposition for our customers where they can choose to use Microsoft's infrastructure, rather than build their own."
The company does not yet have plans to charge customers by energy consumption, however.
Email Alerts
Register now to receive ComputerWeekly.com IT-related news, guides and more, delivered to your inbox.
By submitting your personal information, you agree to receive emails regarding relevant products and special offers from TechTarget and its partners. You also agree that your personal information may be transferred and processed in the United States, and that you have read and agree to the
Terms of Use
and the
Privacy Policy
.
This was first published in January 2009