Crossing the tracks – the Open Media Framework Interchange
Transferring video projects between platforms and applications can prove tricky, but AVID's new open standard aims to ease...
This Article Covers
RELATED TOPICS

Download this free guide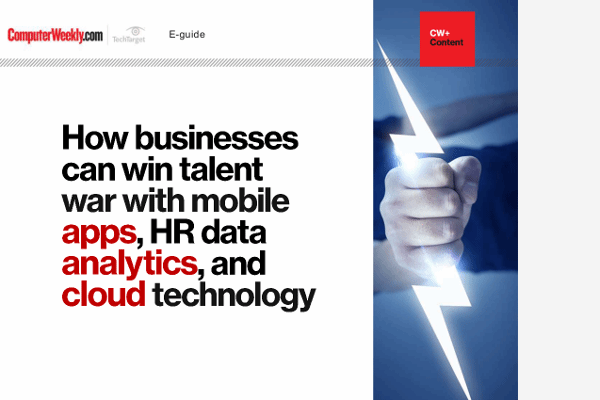 How businesses can win talent war with mobile apps, HR data analytics and cloud technology
Latest articles on HR best practices: mobile apps disrupting the annual staff appraisals; reasons for and against open-source software; and Rolls-Royce case study.
By submitting your personal information, you agree that TechTarget and its partners may contact you regarding relevant content, products and special offers.
You also agree that your personal information may be transferred and processed in the United States, and that you have read and agree to the Terms of Use and the Privacy Policy.

Transferring video projects between platforms and applications can prove tricky, but AVID's new open standard aims to ease multi-format headaches





Open Media Framework(r) Interchange ( an open standard

Open Media Framework Interchange (OMFI) is a file format that facilitates the transfer of digital media. OMFI lets you express yourself using the tools of your choice. It lets you eliminate the waste, redundancy and degradation of tape transfers as you move from one digital application to another ( and back. As an open standard, OMFI provides you with the flexibility to choose the right applications for your production with the knowledge that your files are compatible. OMFI provides open digital media interchange among applications and across different platforms OMFI is a digital media standard that supports video, audio, graphics, animation and effects OMFI represents how media is organised, letting users easily transfer source elements, effects and comprehensive edit decision information from one application to another, in sync ExamplesYou've viewed the footage. You're using a Macintosh-based digital nonlinear video editing system to cut your picture. You need to add an animation scene, so you ask the graphics artist working on a Silicon Graphics(r) workstation to create the animation. Once the animation is complete, the artist transfers it as an OMFI file back to your video editing system where it's cut into the sequence. Then you notice that a critical scene includes some graffiti on the wall and the director isn't renowned for his sense of humour. It's too late to re-shoot. You send an OMFI video file of the scene, from the video editing system, to a paint application on another UNIX(r) workstation. The artist cleans up the graffiti from the video frames and sends the scene, with timecode intact, back to the video editing system. Things are going so smoothly that the director decides to add some warping effects. The special effects artist creates the effects on a PC-based workstation and then, using OMFI, imports them back into the video editing system. Your picture is complete. Now to finish the audio. You transfer an OMFI file with source audio, edit list information and processed effects, from the video editing system into independent PC and Macintosh digital audio workstations. There, sound editors add sound effects, music and re-record dialogue. After all of the audio tracks have been cut and sweetened, the final audio sequence is transferred to a digital mixing workstation with all the sound edits in place for the final mix. Project completed. You're ready to lay back to the master media or play directly to air. You have used OMFI throughout the entire process to stay in the digital domain. The ability to transfer source clips and project information between applications means you do your work once, minimising tape transfers and re-conforms. The backbone of the digital studioOMFI is used today in the creation of feature films, trailers, television episodes, commercials, animations and documentaries. Leading broadcasters, post-production houses and motion picture studios have chosen OMFI as the enabling technology for creating an integrated, all-digital post-production facility. All steps of the creative process are linked together, digitally, with OMFI. It's easy to get your source material, edit decisions and processed effects from system to system. Just carry your fixed or removable digital storage media to another workstation or transfer your information over a high-speed network, ISDN line, or telephone line, to another location. The benefits of OMFI all digital file exchangeSaves time: Eliminate tape-based file transfers and make last minute picture changes without reconforming each element Adds flexibility: Use multiple applications on multiple workstations - with media and composition compatibility Preserves quality: Retain the highest picture and sound quality with all-digital transfers Increases creativity: Reflect even more of the producer and client's ideas by viewing elements in place during the creative process Increases productivity : Spend more time concentrating on the creative aspects of post production, not worrying about file formatting and incompatibilities Eliminates redundancy: Preserve formatting information - timing, sync positioning, layering and effects - when moving projects between applications and different workstations and eliminate the need to rebuild sequences and visual elements from scratch when changing applications Shared success with OMFI EditorsOMFI is better than an edit decision list. It lets you speed up the process, easily preview elements, and transfer comprehensive edit decision information and processed effects. Make more informed, creative decisions and minimise cumbersome tape-based approval cycles. ProducersOMFI streamlines your workflow and shortens the post-production schedule - many people can be working on different elements of the same project simultaneously. With no wait for tape and the ability to transfer all of your edit decisions and processed effects, you save time in the post-production process. OMFI is the vital link for project interchange within small-and large-scale facilities. Facilities managersApplication compatibility through OMFI lets you extend the capability of existing systems within your facility. Work on multiple platforms concurrently for a single production Compiled by Richard Pitt
Read more on Business applications