The benefits of cloud computing and the obstacles to know
Learn the cloud computing benefits and obstacles that affecting widespread adoption, according to a hosting expert.
Everyone is talking about the potential benefits of cloud computing. From the CIO to the IT administrator and the end user, cloud computing has the opportunity to dramatically change the way that applications are delivered to both consumers and the enterprise alike.
This new model can increase the quality of services delivered, provide increased agility in scaling and resizing required computing resources, and offer the potential to reduce IT costs . These are just some of the many drivers that will make the cloud a common application delivery mechanism over the coming years. Many companies are already starting to experience these cloud computing benefits today.
Cloud computing obstacles
However, the lack of a common definition of what a cloud actually is, the lack of standards, and the lack of ability for applications and data to be moved across different vendors' clouds are proving significant barriers to widespread cloud adoption. In an early adopter market, fuelled with the amount of hype and misunderstanding that there is, it is likely that many companies marketing themselves as "cloud providers" today will probably have shifted focus or left the market altogether in just a few years time. This confusion and the perceived risks associated with hosting corporate data, or moving applications to non-compatible clouds in short periods, will understandably represent barriers to adoption for many.
Amazon AWS and S3 have certainly defined the cloud for many, with an attractive feature list and compelling price point

Simon Hansford, VP, service strategy at Attenda,
As with any sound IT decision, the move to a cloud model should be based on a solid understanding of the underlying business needs and drivers. In uncertain and challenging times, cost will be an important factor, but in changing the delivery and acquisition model for IT-related services, there are additional considerations to take into account, such as service-level agreements (SLAs), contract lengths, billing frequency and limits, service flexibility and the ability to transition or migrate to another provider, to name but a few.
Leading analysts like Gartner and existing adopters of the cloud model are finding that the benefits of cloud computing are typically in this order:
Increased agility
Improved quality of service
Potential for reduced costs of ownership.
Amazon AWS and S3
Amazon Web Services (AWS) and Amazon Simple Storage Services (S3) have certainly defined cloud computing for many, with an attractive feature list and compelling price point. However, few enterprises today use it for more than backing up secondary data or trialling noncritical, prototype applications, as they determine if and how to deploy cloud services for their business. With no meaningful SLAs, few small to medium-sized businesses could or would run all their applications in this environment.
So if public clouds such as Amazon S3 and Microsoft Azure are being trialled at the application level, what do enterprises that use the cloud to deliver business-critical applications rely on?
Most businesses are looking for the agility to re-purpose and re-provision their computing resources and to improve their quality of service with cloud computing. These businesses want the ability to run existing applications, configured to meet their business needs, and the type of cloud computing called Infrastructure as a Service (IaaS) delivers this. Just as in your physical environment, operating systems are monitored and managed, but now they just happen to be virtual machines deployed into the cloud, enabling them to obtain benefits typically attributed to cloud computing.
In summary, the widespread enthusiasm and belief in the future of cloud computing is well founded. Many small and medium-sized organisations already enjoy the benefits of cloud computing. However, if meaningful SLAs and certainty in the delivery of the IT infrastructure are important, users should look for other types of cloud computing technologies that are more proven and will be more appropriate to their businesses.
Simon Hansford is the vice president for service strategy at hosting provider Attenda, and a contributor to SearchVirtualDataCentre.co.uk.

Download this free guide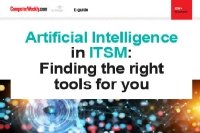 Artificial Intelligence in ITSM: Finding the right tools for you
Explore the benefits and challenges of AI in ITSM and check out our ITSM tool comparison for enterprises with an eye on AI
Read more on Cloud computing services