The pros and cons of using a cloud backup provider
Learn about the benefits and drawbacks of using a cloud backup provider and the best ways to incorporate cloud as a backup target into your data protection regime.
Using a cloud backup provider for data protection has a number of key advantages, such as scalability; freedom from day-to-day management; and potential cost savings on bandwidth, compared with writing data between multiple sites. But using a cloud backup provider also comes with drawbacks, such as possible latency issues and questions related to handing data over to a third party for safekeeping.
In this interview, SearchStorage.co.UK Bureau Chief Antony Adshead speaks with Chris Evans, an independent consultant with Langton Blue, about the pros and cons of using a cloud backup provider and how best to incorporate cloud backup into your data protection regime.
Read the transcript or listen to the podcast on the pros and cons of using a cloud backup service provider.
SearchStorage.co.UK: What are the benefits and drawbacks of using a cloud backup provider?
Evans: To set the scene here, we're talking about backing up into a cloud storage service provided by a [cloud backup provider], and there are a lot of those on the market today.
The sort of benefits you'd expect to get from a cloud backup provider are those you'd expect to get out of cloud [generally]. First of all, it's massively scalable; you should be able to write as much data as you like into that cloud environment. For backup environments, that's quite good because a lot of people don't plan or capacity plan their backup infrastructure when they add new storage into the primary environment, so there tends to be a lag, and issues can come from that. So, not having to worry about the scalability of your backup service is a real positive benefit.
Because you're backing up into the cloud, clearly that also means you're not managing that infrastructure that you would if this was your own backup environment. Another benefit from that is the fact that you are connecting to a cloud service over the Internet, and if you've got lots of sites, you only need to have connectivity from your site to the Internet, so potentially bandwidth costs are cheaper as you're not writing data between multiple sites.
Talking of cost, clearly costs are different for this model as you pay a fixed price for these sorts of services so it's a lot easier to work out what your costs will be to deliver backup.
Finally, if you're backing up to a cloud service, you'll find you get vendor-provided additional features. So, that vendor might be doing replication between sites to make sure that the data isn't lost, and maybe keeping multiple copies. Also you may can access the same backup from different locations so if you've backed up from one site you may be able restore to another.
Clearly, we have to look at disadvantages too, and there are some. The first one is latency. There's an issue with latency into the cloud. This is less of an issue with backup data compared to, say, primary data because you're not doing a lot of individual I/Os. You may be streaming data into the cloud, so latency could be an issue but not as much as if it was primary data.
Another disadvantage is that you're passing responsibility for this data to a third party. Whereas you may maintain those backups yourself and have encrypted them and done work to make sure your backups are secure, you're now passing that responsibility on to someone else, and you want to be sure they're operating to a similar set of standards around security and availability. You could choose to encrypt your backups before you write them, and that will give you some more security.
The final disadvantage is [that] you're dependent on that one cloud backup provider, so what happens if that provider goes out of business; how do you get your data back? The provider may have the data in a proprietary format so it may not be easy to extract yourself from that provider, and that's a real issue if you want to move your backups elsewhere. You could be tied in to that backup provider for, say, seven years if that is what the retention time for backups is, so you need to be aware of that; you have a dependency on that [provider].
SearchStorage.co.UK: How can I incorporate cloud as a backup target into my data protection regime?
Evans: Let's talk about backup products in general. Typically, a lot of organisations will use some of the standard products that are out there: products like NetBackup from Symantec or products from CA and so on. You will find a lot of those products now will integrate directly with a cloud provider, so you can add the cloud environment as a target from within that backup infrastructure and direct some of your backups into that cloud architecture.
Another possibility is to look at the APIs provided by the cloud vendors and write your own solution. That, to me, sounds like an expensive route, but it is a possibility if you've got very specific backup requirements in place.
A third option is to look at the providers who use things like iSCSI targets. That allows you to present storage into your environment as if it were a LUN, and you can use whatever backup methodology you're using internally to back up to that LUN, and of course then you're securing that data off-site.
I think the issue with all these methods is that you really need to think through exactly how you'll use these backups going forward and how you'll be able to track what's going on and how you'll be writing it out and how you'll maintain some sort of independence from that provider. I think you need to look at it in detail and say, "If I back up to one provider, how can I move that to another?" Those are probably the more interesting and sensible questions to be thinking of as you try and add this to your existing backup regime.
Content Continues Below

Download this free guide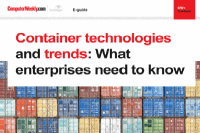 Container technologies and trends: What enterprises need to know
In this e-guide, we take a look at how and why enterprises are tapping into containers to bolster the business agility of their IT infrastructure and application estates, and some of the latest thinking about how best to utilise container technologies.