Forrester: Five key trends for your cloud journey
Cloud computing is going to go through big changes in 2012, Forrester analysts predict
In 2012, Forrester predicted that cloud computing would move out of the shadows and become a mainstream technology.
This means big changes in the test and development process, business intelligence and corporate governance areas. CIOs need to look beyond their IT department and go even further – beyond the four walls of their corporate headquarters – to make their cloud strategy a success.
Cloud technologies have matured nearly across the board, as have transparency, security and best practice use and adoption (see Figure 1). Cloud is no longer a toddler; it has entered the awkward teenage years. While many of us would prefer to spare our kids the angst of adolescence, the painful lessons of the teenage years make us who we are today.
As CIOs, we are charged with bringing predictability to our company's use of IT, and the coming era of cloud computing will push us well outside our comfort zone.
But we've been through market transitions like these before. Most of the technologies we're accustomed to today were just coming to market in our own teenage years. Cloud computing won't play out exactly like client/server or the internet era did, but it will require similar growing pains.
In a recent report, Forrester published 10 predictions it expects will happen during this year, designed to help CIOs set their cloud strategy for the next year. Here are five of these key predictions: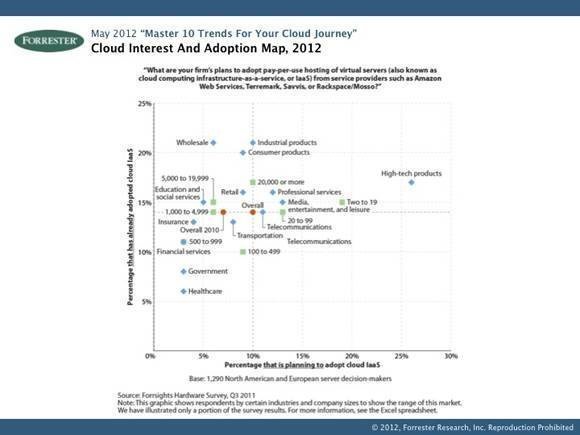 Figure 1: Cloud interest and adoption map, 2012
Trend 1. Shadow IT enters the light – deal with it
Typically a business leader invests in a new technology without consulting IT. He builds upon this investment creating new workflows, services and capabilities that become, he thinks, integral to the organisation. Then the technology in question falls over, and the helpdesk receives the inevitable frantic call that IT take over the management and support of this "critical" application.
IT needs to proactively engage with the business now to get ahead of this inevitable crash. Knowing how each role in your organisation feels about cloud computing will influence your cloud strategy and might also prevent the executive fire drills in the future.
Trend 2. The uncool attempting to be cool – not cool
As a teen, you know it when you see it. Sadly, many a marketer continues to try to latch on to a rebellious movement without the rebellion, and just looks stupid.
We have a name for this in the cloud market: cloudwashing. Unfortunately, we've let more companies get away with this than we should. Expect that to stop in 2012, because the early adopters of cloud computing have enough experience now to see through these veneers.
In 2012, if your so-called cloud services do not deliver highly standardised and automated capabilities, economies of scale, autonomy to the client, and flexible cost control, you will become uncool – and uncool means irrelevant.
Trend 3. A risky idea puts a big fish in jail
Here is a classic storyline that you can find nearly every evening on mainstream television: A teen rebelling to show his independence pushes the limits too far and gets in trouble with the authorities. Sadly, it's the so-called good kids who get the most attention when this happens.
In 2012, we can almost count on the same playing out in the enterprise market. The most likely place will be an empowered business leader running afoul of compliance laws that continue to evolve in areas of technology advancement.
One that could easily occur: You replicate a volume of cloud storage containing personally identifiable information out of country without realising a law restricts such actions. But that excuse won't be a quality defense. You can prevent the 2am trip to bail out your empowered employees by getting in front of the issue through education and best practice sharing.
Trend 4. The channel will face the music – reselling is not good enough
For years, Forrester has been telling the value-added reseller (VAR) market that it needs to move away from revenue dependence on the resell of goods and services.
Many in the market have listened and now garner more revenue from consulting and unique intellectual property.
Those who have not will get a serious wake-up call in 2012: The cloud does not need you. Cloud services are a direct-sell business and standardised, internet-resident services don't need local relationships to reach their customers.
Trend 5. You will finally have to budget for public cloud spend
Budgeting for your teens is a ridiculous challenge. You have to support their seemingly fickle swings between interests (basketball one day, band the next, a burgeoning rap career, then YouTube reality superstar after that). You must plan for the ever-rising costs of university tuition and the possible return to living at home, post-graduation.
Budgeting for cloud is just as challenging and requires IT professionals to get comfortable with change.
---
James Staten (pictured) is vice-president and principal analyst, and Lauren E. Nelson is an analyst at Forrester Research, where they serve and contribute to The Forrester Blog for Infrastructure & Operations Professionals.