French GSM operators collaborate on Wi-Fi
Société Française du Radiotéléphone (SFR), Bouygues Télécom and France Télécom, a subsidiary of Orange France, operators of...
Société Française du Radiotéléphone (SFR), Bouygues Télécom and France Télécom, a subsidiary of Orange France, operators of France's three GSM mobile phone networks, are all launching wireless Lan hotspots.

Download this free guide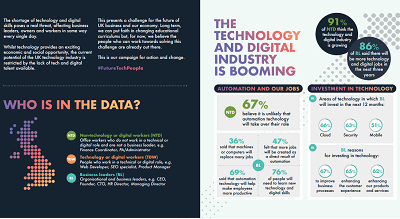 Infographic: Future-proofing UK technology
The current potential of the UK technology industry is restricted by the lack of tech and digital talent available. Read through this challenge for the future of UK business and our economy.
However a lack of service standards for access to Wi-Fi networks makes roaming difficult.
The Wi-Fi interoperability specification for wireless Lans, and the IEEE 802.11b standard on which it is built, define the technical aspects of the network but not how subscribers to public network services are identified or authenticated, the operators said. This makes life difficult for users and is hampering development of the market for public-access Wi-Fi services.
To encourage development of Wi-Fi networks in France, the companies will open up their wireless Lan hotspots to one another's customers by the end of the year.
The three will also create an industry body, open to all public wireless Lan operators, to standardise systems for accessing wireless hotspots and to give hotspot operators reciprocal, non-discriminatory access to one another's networks in France.
SFR has set the goal of giving its customers access to 80% of the 6,000 public wireless Lan hotspots it believes will exist in France by 2005. It will also deploy 200 hotspots in railway stations, airports, business hotels and convention centres by the end of the year.
Both Orange and SFR have also launched bundles for other organisations that want to host wireless hotspots. The bundles include a wireless access point, an ADSL (asynchronous digital subscriber line) connection, internet access, and remote management of the equipment.
In both cases, the host pays a monthly fee and receives a portion of the revenue from sales of airtime and traffic generated.
SFR has already made moves to extend the reach of its network, signing a roaming agreement with Swisscom Eurospot, the Wi-Fi subsidiary of Swisscom, and striking a deal with Excilan to simplify payment and sign-up to SFR's Wi-Fi network.
Peter Sayer writes for IDG News Service