PwC Consulting IPO set for August
PricewaterhouseCoopers will spin off its management and IT consulting unit via an initial public offering (IPO) in August, the...

Download this free guide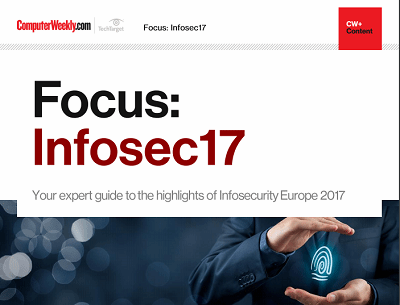 From forensic cyber to encryption: InfoSec17
Security technologist Bruce Schneier's insights and warnings around the regulation of IoT security and forensic cyber psychologist Mary Aiken's comments around the tensions between encryption and state security were the top highlights of the keynote presentations at Infosecurity Europe 2017 in London.

PricewaterhouseCoopers will spin off its management and IT consulting unit via an initial public offering (IPO) in August, the latest planned move by a Big Five accounting firm to shed consulting services that might compromise the integrity of its core audit business.



PwC Consulting, as the unit is currently known, left no doubt in its IPO registration with the US Securities and Exchange Commission (SEC) that the issue of auditor independence was a big motivator for the move to become separate from PricewaterhouseCoopers.

"The primary purpose of this offering is to ensure that we will no longer be subject to the rules and regulations governing the independence of auditors from their clients and to eliminate any perceived conflicts of interest," reads the IPO registration.

"Because of our affiliation with the auditing practice of the PricewaterhouseCoopers network of firms, audit clients of PricewaterhouseCoopers firms are increasingly limiting or denying us opportunities to provide our services for them," the filing reads.

PwC Consulting also stated in the filing that its base will be Hamilton, Bermuda, and that it expects to have about 32,000 employees and offices in 52 countries. The registration was filed under the name PwCC Ltd., which will be the new name for the company.

The issue of auditor independence has been in the spotlight since the collapse late last year of energy trader Enron, whose accounting practices have come under investigation. Enron's former auditor, Arthur Andersen LLP, sold non-audit consulting services to the energy company. This practice, critics charge, created a potential conflict of interest in which the accounting firm may have compromised its auditing work in order to protect its lucrative non-audit contracts with Enron.

In reaction to the controversy, fellow Big Five firm Deloitte Touche Tohmatsu in February announced its intention to separate its audit and consulting businesses. Arthur Andersen, which is struggling to survive the Enron debacle, announced in March that it would get rid of its consulting units to concentrate on being purely an accounting firm.

PricewaterhouseCoopers, based in New York, announced in January its intention to seek this IPO for PwC Consulting. PricewaterhouseCoopers tried to sell PwC Consulting to Hewlett-Packard in 2000 but the deal never materialised.
Read more on IT risk management