The technology behind Birmingham NEC
The NEC exhibition centre's IT director reveals how a £40m investment from Birmingham City Council has been spent
The UK has a huge number of conference centres, music venues and trade show destinations spread across the land, but one place which encompasses all of this and more is Birmingham's National Exhibition Centre.
Continue Reading This Article
Enjoy this article as well as all of our content, including E-Guides, news, tips and more.
Built in the 1970s and opened by the Queen in 1976, the NEC is the largest venue on our shores, covering 610 acres, and holds seventh place in the league table across Europe. Within the grounds are 20 interconnecting halls holding 186,000m2 of exhibition space, a 16,000-capacity music venue and 20,000 car parking spaces.
But even with these grandiose figures, the NEC, and its home in the heart of the West Midlands, has never had the most glamorous of reputations.
Despite being owned by the local city council, the venue is treated as more of a leasehold, managed by a business-minded executive board.
In 2006, the top job of CEO was taken by Paul Thandi. Shortly after that, £40m of funding was agreed to renew the physical appearance of the NEC and hopefully, in turn, revamp its reputation.
Bringing the NEC into the digital age
Technology has played a pivotal role in the NEC's transformation over the past seven years. In 2007, it needed to appoint someone to take the reins in IT. Andrew McManus joined the NEC Group as IT director, but speaking to him at the venue, he admits he took some convincing.
"I was at a company called Interserve, which was a building company, so completely unrelated. I worked there for about 10 years and grew up in IT there, becoming the head of IT. I then realised it was time to move on and do something else," he says.
We don't have a bottomless pit of cash, but we do have the ability to invest when there is a business case for it

Andrew McManus, IT director, NEC Group
"When I was approached about this job, I thought, 'the NEC? Well, that's not going to be very exciting'. But I then met with the CEO and COO, who told me about their long-term journey to make the space very different to what it was, and the fact the IT needed brining up to date as it was woeful at the time."
Once McManus had been won over by the executive team, he realised how big the task at hand was, but appreciated the backing of the board, both from a personal and monetary point of view, despite difficult economic times.
"There is so much to do and so much that has been done. The board was desperate for technology at the time, and now they are very appreciative of what it can do," says McManus.
"We recognised that to compete, and maybe even just to survive, we had to invest heavily, from bringing a café up to standard, to investing in the arena to keep pace with what the O2 had done in London.
"It was the same with technology – I have never had an investment proposal turned down. We don't have a bottomless pit of cash, but we do have the ability to invest when there is a business case for it. It has been more about an instinct of wanting to compete and the board knowing we need to invest," he says.
As well as council funding, there has been help from private business. The music arena is sponsored by LG, which paid for the majority of the refurbishment.

In-house skills and technology
Of course, McManus cannot do all the work alone. He has a team of 56 employees working on IT projects and providing support around the clock to make sure every trade show and concert has the technology it needs. The group runs all of its IT in-house, so it is no easy task.
"It is like shared services," he says. "I have a business relationship team that has one person per venue, and each of those people has a background as a project manager, business analyst, or maybe even an IT manager.
"So they are almost like me – IT people with enough knowledge to make sure we are doing the right things. But on a day-to-day basis, the people making sure everything is working are technical people, and they work across the whole of my team, working on the different venues and different businesses."
Read more about virtualisation
So, what technology has been brought aboard to make the NEC a better place to work in, exhibit at, perform at and visit?
First, there is the in-house IT. The NEC has two datacentres – the primary one sitting on the NEC site and a second failover location at its city centre complex, the NIA.
"We have gone from 200 servers and shrunk this by virtualising them all," says McManus. "The space now is not just about application servers and housing them all, or even storage – it is all about one big NetApp SAN and loads of other storage for CCTV systems or other specific appliances that run load balancing for web servers. It is all specific stuff that goes in there."
He chose local firm SCC for the virtualisation task, which claims to be the biggest privately owned IT company in Europe.
"With our ownership being Birmingham City Council, we get the benefit of being owned by a stable organisation so we get low-cost borrowing, but we then go out commercially and have to find the cheapest thing possible, so we like local businesses."
Connecting NEC exhibitors
The next step was getting out of the datacentre and ensuring networking across the vast space was up to scratch.
"Some shows might not need much technology, but we can offer it to exhibitors if they want it," says McManus. "Underneath the floor are subways you can walk along, and every one has a switch so you can feed to each of the stands."
The IT team offers a raft of services to exhibitors, from basic connections to setting up a connection to a rack of servers, depending on their needs.
"The people running a stand will pay my team to put the technology in. I have a team of guys underground who plumb stuff in before the show is open and while the stands are being built. We make seven figures of revenue per year from that," he says.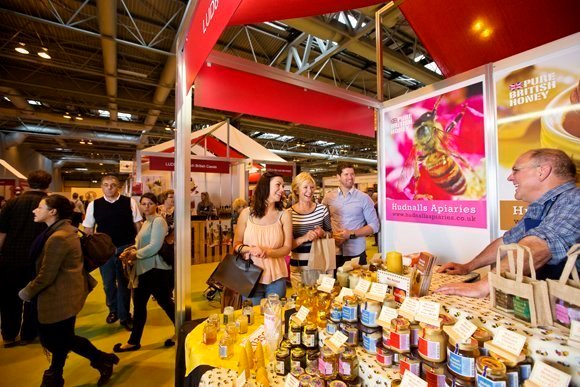 A single network
One of McManus's major tasks over the past six years has been to implement new networking equipment able to handle the requests from people using the NEC – something he claimed to be "the biggest single thing the team has done but something that nobody sees".
"We used to have multiple networks all across the place, but now we have one local area network [LAN] that goes to the city centre, as well through a LAN extension link [which is about seven miles long], so it is now a single network. In the past five to six years, that has been the big investment."
He chose Alcatel-Lucent equipment, and has been impressed with the performance so far.
"I can't be exact, because we have so much kit, but I think we have about 300 switches to cover the whole campus," he says. "That runs voice and data over the same pipe so we can have VoIP too, but we are going out to market next year for that to ensure we pick the right solution."
McManus says the elements of networking and telecoms were the most fundamental things when it came to the running of the NEC.
The director is excited about the prospect of new solutions to enhance this area further and is very enthusiastic about the new telephony offerings he has already come across.
"We are considering Microsoft Lync to get rid of the bits of plastic on the desk that no one uses anymore because they are all on their mobiles," he says. "Contact centres need to be beefed up, so we are thinking of cloud-based services to help cut waiting times."
McManus says the IT team is spending a lot of time looking at what is available, which is a challenge due to the range of possibilities: "I mean, who would have thought two years ago people would have been saying that Lync is the thing to do?"
As well as the technology behind the scenes, the NEC has deployed a number of more visible services that can be recognised and used by any visitor to the venue.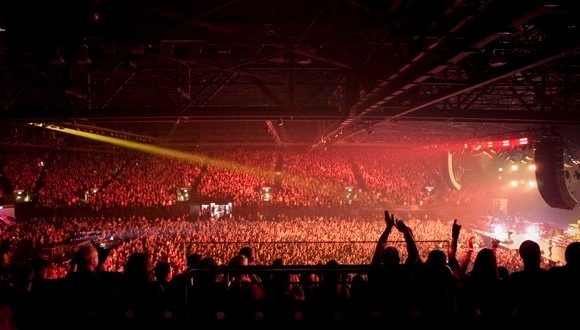 Wireless connectivity to shout about
In January 2013, it launched a new Wi-Fi network after finding its existing deployment provided by The Cloud could not deliver the performance visitors needed.
The venue has installed 155 Xirrus Wireless arrays across the site, with both 2.4GHz and 5GHz compatibility, depending on a user's choice of device. The network is capable of serving up to 22,000 users simultaneously, covering the organisers' offices and conference suites, as well as the public exhibition spaces.
Each array has 16 access points and the team has rapid deployment kits to add to the capacity when needed, such as at the beginning of a concert when everyone in the venue wants to post photos to social networks.
"We have only just done it, but it is now something we can shout about loudly because most venues like ours don't have the wireless like we have here," says McManus.
"We don't think anyone has cracked it yet and we will be, in my opinion, the first venue to offer Wi-Fi of the quality that you could sit and work on your laptop from a concert if you wanted to."
Read more about Wi-Fi
The plan now is to double capacity and continue to build the strong foundation for other systems that depend on wireless.
One such system is contactless payments. The NEC has now deployed 300 tills across all of its venues with the capability, which McManus believes makes it easier for the consumer while potentially increasing profits.
"If you are queuing for coffee first thing in the morning, the queue can be zigzagging for miles. The speed of contactless payments means you can reduce the queues and serve people quicker," he says.
"We are looking at how to take payments in the queue, so people can pay while they are waiting and are then less likely to give up and go elsewhere.
"We are also looking into it for concerts. You know you are going at a certain time and you will want a couple of pints of beer. There is no reason why you can't pre-order that."
One idea is to create an app where people can order their drinks on their mobiles, then go to a collection point and pay with a contactless card. "You will make more money if you can speed up the queues by 10%," says McManus.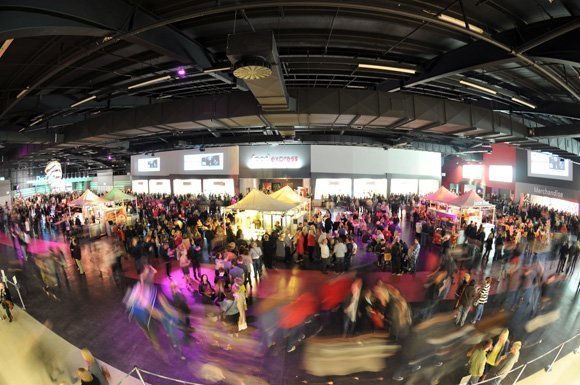 Mobilising the workforce
Another area where Wi-Fi has ramped up the NEC's technical appetite is around mobile devices.
"We are spending a lot of time trying to get people out of the office so, whether it is on smartphones or tablets, people stop sitting in front of a desktop doing emails all day and are on the show floor finding ways to improve the business," he says.
"In a venue this large we have had to create offices all around just so people can touch down. What we are trying to do is make it a lot more tablet-based, meaning when someone has a question for an event manager, they can attend to it straight away. We are trying to get people away from our historical ivory towers, those who are comfortable in our offices, and be on the floor where they need to be."
Unlike financial institutions or public sector organisations, the NEC faces fewer of the security challenges or regulatory issues so, although not willing to roll out a bring your own device (BYOD) policy where the business would stump up the cash, McManus has a "relaxed attitude" to those wanting to use a gadget from home.
"If someone wants to bring in their own MacBook Air, for example, we will make sure they can connect and have the right security, etc, but I am not going to roll out a BYOD policy that pays them for it. It just diverts my attention away from other more important stuff, and those it would benefit are doing it anyway," he says.
This did not stop McManus buying in corporate stocks of modern mobile devices though. Initially he embraced Apple, following the popularity of the iPad and the number of staff wanting to connect their shiny new devices to the corporate network. However, he saw a new opportunity with Microsoft's rival products.
"We got iPads around three years ago, triggered by people coming in with them and people not wanting to go to and fro between offices to get connectivity," he says.
"But now I find the Windows devices more compelling. You get seamless connection into our back-end Microsoft systems, so a tablet that looks pretty much like an iPad gives you Exchange access, access to all of our systems, ERP [enterprise resource planning], etc, as well as all the nice tablet functions people like. Price-wise, it is about the same too. Why wouldn't we go down that route?"
I think we will end up with Windows through and through for all of our tablets

Andrew McManus, NEC Group
Now McManus is planning on replacing the previous Apple deployments with Windows 8-based tablets and Windows Phone handsets.
"What I want to be able to do with Windows is to give people access to data in real time so events managers can see everything happening at their show. You can do that on iOS, but trying to grab something out of a SQL server is a lot more complicated.
"I think we will end up with Windows through and through for all of our tablet uses," he says.
But for those not on staff, mobile use has been hampered by poor signal in the old, metal buildings that make up much of the NEC's structure.
The team knew this needed improving as it was the biggest complaint they received, but after speaking with the UK's major operators, found they would not have to get out their chequebooks to do it.
"For the basic mobile signal we are looking to a distributed antenna system with a picocell or femtocell and putting mobile phone masts in," says McManus. "The mobile phone operators are paying for that – it would probably be about £1m if you paid for it yourself – as with four million customers coming through here every year, they felt it was worthwhile."
Vodafone and O2 will be installed around Christmas time, with both 3G and 4G signal. EE and 3 will join the party later. They are all going to share infrastructure.
Continued investment to keep customers coming back
The work McManus and his team have put in has transformed the NEC, and the support of the local council, private partners and an executive team willing to invest during difficult economic times means the future looks bright.
"The past five to six years has seen big investment in networking and telecoms. Going forward it is going to be more of that, as we will need to refresh it, but I think it will also be about data management and looking at how we can unleash the data we have to essentially market ourselves more effectively," he says.
"We want to encourage our customers to keep coming back."
Read more on Data centre networking