The negotiators
When you have decided on outsourcing, future success depends on paying attention to the contract and keeping your wits about you....

Download this free guide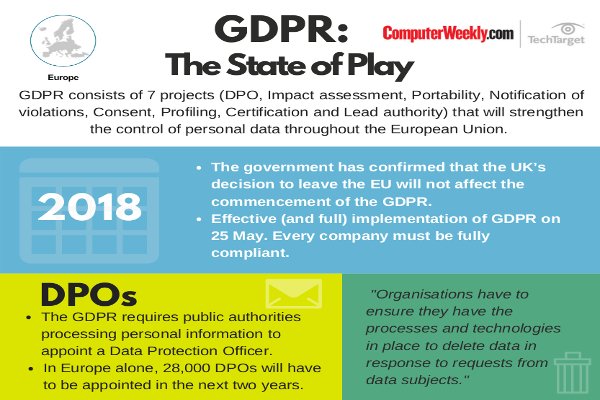 Infographic: GDPR - The State of Play
Get the latest information on how GDPR is going to affect your business and how to avoid any unwanted fines with this simple infographic.

By submitting your personal information, you agree that TechTarget and its partners may contact you regarding relevant content, products and special offers.

You also agree that your personal information may be transferred and processed in the United States, and that you have read and agree to the Terms of Use and the Privacy Policy.

When you have decided on outsourcing, future success depends on paying attention to the contract and keeping your wits about you. Mark Vernon reports



Outsourcing is virtually a way of life in many IT departments. Handing out the management of anything from printers to customer relationship management has become common in a connected world. However, what is shocking is the proportion of these deals that fail to deliver. Analyst firm Giga Information Group reckons that up to 50% fail in the first two years, in the sense that they do not meet client expectations. And a further 50% fail after five years, leaving only a tiny proportion that actually return the outsourcing promise.

The reasons for this poor performance are complex but, as Giga vice-president Julie Giera points out, they tend to revolve around contracts. She highlights five pitfalls that stem from poorly negotiated contracts. "First, is when people opt for outsourcing for one reason but then sign a contract for another," she says. "So, the company says it wants to outsource some function in order to bring flexibility to operations, but then negotiates the contract on the basis of cost. Cost is familiar and readily definable, but it often works against flexibility and so undermines the delivery of expectations from the start."

Second is simply the rush in the contract negotiating process. "Six weeks for signing a multimillion-dollar deal is ridiculous. People should also remember that outsourcers are specialist negotiators since they do it all day long. So we advise that people take their time and get help," says Giera.

Third, problems often stem from the lack of specifics. There may be no milestones mentioned in the deal. Too much emphasis might be placed on penalties - and a punitive cost-based contract is not the best start if outsourcing is designed to be a business enabler. Alternatively, people just leave bits of the contract blank on the basis that they will "figure it out later".

Giera's fourth point is that contracts should also cover the matter of managing the on-going relationship. They should provide a framework for reporting, reviewing and restructuring. "Also, companies should realise that outsourcing does not abrogate them from all responsibility for what they hope will be delivered," she adds.

And finally, outsourcing contracts should deal with monitoring progress, that is the measurement of return on investment. "And I don't mean technical measurements, but returns based upon business metrics," says Giera. For example, if Web site availability goes up, that is fine, but if an increase in customer retention coincides with the start of outsourcing that is far more significant an indicator of success."

She acknowledges that this is not going to be an exact science, but a certain proportion of the commercial improvements can be assigned to the outsourcing arrangement to see that it is affecting commercial matters, be it productivity or profitability, and not just technical performance.

So much for the advice. But what about the practice? One company that has taken the matter of contract negotiation to heart is Bank One, the US' sixth-largest bank holding company, with assets of more than $270bn (£180bn). Recognising the central importance of negotiating the detail of the outsourcing contract, and how the advantage can lie with the outsourcer rather than with the customer, Bank One runs training for the individuals within the organisation who are responsible for negotiating contracts.

Bank One should take contracts seriously since it is one of the largest outsourcers in the US, handing over its entire datacentre and network to IBM and AT&T. Austin Adams, Bank One's chief information officer, came to the company with explicit expertise in contract negotiation that he learned from managing the changes in outsourcing deals that occur as a result of mergers and acquisitions. He has subsequently recruited other staff with outsource management experience. "We have certainly worked to upgrade the talent and processes around our IT sourcing, including deepening the understanding we have of partners' contracts and capabilities," he says.

Adams believes that various components need to be in place to ensure Bank One optimises these relationships:


Ensure that all negotiations are centralised at one point. "When dealing with large IT companies there is a tendency to go for one- off transactions," he says. "This is a mistake both because it does not leverage the total relationship that the companies have with each other, notably in terms of cost, but also because it compromises the expertise from business units that must be incorporated to come to meaningful and thorough contractual agreements."



Assemble a team for writing the contracts. At Bank One this includes a dedicated group which deals with nothing else but the bank's outsourcing requirements; in-house legal expertise; and a unit that assesses the performance of outsourcers and feeds that information back to Adams.



Use specialised third-party expertise. "There are two or three large law firms in Washington that focus on the outsourcing area," he says - explaining that their help has been valuable, particularly in attending to details.


In addition to this, Adams meets regularly with the bank's account managers at the largest outsourcing partners. "The point here is that it is not only the negotiation that matters but the day-to-day administration of the contract," he says. "This is about creating service levels, monitoring adherence to them, and providing an infrastructure for dialogue."

The deals with AT&T and IBM stretch over six years: a lot is bound to change in that time and so flexibility is vital. "It would be impossible to negotiate all the unknowns on paper," he adds.

Adams is, however, sceptical of talking up business metrics as a way to assess the success of the outsourcing arrangement. Day-to- day service level indicators such as the availability of Web sites or the response speeds of applications are readily monitored.

"But cost savings, say as a result of reduced acquisition costs, are very complex since it is hard to compare what you would be doing if you weren't outsourcing." However, some internal benchmarks ensure that the outsourcing deal is keeping efficiencies and effectiveness delivery pointed in the right direction.

The IT industry itself is also alive to the difficulties of managing contracts. Oracle, for example, has recently launched Oracle Contracts for automating contract management across the enterprise, especially complex agreements with partners.

"Contract automation today is where financials automation was 20 years ago, in a filing cabinet with all businesses agreeing on the importance and need for its automation potential," says Mark Barrenechea, senior vice-president, applications development at Oracle.

"Every corporate transaction is linked to either a customer, partner, supplier, or employee. That linkage is a contract. Businesses [should] manage contractual obligations across all lines of business."

The application encourages the standardising and streamlining of the contracting process, to reduce administrative costs and eliminate what it calls contract leakage, the lack of control which stems from the historic practice of manually writing and customising contracts the success of which depends too much on the individuals concerned who can over time be lost to a company.

"The enterprise is morphing into the value chain with companies focusing more and more on their core activities and outsourcing the rest," says Jacky Ross, senior partner, PricewaterhouseCoopers.

Which is another way of saying that commercial success will hang more and more on the successful working of the contract. Having good negotiation skills to hand could, in fact, have a direct impact on the bottom line.

How to get the best out of negotiations
Training consultant and associate at the Industrial Society Astrid French offers some advice on the basics of negotiation:


Preparation - find out as much as you can about the other side. Think about what they want. This way you will have a greater understanding of how to approach the negotiations


Aim for a win-win outcome - negotiations shouldn't be about a win/lose. If they are, the whole tone of the conversation will be defensive and nothing will be resolved. In the future you will have a relationship with the other side, ensure it is a good one


Know your alternatives - your hand is strengthened if you have a walk away alternative to the proposition you are being offered. Do your homework, look at the competitors and benchmark their offering against what the other side has put forward


Be aware that people use dirty tactics - there are some well-known underhand techniques in the negotiating game: good cop/bad cop; calling your bluff etc. If you think they are using dirty tactics don't be afraid to mention it. Whatever you do, don't sink to the same level. Things are much harder when you start to play games


Separate the people from the issue in hand. Be hard on achieving a win/win situation; be soft when dealing with the people


Close negotiations successfully - have a final summary so everyone is clear of the outcome. If one key point is re-opened for re-negotiation then everything is open for re-negotiation.


More info on Industrial Society courses on www.indsoc.co.uk/, tel: 0870-4001000

Common negotiating mistakes

Remember there may be big differences between what each party understands; clarify objectives and understandings


Be conscious of what and how you are communicating


When renewing agreements, double check the original provisions to see if anything should be changed or has been changed


When settling on an agreement on an issue, never "split the difference". Always base your decisions on available facts or values, not accommodations


Remember all the parties that are affected - within your organisation, competitors, other customers, litigation situations and what the values are that will be affected


Keep your objectives in mind and adjust them only when you have new facts that justify the change


Provide for procedures that automatically handle default so new negotiations will not be necessary


Confirm and record each provision as it is agreed to


Be aware of the timing of any concessions by the other party and be certain that they are actual concessions and not just represented as such


Do not offer concessions just because you have received them


Only offer concessions that advance you towards agreement and only offer those that are the least cost to you and the most benefit to the other party.
Read more on IT legislation and regulation