Storage Area Network School: Lesson 4
This webcast explores the things that cause problems in SAN operations.
Storage Area Network School: Lesson 4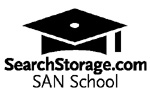 ---



San


Join Christopher Poelker, co-author, Storage Area Networks for Dummies for a webcast on what makes a storage area network (San) stop. This webcast explores the things that cause problems in San operations.

View this lesson at anytime here.

More about "Lesson 4: What makes a San stop"

If you run into problems with your San, it can be very difficult to pinpoint the exact cause. It could be something very simple like a pinched cable or a mislabeled cable. Or it could be a greater problem like congestion caused from poor topology design or the way zoning was set up. In this chapter, you'll learn some best practices like proper cable labeling and setup, how to spread out the I/O load evenly and using a maximum of 16 switches per fabric. You'll also get a firm handle on the best naming conventions and tapping into resources for logical design plans. Want to find out the number one culprit for making a San stop? View lesson four.

What you'll walk away with:
** An understanding of what causes San problems
** How to avoid poor San design
** Knowledge of how to prevent equipment problems
** An understanding of other San issues
** The ability to ask Chris your specific San questions


Please join Christoper Poelker for this webcast right now.

After listening to San School lessons 1-4, take the first San School quiz.

About Christopher Poelker:

Aside from being an author and a SearchStorage.com San expert Christopher Poelker is a storage architect at Hitachi Data Systems. Prior to Hitachi, Chris was a lead storage architect/senior systems architect for Compaq Computer., in New York. While at Compaq, Chris built the sales/service engagement model for Compaq StorageWorks, and trained most of the company's VAR's, Channel's and Compaq ES/PS contacts on StorageWorks. Chris' certifications include: MCSE, MCT (Microsoft Trainer), MASE (Compaq Master ASE Storage Architect), and A+ certified (PC Technician).

Don't miss this event. Make sure to view it today.

Back to the San School table of contents.

"What makes a stop"