Microsoft co-founder rocks the Time Bomb
Paul Allen, Microsoft's co-founder, who is seriously rich, is making some noise on the music scene. His rock group Grown Men has...
Paul Allen, Microsoft's co-founder, who is seriously rich, is making some noise on the music scene. His rock group Grown Men has produced a self-titled CD that contains a few songs penned by Allen himself.
His ditty entitled Time Bomb starts, "I was born without much charm/Set off every false alarm/ Combed my slick hair back/No one would cut me a bit of slack/ Everything I do may seem wrong/ But my heart, my heart beats strong."

Download this free guide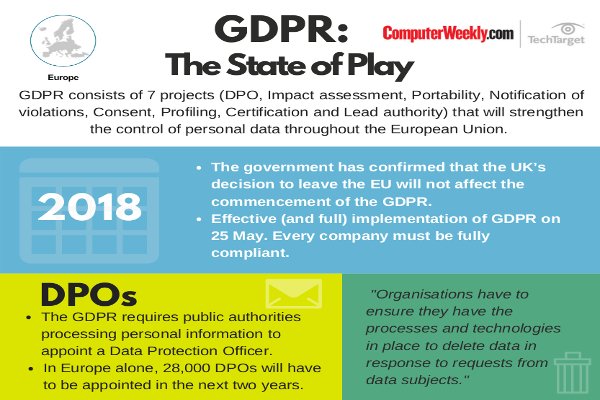 Infographic: GDPR - The State of Play
Get the latest information on how GDPR is going to affect your business and how to avoid any unwanted fines with this simple infographic.
By submitting your personal information, you agree that TechTarget and its partners may contact you regarding relevant content, products and special offers.
You also agree that your personal information may be transferred and processed in the United States, and that you have read and agree to the Terms of Use and the Privacy Policy.
More Groan Men than Grown Men, and about those initials GM...
Avoid frenzied mouse work
Downtime has just received a next generation mouse mat. The k-mat is not for the desk, oh no, this little beauty rests on your thigh. You might think there is a some leg pulling going on here, but the manufacturer says the curved rubber contraption "allows for a more relaxing and productive day".
However, a word of warning: seen from behind, any male colleague using the mat vigorously could well be asked to leave the office and probably the company. You have been warned.
Ellison on Gates' tail
According to CNETnews.com, IT's biggest ego Larry Ellison is about to become the world's richest man, overtaking self-styled geek and long-time rival Bill Gates.
Ellison has spent his wealth on useful toys such as MiG fighter planes. And, according to some industry insiders, the Oracle founder spends much of his time scheming how to shoot down the Microsoft empire. We imagine he'll probably get great satisfaction from overtaking Bill.
Compaq music police
Compaq has won a £10m contract to provide IT services to the Performing Right Society and its partner the Mechanical Copyright Protection Society, which ensure that music royalties due to artists are paid. Does this mean Compaq will make it harder for people to illegally download music from the Web on to its PCs without paying royalties?
Christmas reminder
Christmas has come early for reader John Knight, who writes, "I thought this e-mail I received from a colleague who uses Sun Staroffice might make you chuckle. It demonstrates that Sun are trying to beat the commercialism of Christmas by reminding you nice and early in the year - before the shops are even promoting Christmas."
The automatic reminder reads, "The event 'Christmas day' starts by 12:01:00 P / 25/12/00 and ends by 11:59:00 P/ 25/12/00."
Hardly very festive.
Read more on IT legislation and regulation