Driving home its own solution
When GM, Ford and Daimler Chrysler set up their e-procurement marketplace, Covisint, the German giant BMW chose not to join. Why...
When GM, Ford and Daimler Chrysler set up their e-procurement marketplace, Covisint, the German giant BMW chose not to join. Why does the company believe it has a competitive advantage by building its own solution? Nina Kruger reports



Covisint, the marketplace set up by General Motors, Ford and Daimler Chrysler has caught the imagination of a string of companies around the world, keen on following the same model. But for the time being, another key motor industry player, BMW, is not one of them.

BMW already has an e-procurement system, but that is not why the German car manufacturer decided against joining Covisint.

BMW sees a competitive advantage in building its own individual solution and Robert Bauer, head of procurement at BMW, believes that a marketplace can only be efficient if offer and demand are open and transparent.

Download this free guide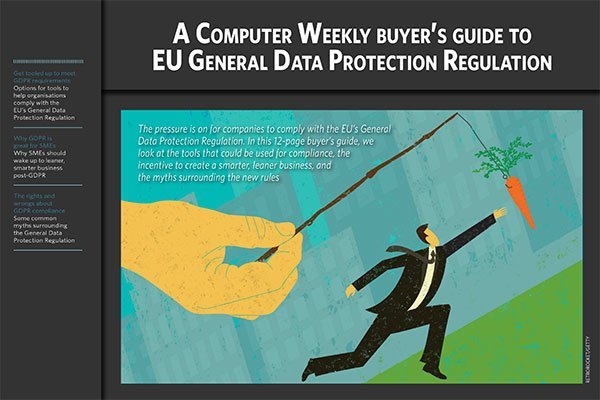 Computer Weekly's Buyer's Guide to GDPR Part 2
In this 12-page buyer's guide, we look at the tools that could be used for compliance, the incentive to create a smarter, leaner business, and the myths surrounding the new rules.
By submitting your personal information, you agree that TechTarget and its partners may contact you regarding relevant content, products and special offers.
You also agree that your personal information may be transferred and processed in the United States, and that you have read and agree to the Terms of Use and the Privacy Policy.
"As far as production parts are concerned this would be a very questionable thing to do, since this would give competitors insights into the production," he explains.
Bauer admits that there are few competitive issues surrounding maintenance, repair and operation (MRO) parts, but still doesn't want to join Covisint even though it is, so far, only trading in goods and services unconnected with production.
Bauer just sees no advantage in joining other automobile companies to procure MRO parts. "If GM already orders 500,000 pencils, the price is not going to get any cheaper if another 500,000 pencils for Ford are added. With orders of that sort of volume you have already reached the point where you can get no more price reduction," he explains.
Here Bauer has highlighted a key problem with marketplaces such as Covisint: If companies in the same industry join forces, they only marginally raise the demand for those products, which are already ordered in very high quantities. The chief of procurement at BMW prefers the idea of joining forces with companies from other industries that have completely different ordering habits.
BMW, for example, already orders a lot of forklift trucks. "We can't get any more discounts on these," Bauer says.
On the other hand, the quantity of chemical products BMW orders is low. "If we joined forces with a company in the chemical, or health industry they would benefit from our good prices for forklift trucks, while we could get their discounts on chemical products," Bauer points out. He emphasises that this is, at the moment, just an idea and there are no discussions being held with companies from outside the automotive industry.
Hubert Bergmann, a spokesman for BMW, on the other hand doesn't want to rule out the company joining Covisint, or another marketplace in the automobile sector, at some point - providing that the project fits into the e-business concept of BMW.
"For BMW," Bergmann explains, "e-business is just a tool to achieve one of two major goals: Either enhance our customer service or cut down costs."
The company so far does not even have an overall directive regarding e-business. Instead, each department decides for itself which IT solutions to use. Then an overseeing strategic IT team ensures that once a department has decided to go for e-business, they only use systems and solutions which are compatible with the rest of the IT environment. Staff within the department for strategic deployment of IT not only check the chosen solutions different departments intend to use, they also provide advice if they feel there is a more suitable solution to a specific problem.
The strategic team reports to Helmut Panke, a member of the board and the company's finance director, who is responsible for strategic spending.
Nevertheless, it is the heads of department who undertake key decisions. So it was Bauer and his team who decided to have their own procurement solution for MRO parts - without joining forces with another company.
But then e-procurement is not that new for BMW. Every year, the company orders, electronically, MRO goods worth around DM500m (£153m) Since 1997 all office supplies have been ordered via the intranet. Employees can access the digital catalogue of the German office supplier Kaut-Bullinger and order directly via the Web. The intranet order is translated into an EDI (electronic data interchange) message and sent to the supplier who processes it electronically. The next day the order is delivered straight to the desk of the employee who placed the order. "With this system we don't need any stock room for office supplies," Bauer says.
He admits the current procurement solution needs enhancements. "We don't have a workflow for order authorisation," he explains. So far this has not been a problem for cheap parts. "You wouldn't want a controller to sign for every pencil that is being ordered," Bauer explains.
In most cases, the current solution does not require workflow. Currently, BMW only orders office supplies electronically. If any complicated tools for production are required, "the person responsible for the budget has to make the decision", the chief of procurement explains.
"We have a break of media, a discontinuity in the workflow," Bauer admits. First the employees have to look up the article they want to order in a print catalogue. The information they find there then has to be entered into the ERP (enterprise resource planning) system, an individual solution BMW has developed.
This system then uses a fax-server to send the order to the supplier. The fax is really no more than an internal document belonging to the BMW ERP system, but the supplier knows they can regard this document as an order.
This has several disadvantages: "First of all this document is kind of hard to read for our partner. Secondly, the partner also has to type the information into his internal systems - since it is being sent as a fax," Bauer explains. "Now e-business is giving us the opportunity to set up an end-to-end solution that makes those processes more effective," he adds.
BMW has now decided to use the Ariba Buyer e-procurement solution and will run the software within their own data centre giving every employee the opportunity to order online. Some 5,000 employees use the current solution, but the new system will have more than 90,000 users.
The solution has a multi-supplier catalogue combining the offers of all partners. The employees in the procurement department decide which product will be entered into the catalogue and at what price. Ariba comes into the action with the technological implementation. Suppliers send their electronic catalogues to Ariba which translates them into the right format for BMW. Initially, all BMW's main suppliers will be connected to the new solution - about 2,000 partners responsible for 100,000 transactions a year. "We'll start with the office supply, because that is the easiest," Bauer says.
Office supplies only cover an order volume of DM10m (£3m) but Bauer aims to procure MRO parts worth about DM500m (£153m) eventually, even up to DM1bn (£306m)," Bauer says. MRO covers spare parts and tools - namely, all those products that are not directly related to production.
In future, BMW hopes to order services with the procurement systems, starting with calls for orders and later have auctions on the site. "Our service providers would compete with each other to make the best offer," claims Bauer. With end-to-end IT, the new solution should be of advantage to both BMW and its suppliers. Because "media breaks" are removed, BMW can cut down on the number of business processes. For example, it will no longer be necessary to check the invoice since the system is already using the correct data. Nobody will have to ring up the supplier to ask whether the product is in stock or when it will be delivered, and stock and delivery data can be accessed via the online solution.
"The new system will guarantee our processes," says Bauer. Today an employee might make a mistake copying the data from the print catalogue into the internal IT system. Also the pricing in the print catalogue might not be up to date.
The e-procurement solution BMW will cost a "low two-digit million [DM] sum", Bauer says, adding, "we will have a return on investment in no more than one year - and that's a conservative estimate." He expects a fast return on investment since BMW can eliminate some time consuming business processes. Taking the time it takes to complete an order - from choosing the product and placing the order to paying the bill - BMW believes the new e-procurement solution will enable it to reduce this time from 65 minutes to just 17 minutes. "In the car industry the average time to complete an order lay at 100 minutes, so our current solution was already an improvement," Bauer says.
A number of other factors will help BMW accelerate its return on investment.
Because BMW already has an electronic procurement system there is no need for business process re-engineering, or excessive training costs. "All we have to do is turn a switch," Bauer says. "We don't have to persuade our employees to use an electronic system for procurement because they already do.'
BMW also hopes to get better prices from its suppliers which will see cost advantages on their side. "Our partners don't have to access a Web page to get in touch with us," Bauer says. The suppliers will receive orders electronically in the format they need to process it directly into their IT systems. If one partner cannot process the data electronically, they will get the order via e-mail or fax. "Using our e-procurement solution our suppliers can cut down their process costs," Bauer believes.
In future, suppliers will be able to use BMW's e-procurement solution to carry out their own procurement, and get the same discounts on many products as BMW.
"In return for this service we expect our partner to grant us better buying conditions. Even if we could reduce prices by two more percent - that will represent a large sum, given that we have an order volume of DM500m each year," Bauer says.
BMW believes using the Ariba solution should also have an influence on cutting costs. Although it found the company's software fitted well into the existing IT infrastructure, similar results could be achieved with competing e-procurement products. One of the main reasons BMW went with Ariba was that it provided the simplest user interface, and there was no need to train the employees on the system.
BMW's decision over Covisint demonstrates that there is life beyond marketplaces, and just because one company signs up does not mean another should jump in afterwards.
Understanding your own business goes a long way to understanding e-business.
To join or not to join?
BMW sets up an individual e-procurement solution instead of joining the Internet marketplace of Daimler Chrysler, Ford and General Motors. Why?
Ordering production parts would give competitors insights into their production
Joining forces with other car vendors on MRO products wouldn't lead to further price reductions since BMW already orders in very high volumes
It would make more sense to combine the buying power with a company in another industry - one that has completely different ordering habits
BMW doesn't rule out joining Covisint, or another marketplace of car manufacturers, at sometime in the future, provided that cost savings are possible benefits of e-procurement BMW spends a two-digit million [DM] sum on an e-procurement solution. The investment will pay for itself in one year because:
BMW can cut out some business processes
Save time on completing an order - 17 minutes, instead of 65 minutes
Avoid mistakes made by typing the data into the ERP system
Better rates given by suppliers
Read more on E-commerce technology