CW500: Public sector IT in an age of austerity
The role of CIOs in local government is changing as the sector faces a period of unprecedented austerity and cut-backs
The role of CIOs in local government is changing as the sector faces a period of unprecedented austerity and cut-backs, CIOs at the Computer Weekly 500 club heard last week.
CIOs are no longer simply the owner of the technology strategy, they are becoming agents of change, as councils turn to IT to deliver more efficient public services, said Jos Creese, chair of the local CIO council, and Hampshire County Council CIO.
"I have never been in a situation where we are making such a dramatic change so quickly. Many private sector organisations do this regularly with takeover and acquisitions, but it's not familiar to us in the public sector," he said.
Age of austerity
"We have a new government and the big priority is the austerity agenda. We are having to find 30% cuts in what we do. That's over four years, but most of us are trying to do that more quickly."
The age of austerity should be a call to arms for local government, but Crease admits that for many councils, it's more of a wake-up call.
"One of the challenges we have is the in-built fear of adverse reaction if anything goes wrong," he said.
In future councils will provide services as digital by default, rather than starting from the presumption that residents need to meet council staff in person.
Government developing free-market alternative to ID cards
The government will allow the public to control their own personal data, as it develops a national identity assurance scheme, the government's deputy CIO told a meeting of CIOs.
The Home Office is looking to create a free market in identity services, that will allow consumers to verify their identities to access government and private sector services.
The proposals follow the collapse of Labour's ill-fated ID cards project, which attracted criticism over its privacy implications and lack of a clear business case.
Bill McCluggage, deputy government CIO and director of ICT strategy and policy, told senior IT professionals at Computer Weekly's 500 Club that the new scheme would be based on fundamental principles that would safeguard the privacy of the individual.
"The first principle is choice. You should be able to exercise choice in who wish to use [to verify your identity] – if you want to use a bank, or Sky TV, or the Post Office," he told the group.
The second principle is customer focus, said McCluggage. This means designing online services around the needs of consumers, not the service providers. "Obviously we are very strong on data protection, safeguarding the individual."
"We respect the privacy lobby. That is why we have done it in a fairly open way," he said. "We had a meeting yesterday with the privacy lobby groups to be critical of what we are doing, so we can learn and build and take on all the issues we need to."
The third principle is that an identity assurance scheme should be based on existing standards.
"We are trying to create a market where people can deliver services to us. We are not the biggest consumers out there," he said.
The government will work in partnership with private sector organisations, such as retailers that need to establish identity for loyalty card schemes, and banks that issue credit and debit cards, that also require identity verification.
"We are not alone in this. We are talking to New Zealand, Canada and Australia," he said.
Unlike the ID cards project, Identity assurance would be rolled out gradually, not in a big bang, he said.
Read more about the government's identity assurance plans >>
This will give CIOs the "opportunity to leverage the board to use IT to transform public services into something that can be as vibrant as possible," said Creese.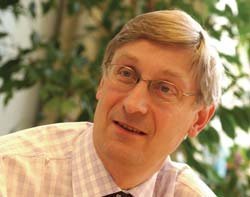 Jos Creese
"In many leading organisations now, the role of the CIO has moved very much from being simply the lead on technology, the owner of technology strategy, to some one the organisation looks to as an agent of change," said Creese.
"Some parts of the public sector get that and some don't. It's my view that the best performing members of the public sector are the ones that understand that."
I have never been in a situation where we are making such a dramatic change so quickly

Jos Crease, CIO, Hampshire Council
The government will need to find new ways of measuring the success of IT projects, the meeting heard. That means looking beyond whether a project is delivered on time and on budget.
Customer service
"There is a fundamental shift that affects all IT organisations," said Creese. "IT should be measured by contribution to customer service improvement. What is IT doing to drive customer satisfaction up and reduce the cost of delivering?"
"It's been tried but it's very difficult to do that. The citizen saves some time, but can you put a value on that ? You can end up with some spurious business cases if you do."
"My view is that measuring IT in a proxy way – measuring what IT is delivering through some of our services – is a better way of measuring it."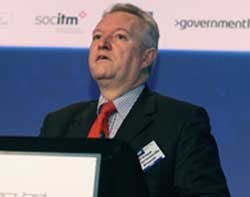 Bill McCluggage
Deciding which IT projects to drop, will be as important as deciding which ones to invest in.
Prioritising projects
"We have to prioritise. Which means one of the measures of success is doing the right projects and the opportunity cost of getting it wrong."
For Crease, one of the biggest priorities is to improve communications between local government and central government.
"I would very much like to see much greater input and discussion around how we develop national policies but implement them locally with what is there is locally."
"There are lots of things we can do to make IT more efficient. There is far too much overlap, far too much duplication."
More from the 500 Club
"I think ideally you want one pan-public service strategy," he said.
"We don't want to duplicate or in any sense be in competition with the national strategy, but to provide a perspective on how that strategy should be implemented at a local level."
For Bill McCluggage, government deputy CIO, the key is to change behaviour within government IT. That means moving away from the assumption that each government body needs its own tailored IT systems.
Missing skills
"There is not much different between one e-mail system and another e-mail system. Just re-use it somewhere else so you don't have to go through a long procurement process," he said.
More widely, the government needs to ensure the UK has access to the right IT skills.
"There is a huge opportunity to foster growth of UK plc. There are areas we are lacking. I have a 16-year-old son and IT at school is all about creating Powerpoint presentations. We have sold ourselves into a situation where we have exported a lot of IT knowledge."
Read more on Identity and access management products