Best of VMworld Europe 2010 User Awards: Desktop virtualisation
The top user project in the desktop virtualisation category utilised a variety of technologies to deliver the virtual desktop stack through various methods, including an array of device access types.
Best desktop virtualisation project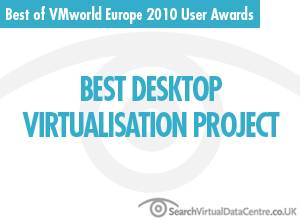 Winner: Belgian Department of Justice
IT project owner: Benny Goedbloed
Vendors and technologies used: VMware Inc. vSphere 4.0
Hewlett-Packard Co. ProLiant ML370 servers, SAN, t5540 Thin Client
IT project: In its rehabilitation efforts with prisoners, the Justice Department of Belgium wanted to provide inmates with desktops while still retaining control. The department's idea won out based on the rich variety of technologies used to deliver the virtual desktop stack in the core layers of operating systems, applications, user virtualisation and an array of device-access types, including PCs, dumb terminals, PDAs and smart phones.
What the judges said: "This project demonstrated that virtual desktop infrastructure (VDI) is more than just installing a client OS and fitting a provisioning server to virtual infrastructure."
Read more on Virtualisation management strategy