Time of choice creeps up on Netware users
Gartner is usually reluctant to advocate doing nothing, but with regard to the next step for Netware users, this might make sense for the next two to three years, assuming you are on Netware 6.5. This is because Novell will probably stop updating its Netware kernel by 2008.
Gartner is usually reluctant to advocate doing nothing, but with regard to the next step for Netware users, this might make sense for the next two to three years, assuming you are on Netware 6.5. This is because Novell will probably stop updating its Netware kernel by 2008.

Download this free guide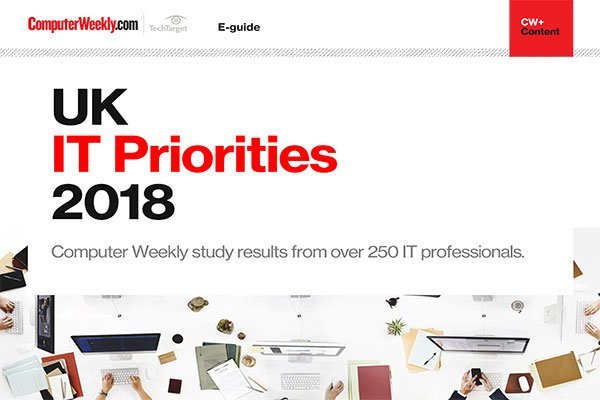 UK IT Priorities 2018 survey results
Download this e-guide to discover the results of our 2018 UK IT Priorities survey, where IT leaders shared with us what they are going to be investing in over the coming 12 months.
By submitting your personal information, you agree that TechTarget and its partners may contact you regarding relevant content, products and special offers.
You also agree that your personal information may be transferred and processed in the United States, and that you have read and agree to the Terms of Use and the Privacy Policy.
Novell has a lot to prove about the future of Netware and Open Enterprise Server (OES), and evidence of their capabilities is likely to emerge in the next 12 months.
Gartner regularly receives inquiries from Novell Netware users evaluating their upgrade and migration options. Typically, the first question they ask is whether they should move from their current version of Netware.
Organisations using versions of Netware older than 6.5 should definitely consider upgrading or migrating. Users on Netware 6.5 have the luxury of time and should feel less pressure to make a move. The choices available for users on versions of Netware earlier than 6.5 are:
Upgrade to Netware 6.5
Upgrade to the Netware kernel on OES
Upgrade to the Linux kernel on OES
Migrate to Linux/Samba
Migrate to network attached storage (Nas)
Migrate to Windows.
The first two options - upgrade to Netware 6.5 or the Netware kernel on OES - are effectively the same choice. Novell has positioned OES as the upgrade path and the Netware kernel version included in OES is equivalent to Netware 6.5. Moving to, or staying on, Netware 6.5 is a good means of buying time. This is a stable position to be in for the next three years. However, the long-term position of the Netware kernel remains questionable.
Novell has stated that it will continue to maintain a Netware kernel in the OES product. However, it is likely that the Linux kernel version of OES will receive more enhancements over time. In other words, new features will be included in the Linux kernel version of OES but not in the Netware kernel version. Eventually, this will force users to move to the Linux kernel version. We believe that, by the end of 2008, Novell will no longer be enhancing the Netware kernel in OES and that by the end of 2010, all users will be compelled to move to the Linux kernel version.
Linux and OES
For users that are committed to Novell for the long term, this begs the question: why not move to the Linux kernel version of OES now?
From talking to users, we know that they are happy using this product in a conventional Netware environment. Thus, ease of migration or functionality are not the questions here. Instead, the question is support for Linux.
If an IT department does not have a Linux strategy, it is effectively taking on the extra responsibility of an entirely new server platform. Therefore, organisations that have an existing Linux strategy are far more inclined to embrace the Linux kernel version of OES than those that have not decided if they are going to adopt Linux as a platform, or do not have a strategy for that adoption.
Again, IT directors must look at the Linux kernel version of OES as Novell's long-term strategy. As an operating system, Netware is an extremely limited platform. Gartner believes the world no longer needs a network operating system dedicated to file and print sharing.
Linux and Samba
If Linux is in an organisation's future, why not just move to Linux and Samba for file and print support? So far, Samba has not shown the scalability, manageability or performance to satisfy most organisations' file and print needs.
It can be effective for workgroup file and print services, but it is not competitive with OES, Windows or Nas in large environments. Furthermore, there are only limited (and crude) tools to facilitate the migration from Netware to Linux and Samba.
Therefore, our advice is to be wary of Linux and Samba for enterprise file and print services. We would suggest that the Linux kernel version of OES is a better Linux-centric choice.
Network attached storage
Organisations with large investments in storage area networks (Sans) often choose to implement Nas"heads" in their San environment. This as a prudent choice, as it allows organisations to further leverage their investments in storage and storage management. However, the issue of migration must be studied carefully. In particular, the migration of user accounts, file and log-on scripts must be analysed.
Furthermore, a Nas system often does not address printer sharing, and printing must often be addressed by another appliance or by another platform, such as Windows or Linux. Nonetheless, a significant number of users are migrating from Netware to Nas environments. Gartner estimates that 15% of the migrations from Netware and OES go to a Nas environment.
Windows
About 80% of organisations that choose to migrate away from Netware and OES move to Windows. The latest version of Windows Server, Windows 2003, provides feature parity for most mainstream Netware environments.
However, there are a few features that are not easily replaced, such as Netware Application Launcher, iFolder and iPrint. Although migration to Windows solves the file and printer sharing problems, it also shares the same migration issues with Nas - user accounts, file and log-on scripts must be migrated.
Microsoft provides some crude tools to accommodate this migration, but they are not sophisticated enough for most corporate users. Therefore, IT directors should plan on spending additional money for third-party tools from companies such as Quest Software. Additional help may be needed in the form of professional services from companies such as Avanade, Interlink Group, Microsoft Consulting Services and Unisys.
Another issue when migrating from Netware to Windows is mapping the name space. In most environments, users have embedded links to files on specific named shares. Although migration products can address some of these problems, many organisations use Microsoft's Distributed File System to replicate the name space using alias shares. This is an effective strategy, but it does add complexity to the migration effort.
Why move ?
Given that migration is time-consuming and expensive, is it worth it? The truth is that, for many organisations, the cost of migration will never be recouped. There is often no return on investment on Netware migration.
When a return on investment is achieved, it is typically more as a result of "soft" cost savings (such as helpdesk calls and administrative reduction) than actually hard cash savings. In other words, a lot of money is spent migrating to end up in the same place from a functional point of view.
Gartner believes 2006 will be pivotal to the future of Netware and OES, and Novell must demonstrate better execution around communicating the benefits of OES and encouraging users to move from Netware to OES.
John Enck is vice-president and research director at Gartner Research

Read more on Operating systems software