Microsoft gives push to mobile market vision
Microsoft's push e-mail strategy was finally unveiled by chief executive Steve Ballmer at this month's TechEd 2005 developers conference in Florida.

Microsoft's push e-mail strategy was finally unveiled by chief executive Steve Ballmer at this month's TechEd 2005 developers conference in Florida .

Download this free guide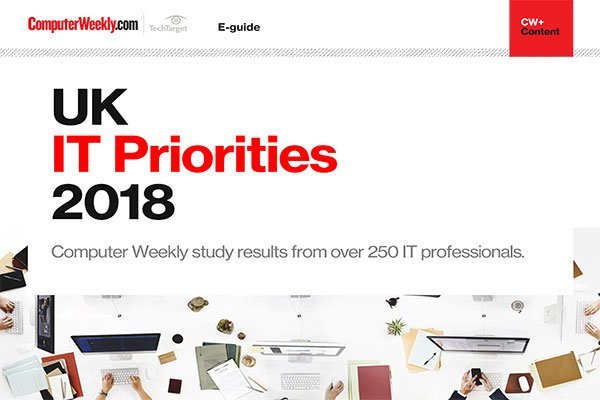 UK IT Priorities 2018 survey results
Download this e-guide to discover the results of our 2018 UK IT Priorities survey, where IT leaders shared with us what they are going to be investing in over the coming 12 months.
By submitting your personal information, you agree that TechTarget and its partners may contact you regarding relevant content, products and special offers.
You also agree that your personal information may be transferred and processed in the United States, and that you have read and agree to the Terms of Use and the Privacy Policy.
Ballmer introduced Microsoft's Direct Push Technology, which delivers information to any compatible device from Exchange Server without requiring businesses to pay either for specialised handhelds or for extra servers or middleware.
The company's push e-mail plans were expected last month when Bill Gates unveiled the Windows Mobile 5.0 operating system during his keynote at the Microsoft Mobile & Embedded Devices Developer Conference. But Blackberry-style e-mail, made up of Windows Mobile 5.0 with its Messaging and Security Feature Pack, and Exchange Server running Service Pack 2, combining to provide push e-mail, was notably missing.
The fact that Direct Push Technology goes beyond e-mail and attachments, and includes things like calendar entries and contact data, is a better guide to its functionality. This is, in effect, a souped-up version of Activesync and it should work with other Activesync devices from Nokia and Palm, as well as handhelds running Windows Mobile.
This may be useful, but it is not a way of delivering applications and does not look like a real threat to Research in Motion's Blackberry. However, as analyst firm Ovum has noted, it will put pressure on prices and "may erode RIM's profit margins relatively quickly". It could also help Microsoft sell more copies of Exchange Server 2003, which is presumably the point of the exercise.
With hindsight, it is easy to see why Gates skipped this and concentrated on the new features in Windows Mobile 5.0. These included enhanced versions of Pocket Word and Excel, support (at last!) for Powerpoint slides, a rewritten contacts manager, Windows Media Player 10 with digital rights management, plus support for 3G and Wi-Fi networks, hard drives and USB 2.0 connections.
All this continued the theme of making mobile phones much the same as desktop PCs, only smaller. It is a theme that extends to programming and operations. The Microsoft strategy involves mobiles being programmed with the same development system, Visual Studio .net, handling the same Microsoft Office data and getting e-mail from the same Exchange Server.
For developers, the message was that their software would run unchanged on a wider range of hardware from more manufacturers. Again, just like the main version of Windows. It may not be the way other companies see the mobile market, but Microsoft knows what has worked before.
Jack Schofield is computer editor at The Guardian
Read more on Mobile networking