kentoh - Fotolia
Storpool upgrades software-defined storage but remains Linux-only
Bulgarian software-defined storage maker Storpool adds Cloudstack support and boosted performance, but holds fire on adding enterprise-friendly VMware and Microsoft Hyper-V environments
Software-defined storage – and hyper-converged infrastructure – provider Storpool has added some incremental improvements to its product, such as Cloudstack integration and boosting scalability to 20,000 volumes and snapshots per cluster.

Download this free guide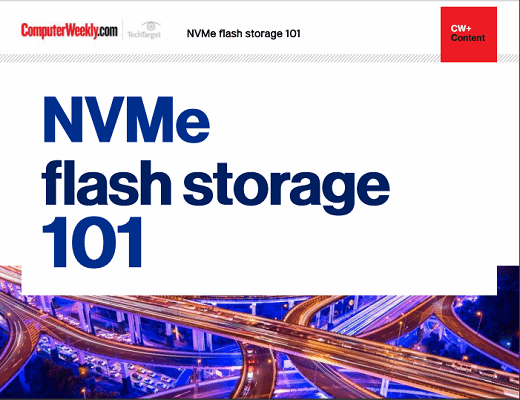 NVMe 101: The early bird catches a big advantage
Designed as a storage protocol for the performance and characteristics of flash, NVMe is much, much more. Making flash actually "flash", NVMe will replace the SAS and SATA bottleneck protocols and bring shared arrays blistering performance.
By submitting your personal information, you agree that TechTarget and its partners may contact you regarding relevant content, products and special offers.
You also agree that your personal information may be transferred and processed in the United States, and that you have read and agree to the Terms of Use and the Privacy Policy.
The provider has chosen to hold back on offering support for VMware and Microsoft Hyper-V environments, which will come by the end of 2016.
For now, the Bulgarian supplier is happy to stick with the Linux environments for which it has provided SAN-like storage, including KVM, Xen and Docker.
Storpool offers software-defined storage that can pool storage from commodity servers – it specifies recommended server components such as CPU, RAM and network card – with Sata drives (HDD or flash) to provide performance of up to 100,000 IOPS per node.
It can provide hyper-converged infrastructure by utilising resources to offer server and storage capacity in the same box.
Additions in the 16.01 upgrade include integration with the Cloudstack open source cloud management platform. This comes in addition to its existing compatibility with Openstack, the telecoms-focused OnApp cloud platform and Docker container environment, for which it provides persistent storage.
At the same time it has increased the number of volumes supported to 20,000 in one cluster and will boost that further in the next release. Storpool also supports volumes of up to 30TB useable.
CEO Boyan Ivanov said: "That's way beyond what most file systems can handle. It's more for when customers are, for example, running lots of photo and video content in a single volume."
Read more about software-defined storage
Code tweaks to controller software mean an added 20% to 30% in terms of performance, said Ivanov.
For the time being, Storpool will continue to target service provider customers that want to build Linux-based content repositories. The more enterprise-friendly VMware and Microsoft Hyper-V virtualisation environments will be added later in 2016, he added.
Ivanov said: "This release is about making our product robust and it is a big step in making our disk storage more reliable. The next release – with VMware and Hyper-V – will give a great boost to our addressable market."
E-Handbook

E-Handbook

E-Zine
Read more on Flash storage and solid-state drives (SSDs)