Share trading exchange Turquoise, funded by nine investment banks, will next month finish a pan-european trading platform that has taken only six months to develop using off-the-shelf software.
The company, which was launched by firms including Goldman Sachs and Morgan Stanley to compete with stock exchanges across Europe, has chosen applications and is connecting them using messaging technology. The firm's infrastructure will be based on the Red Hat Linux operating system to ensure flexibilty and scalability.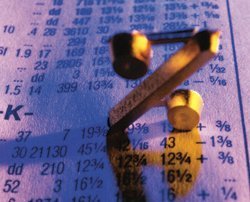 Yann L'Huillier, CTO at the company, led a team of 120 people who started the IT project in October.
He told Computer Weekly that he took this approach because applications can be taken out and refreshed or replaced if the technology requirement changes without massive time and financial costs. "I am trying to ensure that the technology is architected so that it is flexible, and if we need to change something we only have to change individual systems," he said.
The ability to change an IT infrastructure is important in the stock trading sector to prevent competitors gaining an advantage, he said. "This is the way to architect an IT to ensure you can always be at the same stage as companies that are just starting up," he said.
Bob McDowall, analyst at Towergroup, said that historically, exchanges have tended to build huge projects and there have been a number of disasters. "Turquoise is taking the best-of-breed applications and that is the right thing to do," he said.
The ability to rapidly change technology is good because Turquoise cannot be certain how its business and the market will develop. "Being able to pull out and replace technology means it can remain competitive in terms of speed and the cost of processing."
The EU's Markets in Financial Instruments Directive, introduced in November, meant exchanges that offer the best deal in terms of cost and speed will prosper as investment firms are obligated to offer customers the best deal available.
The applications being used by Turquoise include its core trading platform from supplier Cinnober and a combination of Progress Software and Detica technology for its market surveillance application. It also uses software from Neonet to provide market data and Euroccp for clearing and settlement services. The infrastructure is housed in two datacentres run by financial services IT service provider BT Radianz and is made up of HP blade servers running on Linux Red Hat.
PJ Di Giammarino, CEO at financial services think tank JWG-IT, said an exchange must get its technology right if it is to get investment firms to use it. "The market will not be patient if [Turquoise's platform] is not as fast as those participants already there or new entrants." He said that exchanges are only as good as their base technologies.
Turquoise timeline
November 2006 - Planned launch of pan-European trading platform Project Turquoise announced
April 18 2007 - Turquoise selects EuroCCP clearing and settlement application
October 25 2007 - Announces Cinnober as trading platform provider and begins building IT infrastructure
13 November 2007 - Appoints Yann L'Huillier as the chief technology officer
28 January 2008 - Progress Software and Detica chosen to deliver a real-time market surveillance system
14 February 2008 - Partners with AppLabs for platform testing
26 February 2008 - Selects BT for secure hosting services
April 2008 - Planned completion of implementation of IT infrastructure
September 2008 - Planned launch
Email Alerts
Register now to receive ComputerWeekly.com IT-related news, guides and more, delivered to your inbox.
By submitting your personal information, you agree to receive emails regarding relevant products and special offers from TechTarget and its partners. You also agree that your personal information may be transferred and processed in the United States, and that you have read and agree to the
Terms of Use
and the
Privacy Policy
.