Sun pitches Linux desktop system to IBM
Sun Microsystems is inviting IBM to purchase its Linux-based Java Desktop System for IBM's own employees.
Sun Microsystems is inviting IBM to purchase its Linux-based Java Desktop System for IBM's own employees.
According to a letter dated 21 January from Sun executive vice-president for software Jonathan Schwartz, Sun has also offered its Java Enterprise System, for use by IBM employees.

Download this free guide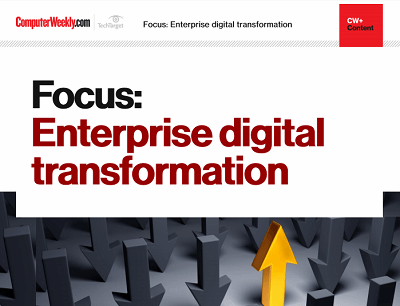 Are you digital to the transformation?
Digital transformation - the buzzword that we can't get away from. Enterprises need to accelerate their digital transformation journeys to avoid being left behind in an increasingly digital world. It's not an easy feat, but one that can be costly to get wrong. Join us as Computer Weekly takes a look at how businesses can stay on track through collaboration, innovation, and listening to user needs.
By submitting your personal information, you agree that TechTarget and its partners may contact you regarding relevant content, products and special offers.
You also agree that your personal information may be transferred and processed in the United States, and that you have read and agree to the Terms of Use and the Privacy Policy.
Schwartz said IBM had challenged its own IT organisation and all of the company to move to a Linux-based desktop before the end of 2005.
"Now we all know how rumours can take on a life of their own in the press, but nonetheless I applaud IBM's efforts to reduce costs and complexity, and wanted to offer the benefit of Sun's experience in making the migration," Schwartz said.
Sun hopes to migrate to a non-Microsoft desktop by the summer with its Java Desktop System. The product set features the StarOffice productivity suite, Mozilla browser, Gnome windowing environment and Linux.
Schwartz has also made a similar proposal to have IBM use the Sun Enterprise System server software package for a $100-per-employee yearly fee with a cap of $12m. The package features a directory, e-mail, calendaring, web/portal/application server and clustering on Sun's Solaris OS.
Schwartz also questioned IBM's commitment to Linux, expressing disappointment that IBM refuses to resell Linux and indemnify customers for its use.
IBM representative Trink Guarino said that IBM contributes to the Open Source Development Labs defence fund to protect any customers should they be sued by SCO for their use of Linux. SCO is suing IBM over Linux code.
Paul Krill writes for InfoWorld
Read more on Operating systems software