Microsoft ships tools for migrating from Unix to Windows
Microsoft is attempting to entice enterprise users considering alternatives to Unix systems with an updated its set of tools to...

Download this free guide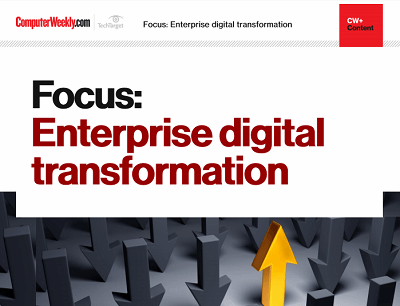 Are you digital to the transformation?
Digital transformation - the buzzword that we can't get away from. Enterprises need to accelerate their digital transformation journeys to avoid being left behind in an increasingly digital world. It's not an easy feat, but one that can be costly to get wrong. Join us as Computer Weekly takes a look at how businesses can stay on track through collaboration, innovation, and listening to user needs.

Microsoft is attempting to entice enterprise users considering alternatives to Unix systems with an updated its set of tools to ease migration from Unix to the Windows operating system.



Earlier this month, Microsoft released to manufacturers the latest version of its Services for Unix suite. Version 3.0 of the product will be available for purchase by the end of next month, Microsoft said.

"We're seeing a lot of interest from customers moving off of expensive legacy hardware to the Intel platform," said Doug Miller, director of Unix migration strategy at Microsoft.

"As they look to go from Unix to Windows, they need to be able to exploit their investments in Unix and use existing code."

Services for Unix Version 3.0 adds to Windows support for NFS (Network File System), a Unix file sharing protocol. This enables Windows clients and servers to access files and data stored on Unix servers.

Additionally, Services for Unix 3.0 allows Windows customers to use Microsoft's Active Directory server software to manage and interoperate with Unix directories through the NIS (Native Information System) server.

The package of software now includes Microsoft's Interix software. This can be used by independent software vendors and in-house enterprise developers to recompile Unix applications to run on various versions of Windows, including Windows XP and the upcoming Windows .Net Server, Miller said.

Another feature included in Services for Unix 3.0 allows programmers to use familiar Unix tools for managing a Windows environment. For example, customers can use pre-built scripts - a popular technique used by Unix administrators to automate administrative tasks - for managing Windows administrative tasks.

Services for Unix has been useful for programmers who work in mixed software environments, said Michelle Malcher, senior database analyst with Leo Burnett Worldwide, an advertising, marketing and media agency whose clients include Coca-Cola and Toys R Us.

After implementing Microsoft's SQL Server database software, Malcher has been making use of previous versions of Services for Unix to interoperate with existing Unix database software from Oracle.

"I don't know if people are going to replace their Oracle Unix boxes with Windows, but if you are moving to SQL Server it is a good tool to get running quicker," she said. "Having some Unix services on Windows is helpful because of the knowledge base we have."

Service for Unix Version 3.0 will be available worldwide for $99 (£70).
Read more on Operating systems software